Summer break has definitely been different this year! Vacations and family excursions are possible with social distancing and wearing masks, and there are plenty of ways for families to have no-cost or low-cost fun in the Ann Arbor area. Create lasting memories and entertain your family with these fun activities, without spending much money.  
 
Your family's safety is a top priority when experiencing the unique things that the Ann Arbor area has to offer. All individuals are urged to adhere to social distancing guidelines, practice frequent hand washing, utilize face coverings when in public and be respectful of others. 
Take Some Family Photos in Law Quad 
The University of Michigan's Law Quadrangle is one of Ann Arbor's most-photographed structures. Once you see it, you will know why! Located at the corner of S. University and S. State Street, the Tudor-Gothic architecture was modeled after the campuses of Oxford and Cambridge in England. It was rumored that the Law Quad was considered as a filming location for the Harry Potter movies. It is the perfect backdrop for an impromptu family photo session.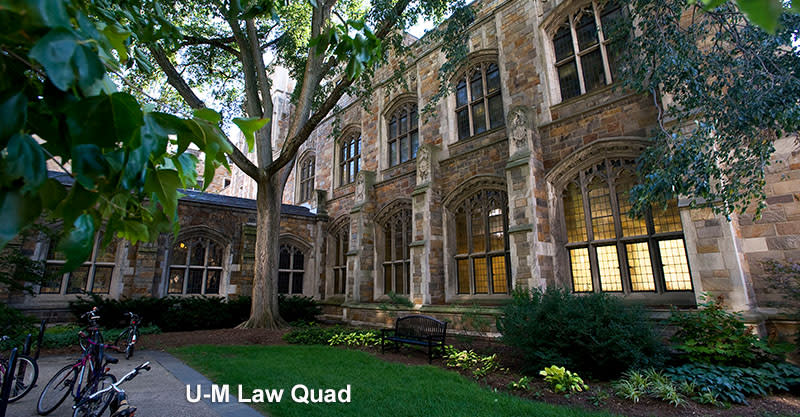 Find the Fairy Doors 
Tiny fairy doors leading to tiny fairy homes have been popping up all over Ann Arbor for the last 20 years. Finding the Ann Arbor fairy doors has become a fun interactive activity for kids of all ages. Some door explorers even bring tiny gifts to leave on the doorsteps for the fairies to find. Some notable door locations are Sweetwater's Coffee and Tea, Ann Arbor District Library, Found Gallery, The Ark, Crazy Wisdom Bookstore and Tea Room, Nicola's Books, Jefferson Market, The Michigan Theater and more. Check the website created by local fairyologist, Jonathon B. Wright, for the latest information.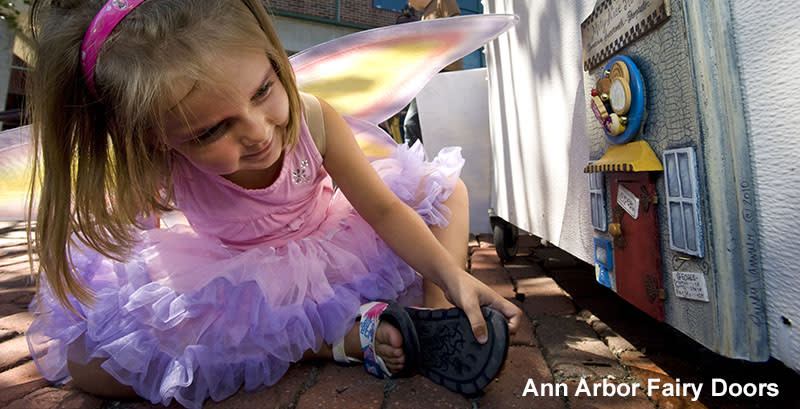 Enjoy Nichols Arboretum 
Known by locals as "The Arb," the University of Michigan's Nichols Arboretum is great for families because you can make your exploration as long or as short as you like. Close to 3.5 miles of trails crisscross through the Arb. If you stay on the main trail, the park is stroller friendly. If your crew is a bit older, you can venture off path and hit some of the steeper climbs. The park is also great for teaching kids about conservation in urban areas. You can even bring your fur babies, as dog are allowed on a leash.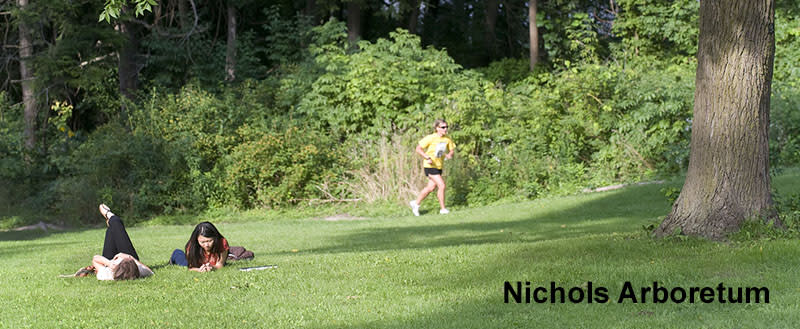 Tour the Chelsea Sculpture Walk 
Now in its 12th year, the Chelsea Sculpture Walk is an annual rotating outdoor art exhibit.  A new set of visually striking sculptures are chosen and installed each year. So even if you have been before, this time could be a completely new experience. For the 2020 season, fourteen original sculptures, created by regional artists, have been installed in downtown Chelsea. Perfect for families with little ones, one of the sculptures this year is interactive. Touching is encouraged! Come enjoy some contemporary art in the beautiful outdoors. 
Find First Fridays Ypsilanti 
First Friday Ypsilanti is a self-guided monthly art walk hosted throughout downtown Ypsilanti. On the first Friday of each month, participants offer free activities involving local artists, live demonstrations, pop up markets, and musicians. First Fridays Ypsilanti is a great time for families to come to downtown Ypsilanti to support local talent and businesses. This year with the street closures on Cross Street and Washington Street, there is plenty of room for social distancing while enjoying the creative activities.  

Explore the Barn Quilts of Historic Manchester 
Enjoy a quaint, charming visit to historic Manchester. Within the last decade, large scale quilt patterns have been showing up on the sides of barns and it has become quite popular. The Manchester Tour de Barn Quilts was born! Using the map to locate the colorful quits around the countryside is kind of like a treasure hunt. With names like "Ohio Star" or "Flying Geese," the quilts are a fun way of playing I spy with the family.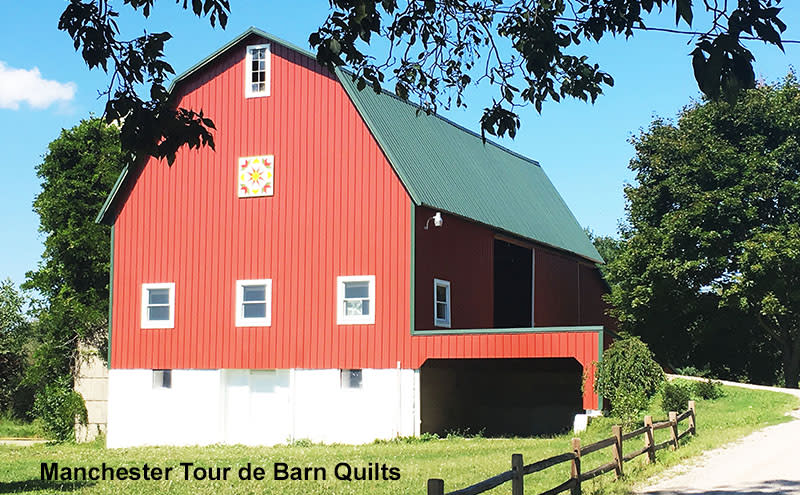 Create Spinning Imaginations
Ypsilanti-area artists and thinkers have come together and created an activity magazine, called Spinning Imaginations, to keep young minds energized during the challenging quarantine times. You will find arts & craft projects, problem-solving exercises, recipes, writing prompts and more. Many of the materials needed are things you probably already have around your house. 
Discover the Ann Arbor Skatepark  
Do you have a burgeoning Tony Hawk in your family? The Ann Arbor Skatepark is 20,000 square foot skateboarding facility that is open to the public and free to use year-round. Located within Veterans Memorial Park, the skatepark has many different types of terrain, suitable for skateboarders and scooter riders of all skill levels. It's even fun to just watch some of the more skilled riders drop into the bowl or practice their rail grinds. Safety is always first, so in addition to your face covering, don't forget your helmet and protective pads.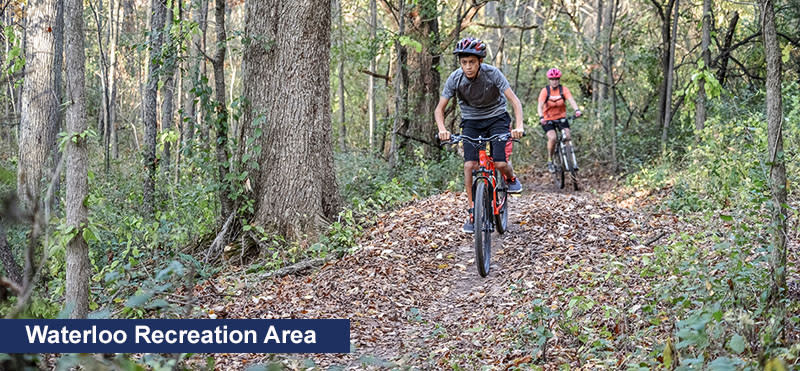 Recreate at Waterloo Recreation Area 
Waterloo Recreation Area is the largest state park in the Lower Peninsula, with over 20,000 acres. The park is home to campgrounds, rustic cabins and yurts, beaches, hiking trails and excellent wildlife viewing opportunities. Stop into the Eddy Discovery Center to learn more about the geology and habitats within the park. The terrain is conducive to hikers and bikers of all abilities. Enjoy a leisurely stroll through the Bog Trail's beech-maple forest, ending at a floating bog in Cedar Lake. Explore the DTE Energy Foundation Trail's three distinct single-track biking loops. Crooked Lake Fishing Pier is a perfect spot for a fun family picnic.  
Play Disc Golf at the Ponds and the Woods  
Did you know Ypsilanti is home to two 18-hole disc golf courses? The courses, located inside of Lakeshore Apartments complex, are open year-round, during daylight hours and completely free to play. You'll just need to supply your own disc. Stop into The Throw Shop, Michigan's largest disc gold pro shop, if you need any supplies. Disc golf rules are similar to golf and "The Ponds" course is set on a former golf course. The Ponds, despite its name, is always pretty dry with long open holes. Aptly named "The Woods" course is shady and wooded, with some of the trickiest holes in the area. This is a great outdoor activity for all skill levels.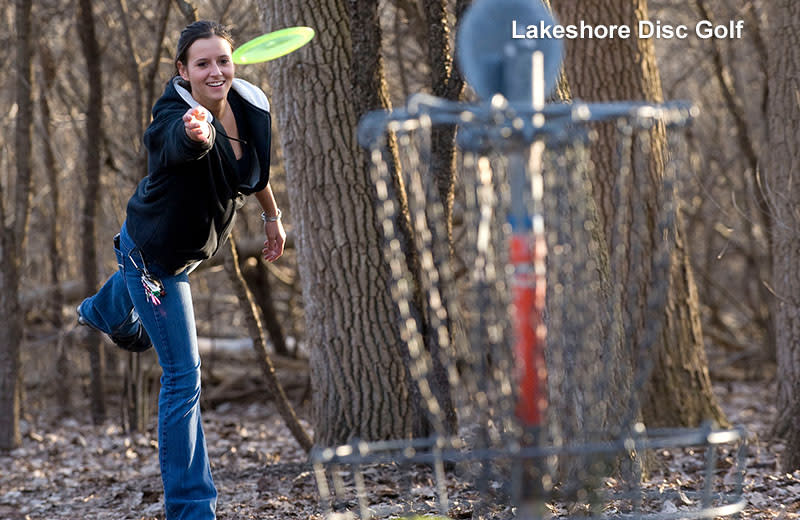 No matter how you enjoy the Ann Arbor area, we want to emphasize the importance of following the  requirements and recommendations of local and state health officials, the  Centers for Disease Control, and your health care provider.  All individuals are urged to continue to adhere to social distancing guidelines, practice frequent hand washing, utilize  face coverings when in public and be respectful of others. 
Like our content? Get all of the latest Ann Arbor happenings delivered to your inbox. Subscribe to our monthly email newsletter.