Here are six quick bits of knowledge about Washtenaw County's early settlers you may not know. For more information on the early pioneers, check out Washtenaw County's Heritage Tour online. 
1. Pioneering: Good Luck Getting Here
After the completion of the Erie Canal in 1825, Michigan hosted a concentration of early pioneers from northeastern states. The canal offered the Michigan Territory as a new frontier.
Here in Washtenaw County, Plymouth-Ann Arbor Road began as a trail traveled by many of these new waves of emigrants. An early settler's typical travel plan often included moving through the Erie Canal to Buffalo, where a steamer would then depart for Detroit. From there, the rest of the journey would be navigated by wagon, horseback, or on foot.
2. We Were Once at War with Ohio. And it wasn't about Football.
Ann Arbor was the site of the end of the Toledo War, which was essentially a spitting match between Ohio and Michigan over a 70-mile-long strip of land which contained the valuable port of Toledo. By 1836, both states had raised militias to defend their claims, and a few skirmishes had occurred on the border. No casualties had occurred. Yet. Tired of this argument that had been dragging on for months, and frankly a bit cranky, community leaders and state legislators persisted through a sharply cold December day to sort out this annoying issue once and for all. They met at the corner of Huron Street and Main Street in Ann Arbor, and perhaps the cold sped up the conversation at the memorably-titled "Frostbitten Convention."
Michigan walked away with the UP and a pathway to statehood in 1837, and Ohio got Toledo. Fair break. Today, we are the only state that is able to use TWO hands as maps, and proudly possess that second pleasant peninsula affectionately called "da UP."
3. Goofy Name = Kick Butt Pioneer!
Many pioneers had unusual names plucked from ancient Greek literature, Shakespeare, and the Bible. Names not in common circulation like Benijah, Ebenezer, and Cleophas … the list goes on. Their mothers were creative, determined to not issue for the next common John. And it paid off, because we notice them.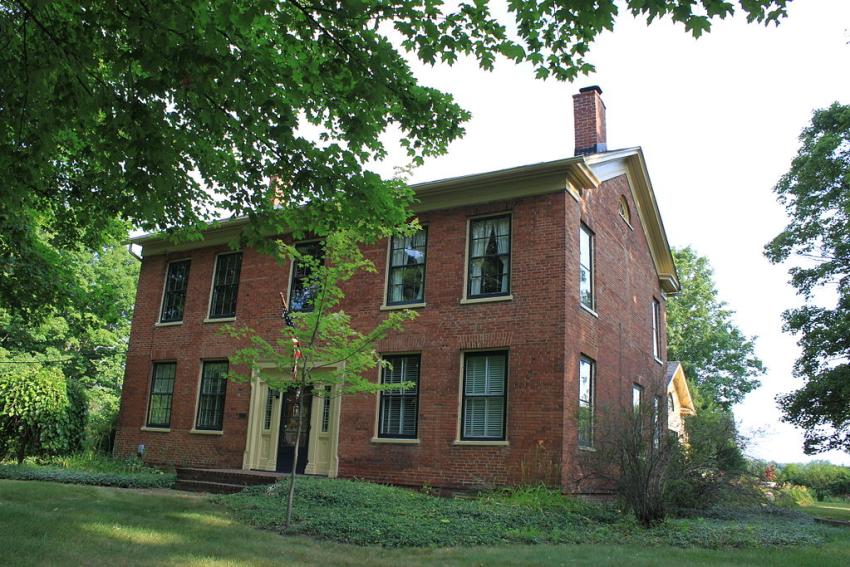 Photo: Esek Pray House 8755 W Ann Arbor Rd.
One such pioneer was Esek Pray, a local farmer and community influencer, who arrived in Michigan in 1825. Like many of his time, he was a jack-of-all-trades. To provide for his family, Esek was engaged in farming, used his home as a community post office and tavern, and was a Justice of the Peace. Not one to sit on his laurels, Esek also served in the State Legislature, and was present at the Frostbitten Convention. Esek and his wife Sally Hammond Pray emigrated from New England and raised eight children in Superior Township, many of whom married into the neighboring families of Superior Township. The story of Esek Pray, his world, and his influential family is told through the Washtenaw County, Esek Pray Trail Story Map available to view here.
4. Blended Grades. Before they were cool.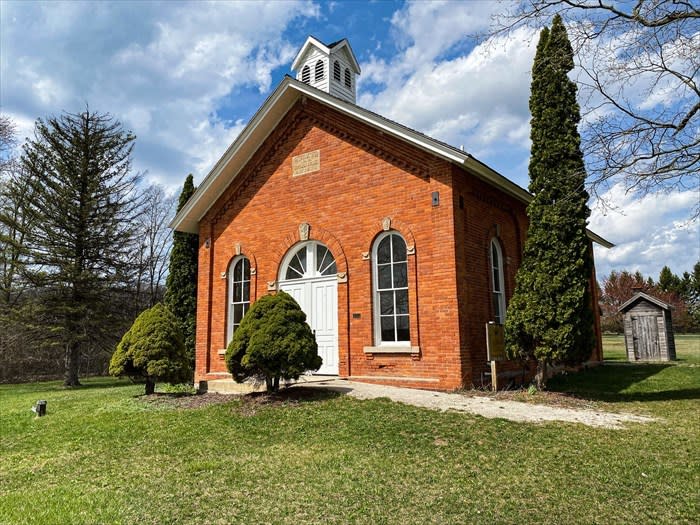 Photo: Geer School 9981 W Ann Arbor Rd.
One-room schools were the norm for children of Michigan's early settlers. Once a community was established, a schoolhouse was erected to serve the local community. Four of these schools are also featured on the Esek Pray Trail. As transportation improved and class sizes grew, many were consolidated into larger districts which required multi-room buildings. As a result, many of the one-room buildings, once common in rural areas, didn't survive. However, the Plymouth-Canton School District still uses the 1880 Geer School for educational purposes, and the 1888 Dixboro School is a designated local historic landmark.
5. Evidence of Wealth: The Kids are Alright
By the time Michigan was recognized as a state, numerous settlers had established farms throughout the county. Beginning as general subsistence farms, which grew only what was needed to survive, these homesteads evolved into prosperous enterprises throughout the 19th and 20th century, selling surplus grains, dairy, livestock, and other goods as cash crops. The economic success of these farms for subsequent hardworking generations allowed pioneers and their descendants to build substantial homes and live lives of greater material wealth.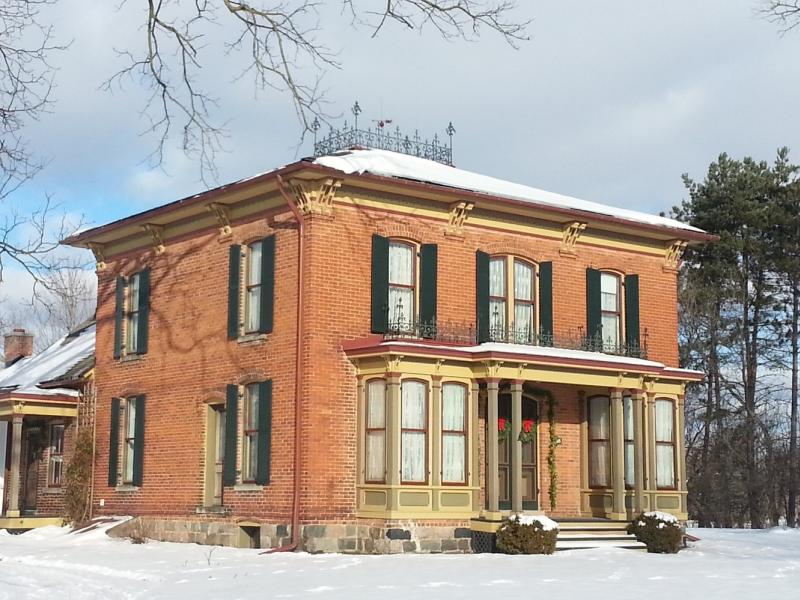 Photo: Milton and Kittie Geer House 8605 West Ann Arbor Road
A prominent couple from Superior Township, Milton and Kittie Geer, built a trendy home in Superior Township in 1884. Milton was the grandson of pioneer Esek Pray; Kittie was the daughter of pioneer Henry Kimmel, who had proposed the name "Superior" for the township. Their brick Italianate-style house had many refined features to communicate how their family had succeeded. Their home still stands at 8605 West Ann Arbor Road, and is a Washtenaw County Local Historic District.
6. Stylish in Life and Death
Like many Michiganders who descended from the pioneers, Milton & Kittie Geer were stylish in both life and in death. They are buried in Ypsilanti's Highland Cemetery, which was the peak of fashionability in the late 19th century and boasted a lavish stone chapel with a genuine Tiffany stained-glass window. Take a stroll through the cemetery and enjoy the natural beauty of this "garden-style" resting place.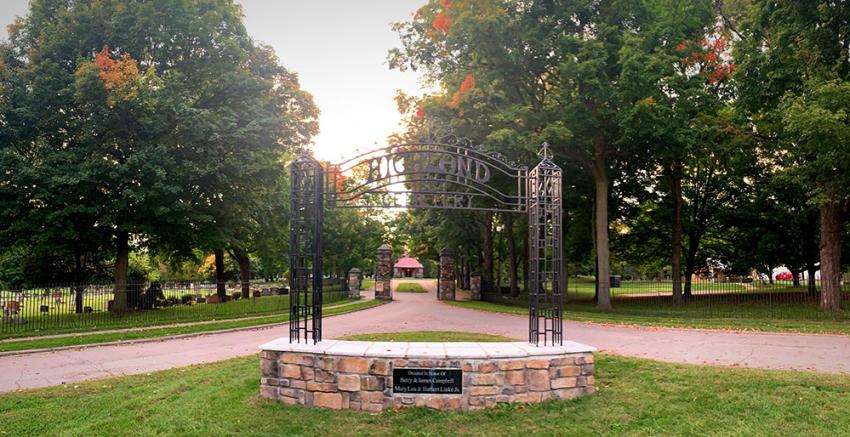 Photo: Highland Cemetery 943 N River St, Ypsilanti, MI
Like our content?
Get all of the latest Ann Arbor happenings delivered to your inbox. Subscribe to our monthly newsletter.
Follow Destination Ann Arbor, @AnnArbor on social media. Instagram, Facebook, Twitter