Meet the new additions! 
One of the many things Ann Arbor is known for is the food. Visitors and locals alike enjoy the variety and diversity of the many locally-owned eateries. There have been several additions in recent months, proving that even during a pandemic the Ann Arbor area is resilient and inspires new ventures. Explore some new local flavor. 
Bellflower, located in Ypsilanti, opened at the end of August and was an immediate hit! The space feels cozy and intimate even with social distancing. The décor is simple yet elegant. The staff are knowledgeable, friendly, and willing to help with suggestions. Lunch is more casual while dinner gets the high-end treatment. The menu changes frequently and often features delicately prepared seafood. The scallops are a very popular selection, and we can see why. They are perfectly seared with a creamy texture. Accompanied with endive and cabbage slaw along with caramelized carrots. Whatever you choose you are sure to have an indulgent experience.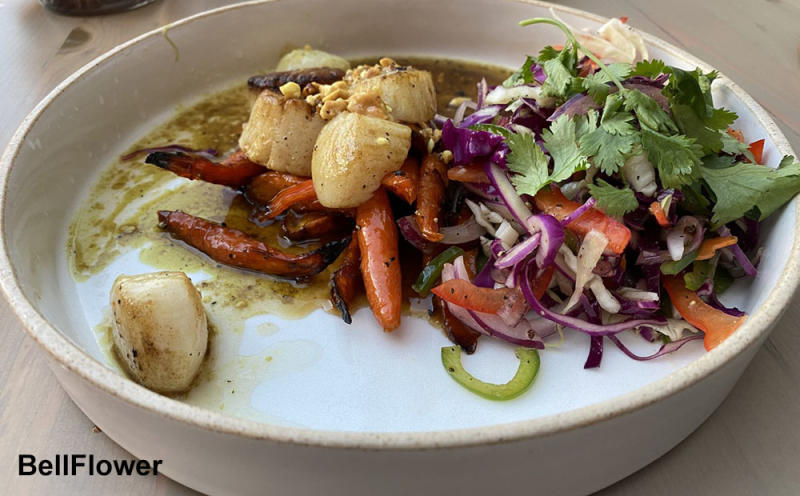 Of Rice & Men
Starting as a pop up inside Blue LLama Jazz Club, Of Rice and Men now has its own space. Designed with social distancing in mind, 100 diners can enjoy semi-private dining with screens separating tables. The menu offers upscale dishes inspired by flavors from Vietnam, China, Indonesia, and Thailand. The crispy rice salad is a standout with a surprising spicy kick. Ordering several dishes to share allows diners the opportunity to try many different flavors and textures.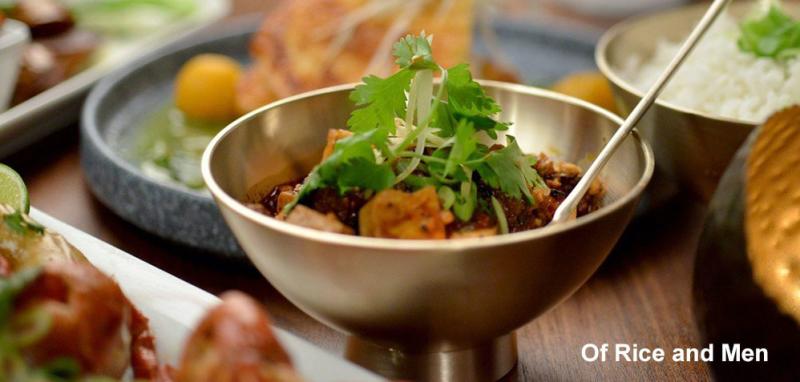 A lunch food truck that offers Asian flavors with a twist! The "Bao Boys" are from LA and wanted to bring their favorite flavors to Ann Arbor. You'll find their truck parked behind the long-standing business, York. What is Bao? They are pillowy soft buns filled with all manner of goodness. The menu has a variety, and we encourage trying everything! The Don-Belly rice is perfect for a cool fall day. Dashi-soaked rice topped with flavorful pork belly served piping hot!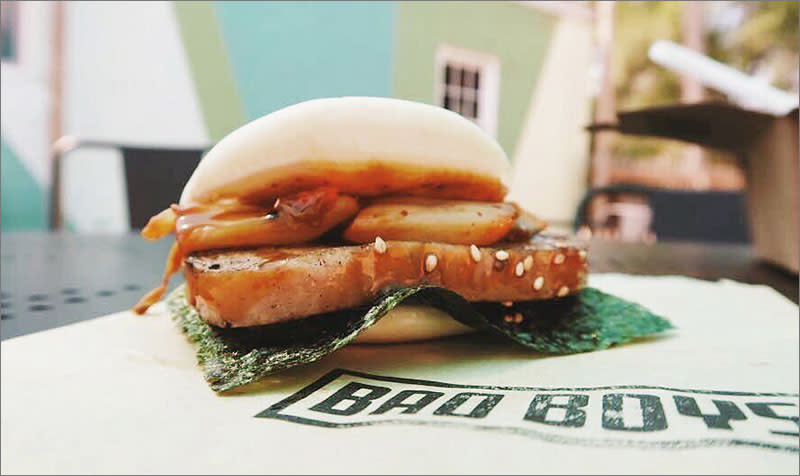 5 words, ALL YOU CAN EAT SUSHI! This is not a drill! Opened in July, this casual sushi place on Huron Street offers a unique all you can eat sushi menu. While this menu is only available for dine in, Wolverine Sushi Bar has options for carry out and delivery as well. If you love sushi, this is the best deal in town!
At first a pop up at The Standard on the west side, LaLa's has taken over. With artwork from local artist Gary Horton the space is bright and colorful. The menu is intentionally small and changes weekly. Open exclusively on the weekend, enjoy brunch on the large patio or dinner in one of the green velvet booths in the dining room. Drinking cocktails with intriguing names like Slow Disco, you are sure to have a good time.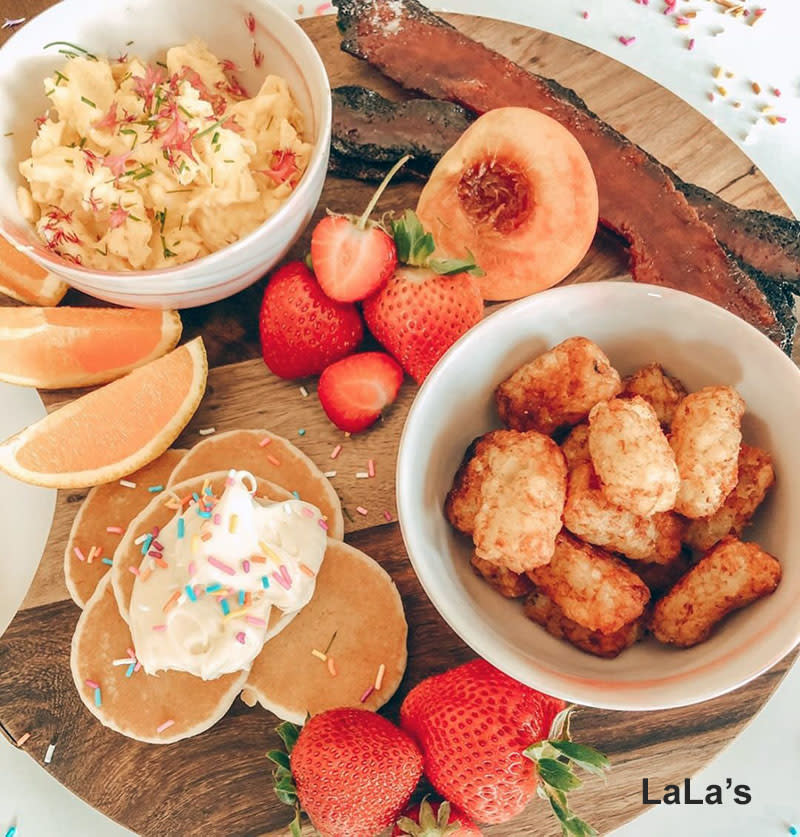 This authentic Mexican restaurant brings a casual vibe to downtown Ann Arbor. You can enjoy a margarita on the patio and order up some tasty tacos! The owner, Cesar Ochoa, wants everyone that comes to Chapala Mexican Restaurant to be able to experience the type of food Mexicans eat when they go out. He purposefully made the menu more affordable and channels coastal Mexico with several seafood dishes along with beef, chicken, and vegetarian options.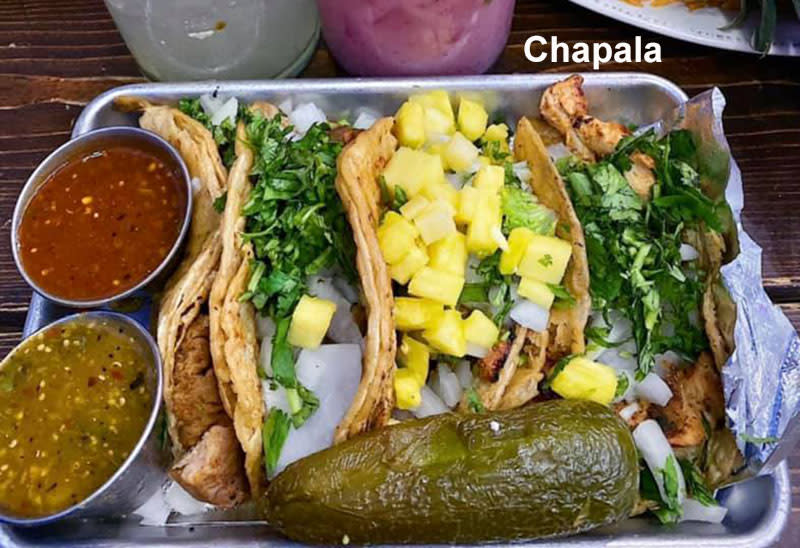 Utah-based Crumbl Cookies opened their first store in the region right on Ann Arbor's west side. Starting out with only one store selling one type of cookie (chocolate chip) it quickly expanded in three short years. Now offering the constant chocolate chip and sugar cookie flavors they also have four rotating flavors weekly. These are enormous, palm-sized cookies. Gourmet and decorative they are great for parties or just a quiet night in. A smaller size is offered on their catering menu as well. These bad boys are served warm, in cute pink boxes making them the perfect gift to surprise a friend or family member. Order ahead for curbside pick up or delivery or pop in and order at their custom contactless tablets!
Cravings Dessert Lounge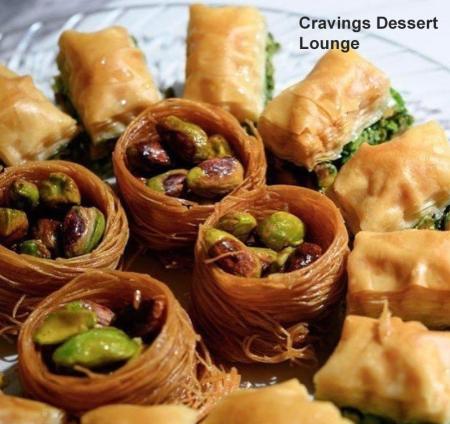 You don't have to travel over oceans to try Greek baklava, Turkish baklava, kanafa, or the many other desserts the middle east has to offer. All you need to do is pop over to Cravings Dessert Lounge! With a huge variety of middle eastern desserts served fresh and warm, you'll be comforted with familiar flavors or try something new and adventurous! A large, clean space gives ample room for social distancing and glass between you and the deliciously sticky sweets behind the counter shows how much the owners care about their customers safety during their experience. With the added convenience of delivery options there is no reason not to have a taste!
So there you have it, 8 new places to experience. Now all you must do is eat! View more Ann Arbor area restaurants. 
No matter how you enjoy the Ann Arbor area, we want to emphasize the importance of following the requirements and recommendations of local and state health officials, the  Centers for Disease Control, and your health care provider.  All individuals are urged to continue to adhere to social distancing guidelines, practice frequent hand washing, utilize face coverings when in public and be respectful of others. 
Enjoy our content? Get all of the latest Ann Arbor happenings delivered right to your inbox. Subscribe to our monthly newsletter.