Downtown Ann Arbor is known for its unique retail shops. It's the perfect place to find that ideal gift, unique souvenirs, or an original finishing touch for your home, wardrobe, or pantry. Each one of our four downtown districts have their own distinctive style. Learn more about each of the downtown districts:  Main Street District,  State Street District,  South University District and Kerrytown District.
Governor Gretchen Whitmer updated the mask-wearing requirement through a new executive order, effective July 13. Michigan residents and visitors are required to wear a face covering whenever they are in an indoor public space. It also requires the use of face coverings in crowded outdoor spaces, where you cannot maintain proper social distancing. Studies have shown that wearing a mask can save lives and significantly lower an individual's chance of spreading coronavirus.
Many downtown retailers throughout the districts are now selling stylish masks to help prevent the transmission of COVID-19. Protect yourself and others while supporting your favorite downtown Ann Arbor shops. 
These are just some of the local retailers that sell face masks. Do you have a favorite local retailer that sells masks that we might have missed? Let us know in the comment section below!
Verbena 
Located at 309 S. State Street in Ann Arbor, Verbena is a hip boutique offering stylish clothing and accessories for women. They have expanded their selection into stylish face coverings, which can be purchased online or in-store. Look for the Buy One, Give One sticker online. For every mask sold, a mask is donated to a frontline worker at pharmacies, nursing homes, hospitals and doctors' offices across the country. Choose from many styles including tie-dye, camo, floral, jaguar, and eyelet. 
Rock Paper Scissors 
Rock Paper Scissors is your go-to spot for local souvenirs and quirky gifts. It is now also a great place to buy face masks. They have a fun variety of styles including ombre, stripes, camo, flowers and gingham. They also have mask for kids. Face masks are available for purchase online and in-store at their downtown Ann Arbor and Saline locations.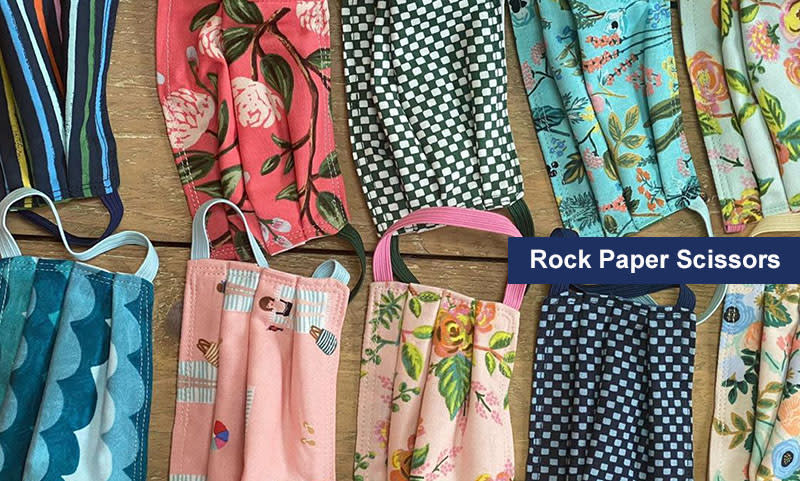 State and Liberty 
State and Liberty, located at 212 S Main Street, Ann Arbor, is known for their athletic fit dress shirts, but have recently been selling non-medical reusable cloth face masks as well. They have created a mask initiative aimed at supplying masks to the University of Michigan Medical Center. For every 5 masks purchased, two additional masks will be donated to U-M Hospital. You can also donate directly to help supply more mask to the hospital. Stay safe and support a great cause!  
16 Hands 
16 Hands, located in Kerrytown Market and Shops, has been representing artists and makers in the Ann Arbor area since 1975. They focus on finely crafted objects of uncommon quality and character. Jewelry and fashion accessories, unique gifts, decorative and functional items for the home, office and garden are featured. They now have hand-crafted masks and face coverings too. Choose from adjustable, reversible linen, embroidered trim, repurposed fabric in exciting patterns and more.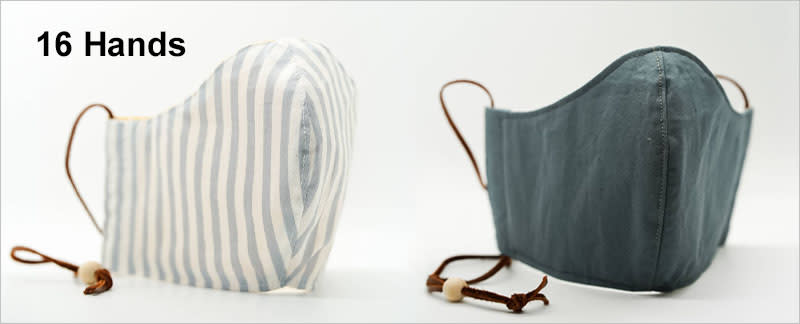 Bivouac 
Originally opened as an army surplus store in 1971, Bivouac has evolved into a one-stop-shop for all things outdoor clothing and gear. The 336 South State Street location is a favorite stop for adventure-seeking students and locals. Bivouac is now offering a selection of face coverings for purchase online. They have material varieties in solid colors, tie-dye and cheetah print.  
The M Den 
For over 20 years, the M Den has been the official retailer for University of Michigan Athletics. They have a huge selection of apparel, accessories, merchandise and gifts for the U-M fan. Now you can show off your Wolverine pride while protecting yourself and others. M Den is offering U-M branded face masks for adults and youth. Every purchase made at M Den results in direct support to U-M athletics. Go blue!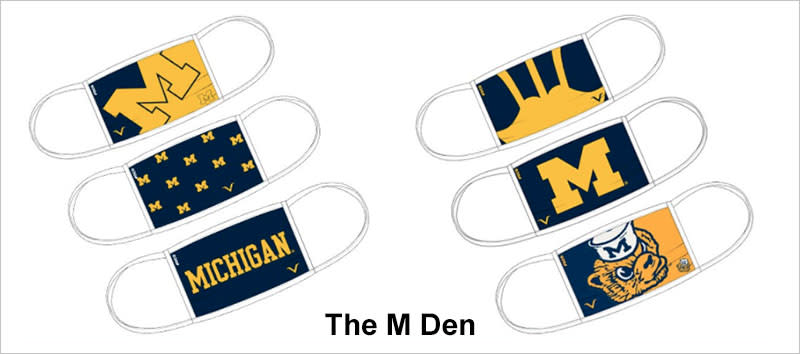 Underground Printing 
Underground Printing specializes in custom screen printing and embroidery for apparel and accessories. Looking for a high-quality custom face mask? Underground Printing now has face coverings for adults and children. They have several styles, designs and colors to choose from, including reusable or single use masks. They can even create a custom design with your logo or graphics. Stop by their 329 S. Main Street or 1107 S. University Avenue locations or shop online.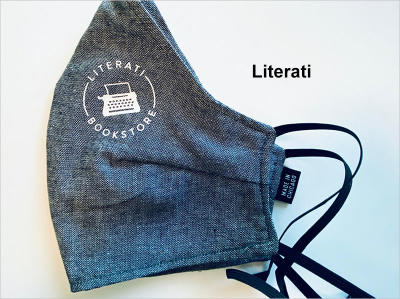 Literati 
For years, Literati has been supplying the Ann Arbor community with a welcoming spot for book lovers to connect. Now you can represent your favorite independent bookstore with a Literati face mask. Protect yourself and others in their grey cotton chambray mask with white screen-printed Literati logo. The masks are available for curbside pick at their 124 E Washington Street store, located in downtown Ann Arbor.  
Bonus
Facebook fan Karen Delhey also suggested checking out Gutman Gallery. They have face masks and even mask carrying cases. Thanks Karen for the addition!
"Masks can reduce the chance of spreading COVID-19 by about 70 percent. By wearing masks, we can save lives and protect our family, friends, and neighbors from the spread of COVID-19," said Michigan's Governor, Gretchen Whitmer. 
No matter how you choose to enjoy Ann Arbor, be sure to follow the requirements and recommendations of local and state health officials, the  CDC, and your health care provider.  All individuals are urged to continue to adhere to social distancing guidelines, practice frequent hand washing, wear face coverings when in public and be respectful of others. 
Like our content? Get all of the latest Ann Arbor happenings delivered to your inbox. Subscribe to our monthly newsletter.