Thanksgiving is my absolute favorite holiday. Every year I look forward to getting together with my family, enjoying a delicious and calorically-dense feast, and pausing to be grateful for the time we share together.
I also look forward to eating an otherwise socially unacceptable amount of pie, and I reject your judgment, Cousin Fran.
Whether you spend days preparing the meal or prefer to take a more laid back, couch-based approach, gathering around the Thanksgiving table with loved ones and eating together is a memory-rich experience.  However, meal preparation can be a bit of a time-eater. According to national surveys, American families hosting Thanksgiving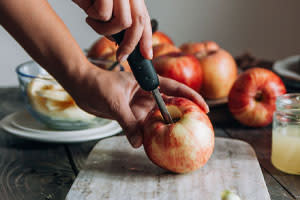 dinner  will spend up to 15 hours preparing the spread (yikes). For those of us who would like to reclaim a bit of that time and still enjoy the thoughtful flavors of home-style cooking,  local food fave Zingerman's offers a beautiful, made-to-order selection in Thanksgiving Dinner from Cornman Farms.  <----- Click here to learn more!!!
Inspired by his family's love for all things Thanksgiving, Chef Kieron Hales has combined the traditional fare of Thanksgiving with local ingredients and his own childhood food memories into an a-la-carte, by-the-serving Thanksgiving menu prepared with love in the Dexter, Michigan farmhouse to be enjoyed in your home. We're talking about:
Turkey (gobble gobble)

Beef Tenderloin

Cream of Blue Hubbard Squash Soup

Kale Salad

"Perfect Mashed Potatoes"

Crispy Stuffing

Bacon Balsamic Brussels Sprouts

Glazed Honey Carrots

Rosemary & Thyme Apples

Turkey Gravy, Red Wine Sauce, Horseradish Cream Sauce

Salted Butterscotch Pudding

Chocolate Mousse

PIES… Pumpkin and Pecan

Cranberry Pecan Bread 
Will you tell your relatives that this gourmet, scrumptious feast is from Cornman Farms, or claim the credit for yourself and accept compliments from Aunt Karen on how well-rested you look? The choice is yours.
And what to do with all that extra time on your hands, since you're not cooking this year? Get out there and enjoy the Thanksgiving season in Washtenaw County! Here's our top 10 list for awesome mid-late November events and attractions:
Enjoy the last of the crisp, clear fall weather before snowflakes start to fall.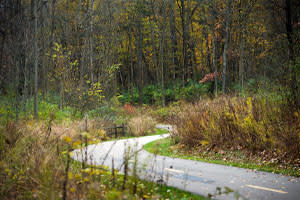 Visit the newly completed Border to Border Trail, or head out to Mill Creek Park or Hudson Mills MetroPark (especially perfect for a pre-dinner-pickup activity since Cornman Farms is in Dexter). 
2.  See a movie.
Family movie nights are a great way to keep the fun going into the evening. Check out our historic gems - the State Theatre and Michigan Theater in Ann Arbor - or head to Emagine in Saline for a renowned theater-going experience. Don't forget the popcorn!
3. Shop for gifts.
There is no time like the present! (See what I did there?) We have no shortage of holiday craft markets with treasures from local makers. Shop small and check those names off your list early!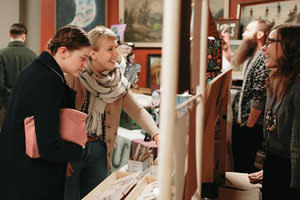 DIYPSI is a local mainstay tradition for unique, handmade gifts. Also, check out Tiny Expo at the Ann Arbor District Library! And after Thanksgiving celebrations taper off, don't miss Kerrytown's KindleFest as well as Midnight Madness and Moonlight Madness in downtown Ann Arbor.
4. Go to an exhibit.
Wandering through a museum is a marvelous way to spend a leisurely day. Stroll through the always-free University of Michigan Museum of Art, or learn about family and history at the Washtenaw County Historical Society.
5. Get moving.
While I don't run unless someone is chasing me, those of you who want to move and groove can skedaddle through the A2 Turkey Trot for a gobblin' good time.
6. Take in a show. 
The Ann Arbor area has a ton of local theater that would be so appreciative of your support! This Thanksgiving season, check out the improv scene at Pointless Brewery & Theatre, or see a play at Purple Rose Theatre Company in Chelsea. More of a Broadway-style musical fan? Visit the Encore in Dexter or Ann Arbor Civic Theatre.
7. Prefer rock bands or folk jams?
Check out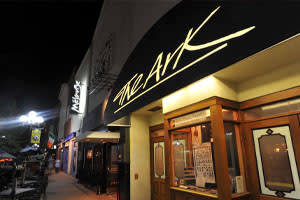 the Ark or the Kerrytown Concert House for live music options!
8. Jump Into Christmas!
When it's all said and done, it's time for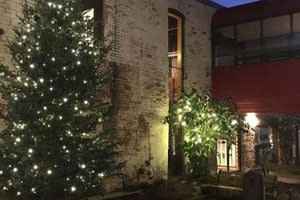 more holidays! Pack a pocket leftover sammie and head to the Tree Lighting Festival in Ann Arbor to welcome in the new season.
Whatever you decide to do with your extra time, you'll be glad you decided to bring home Cornman Farms' scrumptious Thanksgiving Feast (and enough tasty pies for sweet-toothed guests like me!). Happy Turkey Day to you and yours!
Enjoy our content? Sign up for Destination Ann Arbor's monthly newsletter to have it delivered straight to your inbox!