2019 has been a stand-out year for the Ann Arbor area, full of vibrant community events and festivals. This year, Ann Arbor was voted best small college town in America, the #1 location for family vacations, one of the best cities to live in the country, and much more! Read on for a few highlights of the fun we had as a community in 2019...
January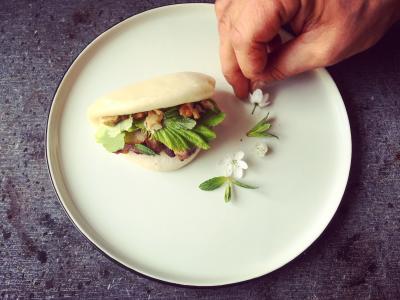 In January we sampled specially crafted tasting menus from chefs around town during the first of two yearly Ann Arbor Restaurant Weeks. Eastern Michigan University honored a trailblazer and continued to stand against injustice with their Dr. Martin Luther King, Jr. Celebration, an annual event since 1986. Talented musicians like Rufus Wrainwright and Brandi Carlile wowed us at the Ark's 42nd annual Ann Arbor Folk Festival.
February
Milan played host to their annual Let's Chill Winter Fest, which featured a Wine Walk full of tasting opportunities. Chelsea invited us to Curling Fest, where we learned the sport of curling and watched experts take to the ice in a tournament. We went to the Plymouth Ice Festival to see the captivating ice sculptures, and we celebrated the 20th Anniversary of a community treasure, the Ypsilanti Symphony Orchestra.
March
We were treated to the art of cinema at the Ann Arbor Film Festival, which is the oldest experimental film festival on the continent and this year was voted North America's #1 Film Festival by a panel of experts from USA TODAY. As spring began to set in, we tasted its sweetness and learned about the process of turning tree sap into delicious maple syrup at the Old-Time Maple Sugar Festival in Chelsea. The community celebrated the history of tribal heritage with music and art at the Dance for Mother Earth Powwow held at Skyline High School. In Ypsilanti, creators, designers, and artists gathered to hear speakers and to discuss what passion and creative success can look like at the first annual DO (something) conference. 
April
Luminaries and puppets crafted by community members took to the streets of Ann Arbor for the beloved public art extravaganza that is FoolMoon and Festifools. The Chelsea District Library presented the Midwest Literary Walk in downtown Chelsea, showcasing authors Min Jin Lee, Luis J. Rodriguez, and Anissa Gray. Yarns, linens, and fibers of all sorts - not to mention the animals who so kindly share with us their wool - were on display at the Spring Fiber Expo at the Washtenaw Farm Council Grounds in Ann Arbor. We also were treated to the newest bits of our oldest museum, the University of Michigan Museum of Natural History, newly moved and re-built with stunning exhibits and tons to see and learn. 
May
The Cinetopia Film Festival brought us a variety of narrative and documentary films from renowned festivals all around the world. All of our favorite restaurants gathered with dishes galore at the annual favorite, Taste of Ann Arbor. The Jim Toy Community Center had us #ThirstyForEquality at their Equality on Tap fundraiser, held at Bill's Beer Garden. Billed as "Ann Arbor's Quirkiest Art Fair," the Westside Art Hop brought us creativity and beauty with artists exhibiting throughout the historic Westside neighborhood. The Michigan Theater and Huron Valley Humane Society joined forces to present CatVideoFest, a celebration of and fundraiser for our best feline friends. Serene, golden luminaries took to the lake at the Ann Arbor/Ypsilanti Water Lantern Fest held on Milan Beach. We watched canoes and kayaks race down the "World's Crookedest River" to victory at the 53rd annual River Raisin Canoe & Kayak Race in Manchester.
June
Artists including Computer Games, JR JR, and Anna Burch took to the stage at the inaugural Treeverb Music Festival in Ann Arbor. Ypsilanti celebrated love, visibility, and queer culture at the annual Ypsi Pride event. The 24th annual Ann Arbor African American Downtown Festival honored the contributions of black business leaders with music, craft and food vendors, local business booths, and more in the Historic Black Business District. The second Ann Arbor Restaurant Week brought us more local flavor.  June 2019 marked 25 years of the Juneteenth Celebration, celebrating the announcement of the end of the Civil War and the emancipation of enslaved African American people. Ann Arbor Summer Festival brought us night after night of music, theater, and performance, as well as star-lit movie nights. At A2 Tech Trek, leading technology companies showed the public the latest and greatest from our Ann Arbor tech community. 
July
No Ann Arbor year is complete without the spectacle of creativity and talent that is Ann Arbor Art Fair, returning with another year of streets overflowing with art and music. Growing Hope and the Ann Arbor/Ypsilanti Regional Chamber put together the YpsiTasty Grub Crawl, highlighting the diverse and delicious food community in Ypsilanti. The sold-out Manchester Chicken Broil - complete with drive-thru carryout lane - offered untold amounts of fresh-broiled chicken dinners to raise funds for local causes. Sounds & Sights on Thursday Nights brought weekly live music, chalk art, and more family fun to the streets of Chelsea. The Michigan Brewers Guild Summer Beer Fest brought Michigan beers, people, and pretzel necklaces galore to Riverside Park to celebrate the incredible variety of flavors and brewing techniques among Michigan's craft brewers. 
August
Artisans and craftspeople descended on the Corner Brewery in Ypsilanti to present their wares at summer 2019's DIYPSI festival. The Big House roared with excitement as it played host to the FC Barcelona vs. SSC Napoli professional football (soccer) game. The streets of Downtown Saline were full of music, car shows, fiddlers, inflatable obstacle courses, and more during Saline's Summerfest. The Milan Bluegrass Festival welcomed touring bluegrass musicians to a fun-filled, campground style music extravaganza. Ann Arbor Pride continued the celebration of our wonderful queer community. Thunder Over Michigan airshow brought jet planes soaring over the sky at Willow Run Airport, and Destination Ann Arbor debuted our new brightly colored 10-story mural near the corner of Main St. and Huron St., painted by local artists Mary Thiefels and Danijel Matanic with the phrase Challenge Everything. Create Anything.
September
Ypsilanti Fall River Day highlighted the beauty that is the Huron River in the autumn with boat rentals, live birds of prey from the Leslie Science and Nature Center, and outdoor activities. First Fridays Ypsi presented the annual Festival of the Honey Bee, honoring the honey bee and her contributions to our world. A traditional biergarten, a hammerspiel tournament, and a festive weiner dog race were among the myriad attractions available at the annual Saline Oktoberfest, held on Saline's Main Street. The Annual Orphan Car Show in Riverside Park, Ypsilanti, showcased rare vintage cars and automobile history. The Rasa Performing Arts Festival at Washtenaw Community College featured classical and folk dances from India, the East-West concert blending Indian and western musical traditions, and internationally known musicians and dancers sharing their stunning talents.
October
The inaugural Holy Bones Festival, a spooktacular craft and maker festival, was held at one of Ypsilanti's newest venues, a former church now reborn as The YPSI. Hocus Pocus was the feature at the family-friendly, halloween-themed Frog Island Movie in the Park. The Dexter Lions Club Apple Daze festival was full of fall fun with hayrides, games, a pie-eating contest and, of course, cider from the Dexter Cider Mill. YpsiGLOW lit up the night on Washington Street in Ypsilanti, with a parade of luminaries and light-up costumes, glow in the dark art installations, and an electric dance party. 
November
November -  Ypsilanti's Frog Island Park welcomed all Halloween Jack O' Lanterns to live to shine another day at the All Hallows Illumination on November 1st. The local arts community celebrated a community theater milestone with the 90th Anniversary of Ann Arbor Civic Theatre. John Cameron Mitchell of Hedwig and the Angry Inch fame put on a spectacular concert at Hill Auditorium. The A2 Thanksgiving Day Turkey Trot let us prepare for the festive holiday meal with an energizing run through the town. Pop on Main Street in downtown Ann Arbor was a shopping extravaganza that celebrated local businesses on Small Business Saturday with food trucks, pop-up markets, artisans, and more.
December
December - Kindlefest and Moonlight Madness and Midnight Madness kicked off the holiday shopping season in Ann Arbor. The Ypsilanti Meals on Wheels Holiday Home Tour showcased historic Ypsilanti homes in order to raise money to assist local homebound seniors with meal security. The new year may be upon us, but there is still so much left to do in December 2019! Click here for a complete listing of holiday events still to come. We'll see you in 2020!