Gone are the days when eating vegan meant you could only go to that one salad bar where they make you take off your shoes and cleanse your aura before you eat. Veganism is on the rise, with one report from research firm GlobalData indicating a 600% increase in people identifying as vegan in the U.S. between 2014 and 2017. In light of this vegan explosion (band name, anyone?), it's becoming more likely every day that "Where should we go for dinner?" might begin depending on the availability of vegan fare. These days, you can go just about anywhere in Depot Town and grab a meal that is delicious, exciting, and satisfying for the vegans and omnivores at the table. Thanks to the burgeoning trend of sustainable and plant-based eating, Ypsilanti restaurants have been expanding their menus to present more plant-based options, and we're not just talking about another flavor of salad. It's easy to find vegan fare that's dignifying to the lifestyle without seeming like a culinary afterthought.
How to find it? Sure, you could pull out your internet space-phone and google, "Vegan Ypsilanti," or you could do what I did, and call up Cami Fussey, the human behind the handle @YpsiEats on Instagram. A quick scroll through her feed is a glittery culinary tour of the area, and I'd easily call her a fantastic dining resource, if not a local treasure. Cami and I (both omnivores) took a trip to Sidetrack Bar & Grill to try the new, plant-based Impossible Burger, and to put our heads together on a list showing how easy and delicious vegan dining in Depot Town can be.
So here it is, fresh from the grill, just like my Impossible Burger: our
Depot Town Guide to Vegan Dining….for Omnivores.
Sidetrack Bar & Grill
Quick facts: Historic 1850s bar, 37 beers on tap
Literally beside the tracks. Trains go by—it's really loud, and super cool to watch. Patio seating is a big win when the weather's nice.
Vegan options that aren't salad: The Impossible Burger (it was good!), and the tempeh burger.
Omnivores tend to order: Beef burgers, sweet potato fries, beer. Runners-up are shepherd's pie, salmon, and giant strawberry shortcake. Apparently that's a dessert, not  a horrifyingly large children's character destroying Tokyo.
Ollie Food & Spirits

Quick facts: recently reimagined and renovated with a more sophisticated wine bar feel. Old bones make it feel comfy, and not too uppity. Rotating menu keeps it fresh. Fresh ingredients keep it really fresh.
Vegan options that aren't salad: breakfast burrito with chorizo-spiced tempeh and pickled carrots, preserved vegetable flatbread, spring buckwheat fettuccine, mushroom & asparagus risotto
Omnivores tend to order: House-ground burger on homemade bun, molasses brined pork chop, spring spiced potatoes, sweet potato gratin, avocado turkey club
Maiz Cantina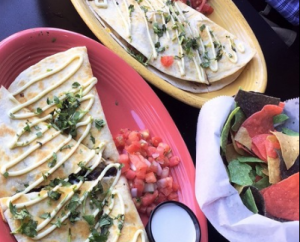 Quick facts: YUM. Generous portions, and bottomless tortilla chips. Kids eat free on Sundays. Did I mention bottomless tortilla chips?
Vegan options that aren't salad: baked avocados, cauliflower taco, avocado taco, specialty burritos. Many burritos, enchiladas, and fajitas are easily veganized upon request.
Omnivores tend to order: Spicy steak fajita burrito, California club burrito, chicken quesadilla, street corn! Don't skip the street corn.
Honorable mention/Not in Depot Town:
Veg-O-Rama
Quick facts: A newcomer to our community! Indian/Fast Food Fusion.
Vegan options that aren't salad: menu is 95% vegan, with the option to add meats to dishes if you should desire. The menu overflows with creative fare like the jackfruit burger, crunchy potato burger, samosas, masala fries, and falafel hummus pizza.
Omnivores tend to order: So much food.
There are also non-sit-down places in Depot Town you can grab a bite (and a vegan one at that). Cultivate Coffee & Tap House has a variety of vegan options, including bagels, sandwiches, and toasts. They also have a variety of non-dairy milks for lattes and the like. Plus, aren't coffee and alcohol two things we can all agree upon? Another strong option is The People's Food Co-Op, featuring groceries and bulk bins with lots of grab-and-go vegan options. They also sell fresh hot soups, in-house baked goods, and a generous assortment of interesting beverages. It's a fantastic resource, and not to be missed.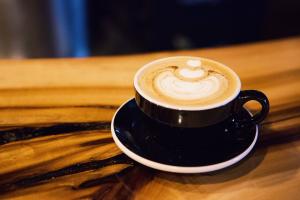 It doesn't have to be hard to find a Depot Town restaurant that omnivores and vegans can both deeply enjoy. In fact, the wide variety of creative offerings are enough to make an omnivore consider their ways. I've resisted the use of puns so far, but now it's time: the next time you find yourself looking for great vegan dining, head to Ypsilanti. Vegan make it happen.
Enjoy our content? Sign up for Destination Ann Arbor's monthly newsletter to have it delivered straight to your inbox!