The Ann Arbor Art Fair is a staple of the community, an event that brings visitors and locals together in a celebration of art in all mediums. From gigantic sculptures weighing hundreds of pounds, to delicate, handcrafted jewelry, this iconic event boasts 30 blocks of artwork from local, national, and international artists.  
Did you know that Art Fair is actually three fairs happening simultaneously? The Ann Arbor Street Fair, The Original; the Ann Arbor State Street Art Fair; and the Ann Arbor Summer Art Fair. The three directors work together to make sure attendees have the best possible experience. This year, booths will be spaced further apart, masks are encouraged, and hand sanitizing stations will be placed strategically.
Maybe the most notable change, the fairs will run July 15-17, one day less than usual. The streets will remain closed through Sunday, July 18th. This is a great opportunity to stay an extra day (View the Art Fair Hotel Specials) and explore what else the Ann Arbor area has to offer! We recommend starting with a delicious Sunday brunch. We've compiled a list of some of the best downtown brunch spots; some are even offering a special Art Fair menu! 
If you're looking for an affordable, locally sourced, environmentally conscious brunch, First Bite is the place for you! They believe in food that is delicious, nutritious, and good for the customer, staff, farmers, and mother earth. Try the Indian masala omelette, stuffed with fresh ginger, garlic, onions, tomato, cilantro, jalapeno, and a mix of premium organic seasonings. For a lighter option, we love the green fuel smoothie. Breakfast/Brunch are on Sundays 9:00 am to 3:00 pm. 
Choices, choices, choices! With so many delicious options to decide from, the Jagged Fork is a breakfast and brunch haven! The eatery offers pancakes, french toast, waffles crepes and plenty more. Try the "big house crepe" containing spinach, ham, mushrooms, onion, tomato, sour cream, Swiss, cheddar and over easy eggs. Go sweet with the "chunky monkey pancakes" made with caramel, white chocolate chip and banana. Sunday hours are 8:00 am to 3:00 pm.
One block off Main Street on Liberty is Avalon Café. Grab a coffee and pastry for a quick meal or head into the dining room for a full brunch! We highly recommend the soft scramble with spinach, parmesan, roasted fingerling potatoes, toast & jam, and dressed greens. The menu has several vegetarian and vegan options as well. Brunch hours are 8:00 am to 3:00 pm.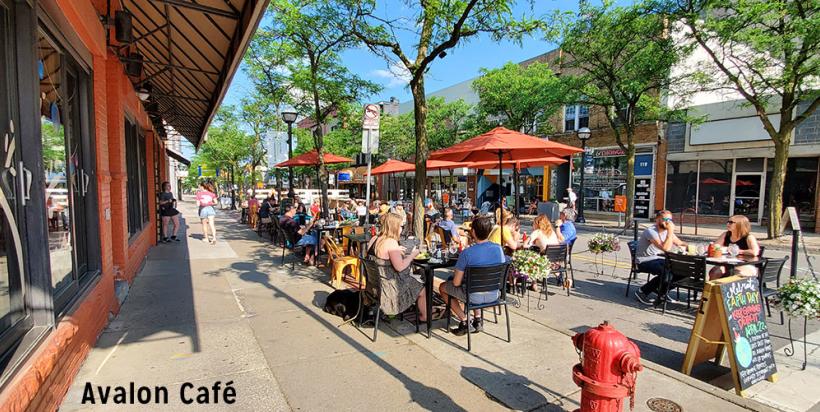 This beautifully decorated and inviting space on State Street offers classic brunch options such as eggs Benedict and omelets, along with some fresher takes like the Breakfast Bowl, featuring brown rice, swiss chard, kale, chickpeas, green harissa, goat cheese, avocado, and eggs. Make reservations at Sava's now for their outdoor patio or stunning dining room. Hours of operation for brunch: 9:00 am to 3:00 pm.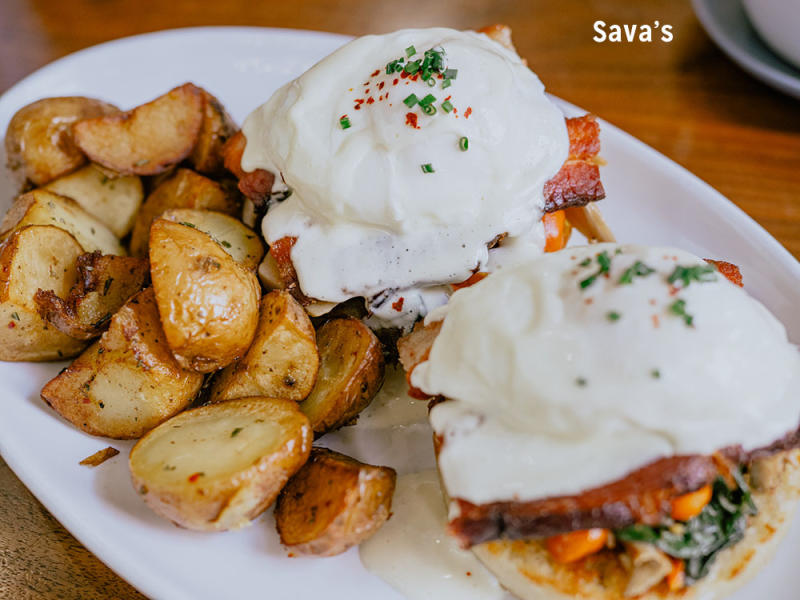 Fine dining at its best, Vinology is committed to wine-friendly world cuisine. Their brunch menu boasts almost-bottomless mimosas, bourbon vanilla French toast, and many other tasty options. Located on Main Street, choose a seat outside, perfect for people-watching or sit inside for a cozy air-conditioned meal.  Brunch hours are 11:00 am to 3:00 pm.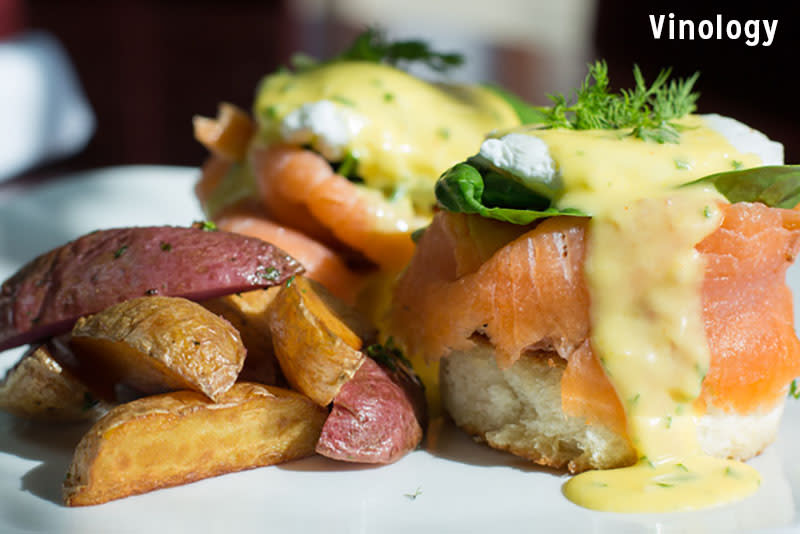 Have a taste for some international fare? Head over to Shalimar Cuisine of India for a lunch Thali. A variety plate with a combination of Indian flavors. Mention the Ann Arbor Art Fair discount to receive $1.00 off on Sunday July 18th! Brunch hours are 11:30 am to 3:00 pm.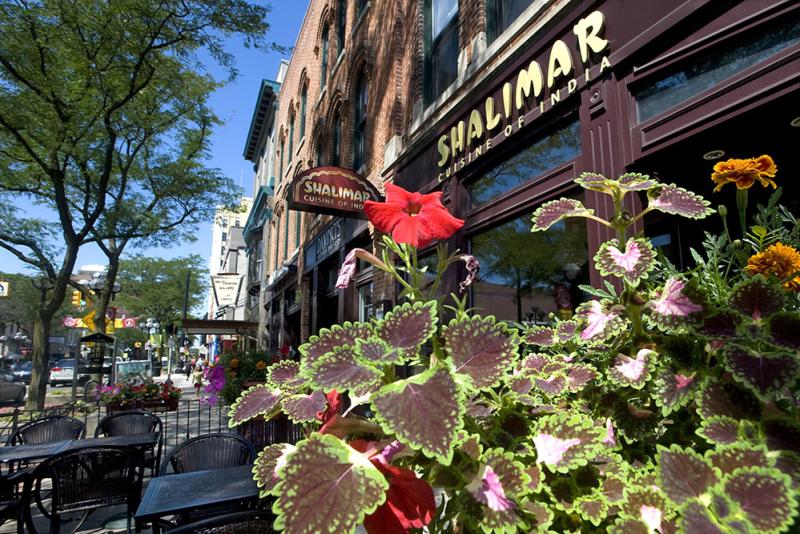 This cute café has a little bit of everything. From traditional Albanian dishes to classic American style breakfast. Try one of aMa Bistro's acai bowls or the egg bhurani, eggs topped with sautéed spinach, rice, and scallions accompanied by either plain yogurt or feta cheese. Located right on State Street, you'll enjoy watching the world go by as you brunch in style. Sunday hours are 8:00 am to 3:00 pm.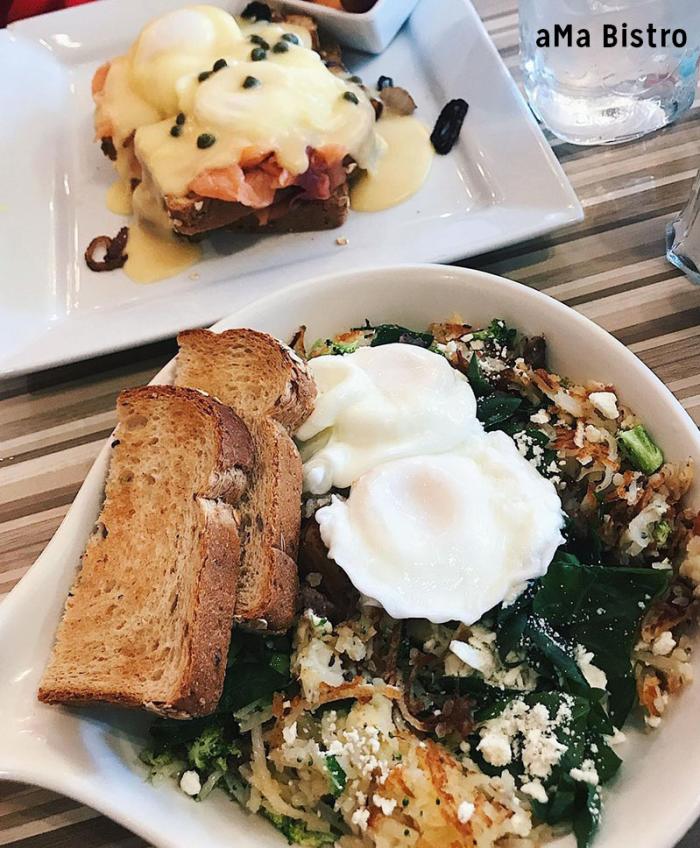 This place is all about the tacos. Nearly every dish on the menu is a taco. TAQ creates hand crafted food with traditional and non-traditional flavors. During brunch on Saturdays and Sundays, TAQ serves several exclusive tacos. The "aguacate" caught our attention, TAQ's play on "avocado toast" with citrus arugula salad, pickled onions, and chile flakes. Have a sweet tooth? Try one of their waffle shell tacos like the "vainilla", a lemon-vanilla custard topped w/ fresh blueberries and toasted coconut! Brunch is served Saturdays and Sundays from 12:00 pm to 3:00 pm.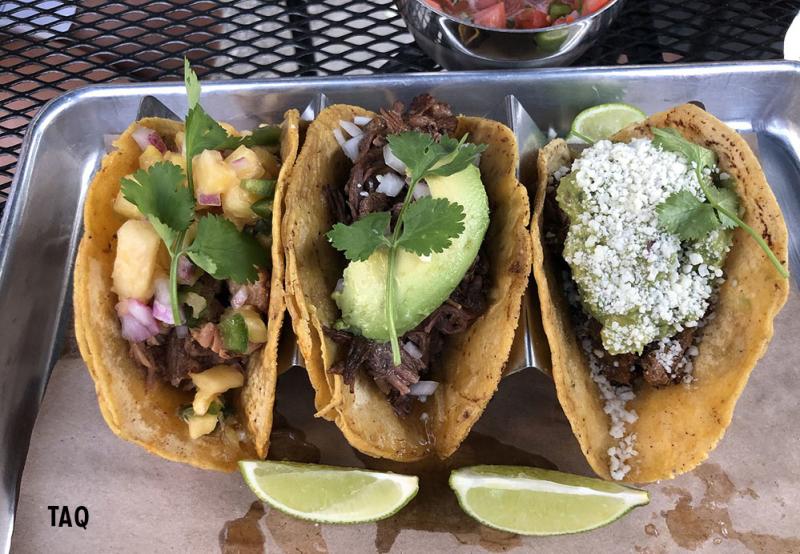 An Ann Arbor legend, Knight's Steakhouses serves some of the best steak you'll find anywhere. Their original location on the westside of Ann Arbor has been in continuous operation since 1984. The downtown location opened in 2014 has luxurious decor with a casual, comfortable vibe. Level up your brunch by starting with the strawberry champagne salad, followed by the ever tender and flavorful prime rib. Brunch specials are available 11:00 am to 4:00 pm. 
An ever-popular brunch staple, Afternoon Delight has a classic diner feel and serves up homey, familiar flavors. Try one of the dishes from their weekends-only menu like the Cheese Blintzes, golden crepes filled with sweet ricotta cheese and topped with fruit or try their homemade biscuits with sausage gravy; add eggs to make it a complete breakfast. Sunday hours are 8:30 am to 3:00 pm. 
Named in Reader's Digest as Michigan's "Most Iconic Diner" Fleetwood Diner has several vegetarian options along with the classics. Open 24 hours and serving their famous "hippie hash", the Fleetwood Diner is an Ann Arbor experience not to be missed. What is hippie hash? It's a layer of hash browns loaded up with grilled peppers, onions, tomatoes, broccoli & mushrooms, topped with feta cheese., After dining here, you'll leave with a full belly and a happy heart.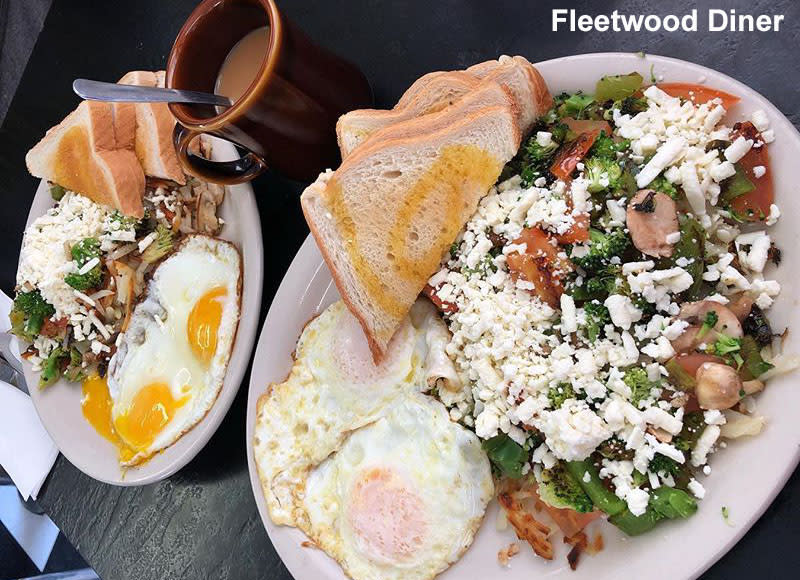 We are excited to have you back to the Ann Arbor Art Fair and invite you to extend your visit with Sunday brunch. View the Ann Arbor Art Fair Hotel Specials. As the world continues to open up, please be aware and respectful of individual business' safety measures and policies. 
For more Ann Arbor area brunch options, visit our restaurant page. 
Like our Content?
Get all of the latest Ann Arbor happenings delivered to your inbox. Subscribe to our monthly newsletter.
Follow Destination Ann Arbor, @AnnArbor on social media. Instagram, Facebook, Twitter