As big as the Saline Celtic Festival has become – drawing as many as 4,500 people each year to this small Washtenaw County town (approximately 9,000 residents) – it started small.
Like, picnic small.
"(The Saline Celtic Festival) began when our sister city of Brecon, Wales … sent a delegation to visit Saline," said Celtic Festival Executive Committee member Terri Murphy. "So it started as just a picnic in the park, with a tent, some fiddlers, and a couple of bagpipers."
It's hard to take in all that's on offer. Celtic dance competitions and workshops; jousts on horseback; artist booths and demonstrations; Michigan craft beer and food vendors; live music (from Celtic rock and roll to fiddlers and pipers); culturally distinctive events like the haggis hurl, caber toss, sheep herding, and more; performances by Ann Arbor's Ring of Steel Action Theatre and Stunt Troupe; and a kid's area with craft opportunities, storytime with Merida (from "Brave"), games, and activities.
Plus, there's what every Celtic event seems to be begging for: water-dwelling mythical creatures. SCFs most famous (and original) one is called Millie the Mill Pond Monster – seemingly a distant relative of Nessie the Loch Ness Monster – but these days, Millie has some company with her in the Saline River.
"Millie is the brainchild of (local mechanical designer) Jim Peters," said Murphy, noting that the original sketch for the 28 foot long, 7-foot high monster appeared on a napkin in SCF's pub tent in 2002. "When Jim introduced Millie to the festival in 2003, she received international press coverage. She's returned every year and has been joined by her children, Moira and Patrick. This year, her much larger cousin Angus will be attending the festival. Being older, Angus has the ability to blow smoke."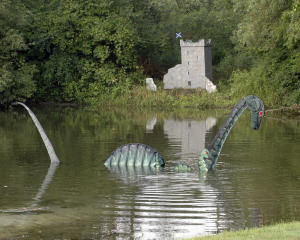 Patrick, the "teenager," first appeared in 2006; Moira, the baby of the group, was added in 2012; and 2018 will mark big Angus' debut.
"All four monsters employ the same basic mechanical use of pulleys, cams, and levers to make them move up and down when different ropes are pulled by kids of all ages from the shore," said Murphy.
Murphy's been involved with SCF for nineteen years. "I was recruited by former (Saline) Mayor Gretchen Driskill, when I was just coming off twenty years of volunteering with the Girl Scouts organization," said Murphy. "When she found out I was leaving the Girl Scouts, she said she was afraid I wouldn't have anything to do, so could I maybe help out in the merch tent? Now I'm on the executive committee, I'm on the board of directors for the Friends of the Festival – it's literally a full-time job for me. But it's fun, and it's a great community event that's one hundred percent volunteer-driven."
Three things Murphy particularly loves to check out each year are the Highland Dance competition ("We get to see one hundred people, between the ages of five and young adulthood, compete, and the kids are just adorable, with full tartans and argyle socks, and they're very serious about it. It's so cool to watch."); the jousts ("Grown men on horses wearing one hundred pounds of metal. … When they do the clash, the lances explode, and kids run around picking up chips of wood for the jousters to autograph."); and Wee Folks Island, where kids not only get to make their own cardboard swords and shields, but also meet another kind of sea creature.
"We have a live mermaid sitting on the shore of the river," said Murphy. " … She sits there all day while kids bring her rocks and tell her she's pretty."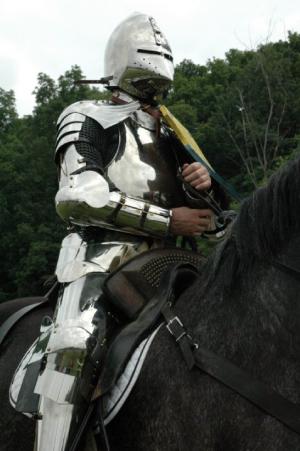 But first-time attendees should note that SCF's first day is called "pub night," so it's more adult-oriented than Saturday's program.
"It's about drinking Michigan craft beer and listening to Celtic rock and roll on the main stage," said Murphy. "There's a limerick contest, and some of them can get pretty bawdy – often the best ones are bawdy – and at ten o'clock, there's a Mr. Pretty Legs contest, where men wearing kilts and sheep masks are judged on their knees and their performance."
Their performance?
"Some of them bust out their dance moves," said Murphy. " … At the end, the winner is crowned, and he'll get a sash that says Mr. Pretty Legs with the year of victory. And past winners show up sometimes wearing their sash. It's incredibly silly, but a lot of fun."
Because Murphy has been working with the festival for so many years, she's seen its changes, good and bad, at close range.
"We've made a couple of mistakes," said Murphy. "One year, we brought a zip line in, but we're just not a good place for bounce houses and that kind of stuff. So we try to stay true to what (SCF) is. We're open to new ideas, but we don't ever want it to look like a midway."
As for positive changes, SCF quickly transitioned from being financed by Saline's taxpayers to being completely self-sufficient; it's grown in size and reputation, so that both the jousters' and dancers' associations set up official annual competitions there; and it's become what Murphy calls a "Pure Michigan festival."
"We don't spend any money outside of the state of Michigan," said Murphy. "That means all the performers, all the beer, all the vendors – everything comes from within the state. We set that goal for ourselves five years ago. We worked toward that, to make it happen, and we were able to achieve it in our first year."
Most of us have a vague notion that "Celtic" denotes some mishmash of Irish and Scottish culture. But according to Murphy, that's not quite right.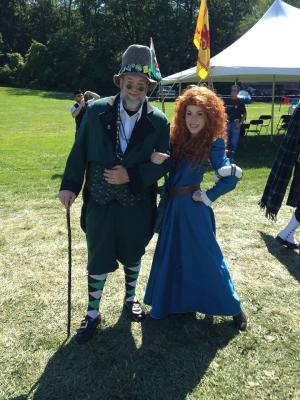 "That is one of the things we're constantly having to put to rest," said Murphy. " … The Celts weren't just Irish and Scottish, but also from Germany and Wales and Cornwall and other places. It covers a wide spectrum, and … it's not linked with a specific nationality. The Celts had tribes all over Europe."
These tribes weren't an ethnicity, per se, but rather communities that shared a culture and a language; and they chose leaders from within their group to govern and lead.
Coincidentally, this sounds similar to the way a modest, diplomatic picnic turned into a huge annual cultural celebration.
"The people who put (the original picnic) together just would not let it die," said Murphy. "They decided it needed to happen every year."
And this is why they say Céad Mile Fáilte – a hundred thousand welcomes.