If you didn't already have enough reasons to support your local Ann Arbor area breweries, this week is American Craft Beer Week®.  The Michigan Brewers Guild invites residents around the state to join them in celebration of local brews during May 11-17, 2020, a recognition of small and independent craft brewers. 
Beer is big here! Michigan has the nation's 6th most microbreweries and Ypsilanti is home to the largest Michigan-only beer festival in the state, the annual Michigan Brewers Guild Summer Beer Festival.
Breweries in the Ann Arbor area are finding unique ways to stay connected to their customers and communities, while helping their staff through this unprecedented time. Support your local breweries. Go grab your growlers and enjoy!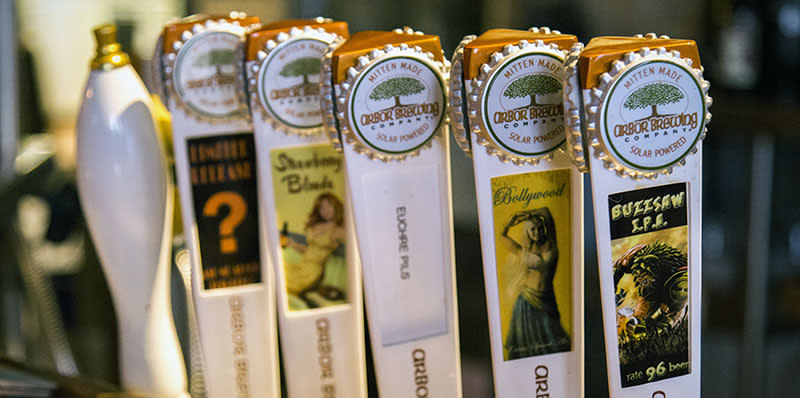 Arbor Brewing Company has been an Ann Arbor fixture since 1995. They are known for their fruity sherbet sours beers, always pushing the envelope to create new flavors. Arbor Brewing Company has six packs available for curbside pickup and delivery. Their tap list is always changing as their brewers get creative with new recipes, with the exception of their mainstay beers; Euchre Pilsner, Strawberry Blonde, and Buzzsaw IPA. They also offer growlers, but supplies are limited.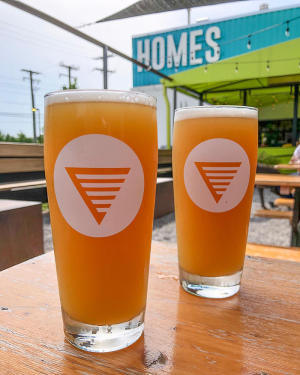 You don't have to wait to enjoy your favorite beer from HOMES Brewery, they are open for curbside pickup. They are currently offering cans, bottles and growlers of their latest hoppy and sour brews. In addition to your beer, they are serving up delicious takeout options including specialty burritos such as bulogi beef, curry chicken, kalua pork and crispy tofu.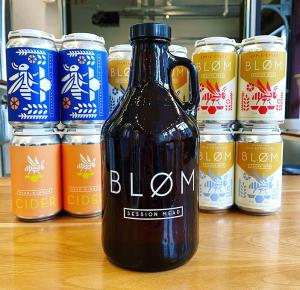 Bløm Meadworks creates refreshing session meads and ciders. They work with traditional mead ingredients such as honey, water and yeast, all sourced from Michigan, but then they ferment it like a dry draft cider. The result is a light, dry, carbonated beverage, perfect as the weather starts to warm up. Bløm is offering offer both curbside pick-up and local delivery of their session meads and ciders Wednesday through Saturday. Place your order for a growler or a howler today!
Pull up to the curb of the this beautiful former-church building in Saline and the Salt Springs Brewery staff with bring the beer and food right out to your car. Salt Spring Brewery turns locally malted grains and Michigan sourced hops into their one of a kind ales, wines and ciders. We will have to wait a bit longer to be seated inside their gorgeous stained glass dining room, but we can still enjoy the beers now, like the popular Cashmere Zeppelin IPA or Kick Axe Kolsch.
Wolverine State Brewing Co. brews lagers, but these are not your everyday lagers. As the only lager-focused brewery in Michigan, they have taken their crisp, clean brews to another level. Wolverine State Brewing Co. is selling their flagship and seasonal lagers. in six-packs, cases, crowlers, growlers, and kegs, as well as serving a special dinner item every night. Just place your order, then pull up to their new curbside tent for contact free pickup.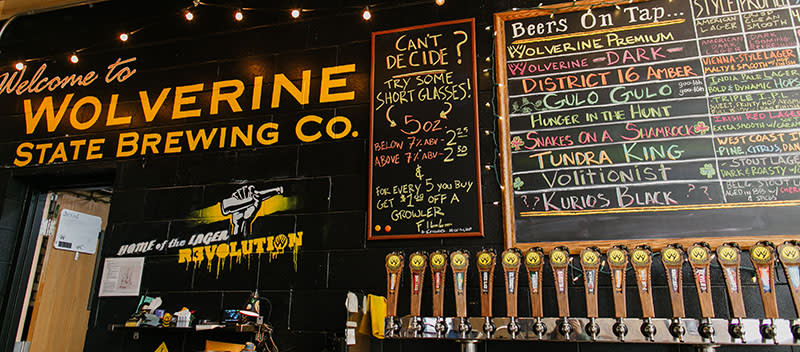 Townies Brewery creates a wide selection of craft beers such as sours IPAs, Belgian blondes, Irish stouts, lagers, porters and ciders. You can still enjoy all of them! The westside Ann Arbor brewery is offering curbside pick-up from 3 p.m. to 7 p.m. Wednesdays through Fridays. Call or email to select your pickup time and they will bring it right out to your car.
Edelbrau Brewing Company brews beer inspired by traditional recipes, creating beers that are never pasteurized or filtered. They craft historically-inspired modern craft brews, true beer artisans. Edelbrau offers curbside pickup on Saturday and Sundays and delivery by appointment.
These are definitely uncommon times but Ann Arbor is an uncommon place, full of resilient, passionate people! We are putting out a call. What does Ann Arbor mean to you? Show us by posting photos or videos of all the places in Ann Arbor that you can't wait to get back to. Post using the hashtag #AlwaysA2. Let's spread the Ann Arbor love! Learn more about the #AlwaysA2 campaign. 

Like our content? Get all of the latest Ann Arbor area happenings delivered right to your inbox. Subscribe to our monthly newsletter.