In a city like Ypsilanti that works hard and plays hard, and is full to the brim with learners, professionals, entrepreneurs and adventurers, it ought to come as no surprise that the entire system runs on lots and lots of coffee. That's why, no matter which part of the city you're in, there's a coffee option ready and waiting nearby.
If you're headed into town via Washtenaw Avenue (you'll know because the water tower will dominate your view upon approach), your first coffee opportunity will be the Biggby Coffee (on your left). This franchised shop is notable for its sweet, milky drinks (I order a hot Caramel Apple Cider once a year) and, formerly, as a place to meet up with Ypsilanti Councilwoman (now Mayor) Beth Bashert for her weekly office hours. Consider grabbing a hot drink of choice and swinging through the drive-thru at the famous Dom Bakeries, situated kitty-corner from Biggby on the opposite side of the street.
As you pass the water tower to enter Ypsilanti, your next opportunity to caffeinate comes in the form of Sweetwaters Coffee & Tea. This sweet little shop adjacent to Eastern Michigan University's campus is a daughter shop of the Sweetwaters franchise begun in nearby Ann Arbor. EMU students filter in and out of this shop as sunlight filters in through the two walls of broad windows. Snack options abound, and teas occupy almost as much menu space as coffees, which usually stick to medium-dark roasts. Their signature drinks may delight visitors who share the founders' Asian heritage, and may have grown up drinking their coffee with sweetened condensed milk (order the Dragon Eye).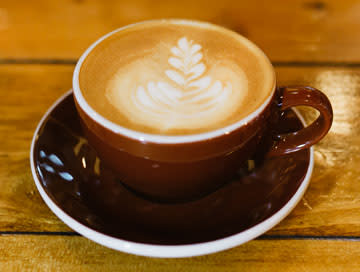 Another signature favorite is the Napali Brew, a summery combination of vanilla ice cream, espresso, and hazelnut syrup that could only be improved by  the feeling of sand between your toes.
As you continue further into Ypsi, you'll discover Cross Street Coffee (some locals still call it Ugly Mug, or The Mug— the shop rebranded in 2017 and old habits die hard). Cross Street is another popular student location, but has been an institution for townies of all ages for over a decade. Cross Street roasts their own coffee in-house, and beans are available for purchase if you're already looking ahead to tomorrow morning. Come for the coffee, stay for the yummy bagel sandwiches (order the Killer Bagel). Keep your eyes open as you wait for your drink order: the walls are almost always bedecked with local art for sale, and you may just find yourself making an art purchase right along with your coffee and bagel.
A few blocks south, down on Michigan Avenue, lies our next stop: B-24's Espresso Bar, I'd like to just pause and say that I don't in any way at all condone visiting every coffee shop in town all in one fell swoop. That's too much caffeine. You'd blow up. Don't do it. In any case, when you've got some time to sit and enjoy the ambiance, visit B-24's. The shop, which is directly adjacent to the Ypsilanti District Library, pays homage to Ypsilanti's Willow Run bomber factory (of Rosie the Riveter fame) - now called the Yankee Air Museum, and the aircrafts the factory produced. B-24's sources its coffee from two Ann Arbor favorites: RoosRoast, and Mighty Good Coffee Co. Both RoosRoast and Mighty Good started locally and are successful homegrown wholesalers. RoosRoast coffees tend darker, and Mighty Good's tend medium to light. Whichever your preference, you can find it here, along with delicious sandwiches and nibbles.
Cross the bridge into Depot Town, and Hyperion Coffee Co. rules the scene. While Hyperion began as roasting and wholesale only, the outfit has achieved such success that they added a seating area only months after opening, and currently wholesale almost ubiquitously in the greater Ann Arbor area.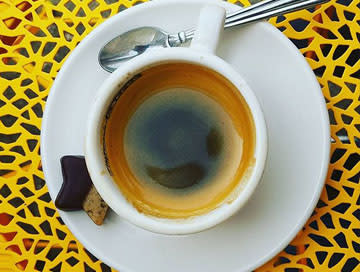 (Their end-of-the-aisle kiosk at Plum Market in Ann Arbor is my saving grace) Hyperion is set apart by its owners' many years of experience, and commitment to sourcing their beans through direct trade. Frequent flyers at Hyperion will begin to recognize the names of individual human farmers from whom beans are sourced time and time again. With a wide variety of single-origin, direct-traded coffees, with fruity or even tea-like flavors coaxed out through mindful processing, Hyperion fully deserves its reputation as a robust wholesaler and a darn good cup. The shop also carries all the needed gear for any third-waver's brew method of choice (Aeropress, for me). Buy a bag, get a cup free.
Hyperion coffee also flows at nearby Cream & Crumb, a delectable sweets shop on the opposite side of River Street. Cream & Crumb is my go-to spot when I want an extremely dependable cup of coffee for me, but a ridiculous sprinkle-laden treat for my preschooler (……and also for me). The shop (which—log this away—also slings delicious ice cream) has a lot of open space for my kid to go boneless in when I tell him it's time to leave. Treat options include all sorts of yummies from Zingerman's Bakehouse as well as a rotating cast of tiny cheesecakes, savory tarts, and, if you're just the very luckiest, absolutely life-changing scones from Fairytale Baked Goods (I have literally dreamed about these scones).
Around the corner (or, let's be real, impatiently through the alley) from Cream & Crumb is Cultivate Coffee & Tap House, which recently installed their own in-house roastery, run by coffee-whisperer Jess Harmon.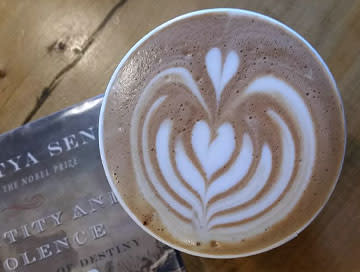 And when I say "in-house," I really mean, "in-room," as patrons are free to pull up a barstool and watch through tempered glass as Jess roasts the next batch to absolute perfection. Whether you're looking for a light and dependable black coffee, or a mouth-watering milk-based drink (or tea! Or beer! Or cocktails! Or wine! Or toast! Or snacks! Or a knitting/minecraft/permaculture/babywearing/running for office/tutoring/all those things at the same time meetup!), Cultivate is a great place to get your java on.
Ypsilanti is a creative, hard-working town where we take our caffeination very seriously. There's an abundance of options, no matter how you take your coffee. As such, I'm aware that I may have overwhelmed you. If I've presented you with entirely too many options, you've wasted your entire day deciding, and now you find yourself wanting a different sort of drink entirely, perhaps you'll consider my Honorable Mention in the coffee category: Maiz Mexican Cantina. Take it from me because I've ordered it: Coffee. With. Tequila. Alleluia, alleluia, amen.
Like our content? Get all the latest information delivered right to your inbox! Subscribe to our monthly email newsletter.