First Fridays Ypsilanti is more than an arts and culture walk - it's a network of artists, local businesses, and volunteers eager to showcase Ypsi's vibrant creative scene. Hands-on activities, unexpected art exhibits, and enthralling live performances can be found in numerous venues throughout the city.
FFY is designed to stimulate the local economy and provide a platform for local businesses to promote what they're passionate about. To accomplish these goals, FFY encourages business owners to welcome local artisans and musicians to their store or restaurant on the first Friday of each month, from April to December. Participating shops and eateries often highlight an artist or two, invite local talent to perform, and/or offer a scrumptious snack for First Friday-goers.
 The mutually beneficial relationship between artists and venues is one of the reasons why FFY has become such a success, and why First Fridays significantly over the years. After starting with just a few enthusiastic shops, the self-guided walk now features at least 20 venues per month. To cultivate the partnership between business owner and artist, FFY hosts events called Info Shops. These quick classes are a great way to get an idea of what FFY is all about, allowing business owners and artists to see where they fit into the creative puzzle.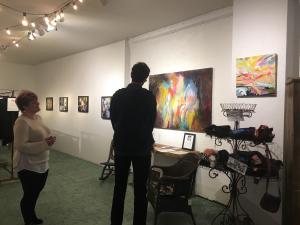 More fun with FFY!
The Second Annual Ypsi Pride, a colorful celebration of  Ypsilanti's LGBTQ+ culture, was held on the first Friday of June this year. Ypsi Pride took over the Washington St. block between Michigan Ave. and Pearl St. to display creative vendors, vibrant performances, and live demonstrations for interactions with the public. First Fridays Ypsilanti works hand-in-hand with Ypsi Pride to make it an event to remember!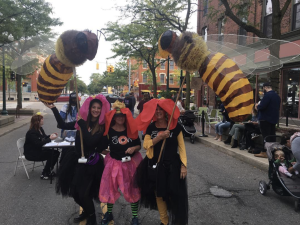 Also in partnership with FFY, the Festival of the Honey Bee has come to life over the past five years in downtown Ypsilanti. This citywide celebration features art demonstrations, music, unique vendors, and educational activities for all ages. Held on the 7th of September, the festival coincides with the creative festivities FFY has to offer. You'll want to keep an eye out for the 2018 celebration -honey tastings and bee-themed activities will ensue!
Enjoy our content? Sign up for Ypsi Real's monthly newsletter to have it delivered straight to your inbox!