Visitors to Ypsilanti can get a start-to-finish local experience, with no cover charge, at Cultivate Coffee & Tap House's Sundays in the Garden series. Twelve free concerts, hosted on their beautiful beer garden stage, feature local music, original, in-house beers, and sales benefitting many local nonprofits and causes. The series runs June 17-September 2. 
Local Music
Beginning on June 17 with Ypsi natives Slug Love (with special guest Molly), each Sunday will feature different musical guests and a one-of-a-kind slice of the creativity that defines Ypsilanti's arts community. Among area heavy-hitters like The Accidentals and Frontier Ruckus are a slew of exciting musical acts who call Ypsilanti home. Certain to be exciting is the Grove Studios Showcase on August 26. The evening's concert features artists who have worked with the newly-opened Ypsilanti recording studio. Grove Studios is a newcomer to the Ypsilanti creative scene, and breaking the mold of typical studio/workspace culture. Grove's collaborative workspaces offer area creatives the ability to rehearse, record, and create on a membership model that furnishes artists with sound reinforcement, percussion equipment, storage, food, and wi-fi.               
Other homegrown acts include Joanna & the Jaywalkers (Ypsi folk-pop ensemble led by singer-songwriter Joanna Ransdell: acoustic instruments and a nostalgic 90's-inspired sound) Impulse, (neo soul on drums, bass, guitar, keys, trumpet), Abigail Stauffer (healing, guitar-based songs with clever lyrics), Kate Peterson (singer-songwriter of Nervous But Excited fame, with a stirring, powerful voice), and local songwriting luminaries Matt Jones and Misty Lyn, who open for Michigan's music goddess, May Erlewine. See the full schedule here.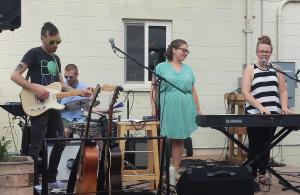 Local Beer
Whether you're there for the music or there for the beer, creativity and innovation pervade the Sundays in the Garden series. Cultivate has recently begun brewing and serving original beers. Under the creative direction of brewer Kuma Ofori-Mensa, Cultivate has released a series of limited-edition collaborative brews, which are produced at, and shared with, partnering facilities. These original brews have included, among others, a wheat ale made with pineapple and tangerine juice, a toasty, chocolatey stout made with Cultivate's house-roasted coffee, and an oak barrel-aged saison, made with the zest of navel oranges and Meyer lemons. Each Sundays in the Garden event has a featured brewery, eight of which are breweries that have partnered with Cultivate to create original brews (Ellison, Vivant, Perrin, Drafting Table, River's Edge, Transient, Ascension, Speciation). A portion of the sales of the evening's featured beers will be donated to the evening's featured charitable cause.
Local Heart
The soul of Sundays in the Garden is harnessing the creativity of Ypsilanti's community, and using it to create positive change in our city. Eight of the twelve nonprofit partners benefitting from Sundays in the Garden are Ypsilanti-local. This year's local beneficiaries are:
Growing Hope (promoting fresh food access)
Hope Clinic (free medical/dental clinic, food programs, emergency & basic needs)
S.O.S. Community Services (material support aimed at preventing and ending homelessness)
Dawn Farm (addiction treatment, rehabilitation and support)
Ypsilanti Meals on Wheels (food access for homebound seniors)
We the People's Grower's Association (sustainable farming initiative employing men and women returning home from incarceration.)
Ozone House (shelter and support for homeless youth and runaways)
Friends in Deed (free furniture, used cars, utility assistance to combat poverty in Ypsilanti)
These nonprofit partners all take different, creative approaches to bettering the Ypsilanti community, and it's easy to participate thanks to the Sundays in the Garden series. Grab a few friends, kick back, enjoy local music, Michigan craft beer, and a true Ypsilanti experience.
Enjoy our content? Sign up for Ypsi Real's monthly newsletter to have it delivered straight to your inbox!