Haven't heard about the great food scene in the Ann Arbor area? Well, get ready to eat your heart out. It's nearly impossible to explore our region without finding some of the most delectable eats around. And the best part? All of this fantastic cuisine is totally unique and hyper local – and we're pumped to tell you all about our #LocalFlavor in #DestinationAnnArbor.
Ann Arbor's foodie reputation speaks for itself. But in case you haven't heard — if you're hungry, get yourself to A2. Our favorites, like Sava's, are mainstays for both University of Michigan students and townies. A self-made woman, Sava Lelcaj, created SavCo Hospitality, which also owns Aventura and Tavolina Catering and Events. Her restaurants delve into the essence of complicated dishes from around the world. But don't rule out simplicity quite yet — the mac 'n' cheese is truly divine.
To get away from the hustle and bustle of downtown, head to tranquil and sustainable White Lotus Farm. Relax in the beauty of the pastoral grounds and help yourself to delectable produce, bread and cheeses. Take a tour and admire the animals, who have free range of the facilities. And if your kids want to get up close and personal with those adorable baby goats, make sure to sign them up for the Junior Farmer youth classes.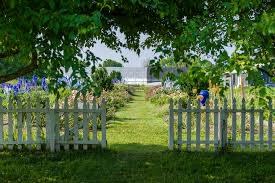 Needing some groceries? Look no further than Argus Farm Stop. Weave your way past the students and freelancers drinking coffee and using the Wifi to the inside of the fresh produce and friendly faces inside. Both locations, conveniently on either side of town, connect us to the local food economy through local, sustainable nourishment.  On your way, stop at Fleetwood Diner for their amazing, known by people far and wide, hippie hash!
Many of Ypsilanti's charming restaurants are infused with history — some of them date back to the 1950s! Harvest Moon Café is an ode to the home cooked meal, with 100% house-made items on the menu. Make yourself at home in this classic Ypsi hotspot.
Beezy's is the quintessential #ypsireal breakfast and lunch spot, keeping it simple, fun and fresh. A neighborhood joint with an incredibly friendly staff and an A+ menu, Beezy's is a great place to stop in between exploring the rest of Ypsi.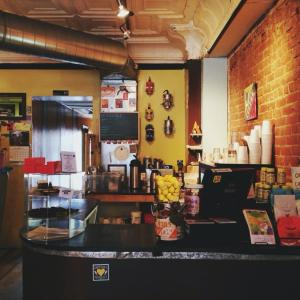 But if you're feeling like a night in, there is still a way to get the quality cuisine of Ypsilanti. Harvest Kitchen is an innovative meal soluciton, carrying great food from local farmers. It's a sustainable way to get local food all year long, since Harvest Kitchen doesn't let the Michigan winters stand in its way. The company uses hoop house technology and freezers with storage to keep local ingredients fresh and available 365 days a year.
In Dexter, taste is paramount. This is clear at the Barred Rock Café, which specializes in farm to table meals. We're loving the proliferation of locally sourced ingredients in Dexter joints like the Barred Rock Café — it's awesome to see a historic town embracing sustainable, foodie values. Make sure to also check out the new Fillmore Bar & Grill, opened by Dexter locals who needed a new spot in the neighborhood to hang.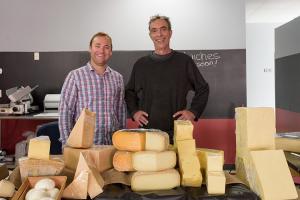 How do we know The Cheese Shop in Saline has the best cheese around? Because it opens people's eyes to their favorite types of cheese, which they sometimes haven't even tried before! John Loomis, a co-founder of the famed Zingerman's Creamery, started it so you know it's good. The store sells both American and European cheeses, as well as everything that goes with it — meat, bread and wine.
Milan's Original Gravity Brewing Company comes highly recommended as the best craft beer around. This place has been kicking for ten years, giving Milan residents a special place to kick back and enjoy a well-made beer. And make sure to go on Fridays for the bumping live music.
A trip to Manchester would be remiss without a stop for a snack. Luckily, this adorable small town has options. Stop by the Thursday afternoon farmers market for a baked good or sit down at one of the restaurants. We're partial to Ollie's Pizza and Grinders for the cute shop and the delicious pies. And on the chance that you're particularly ravenous, head over to The Hungry Wolf and fill up on the hearty pub food of the neighborhood hot spot.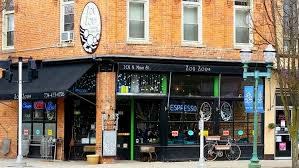 If you're doing it right, your time in Chelsea will be marked by some spectacular meals. Common Grill, gets a lot of buzz for Chef Craig Common's imaginative and creative workings with food - but don't let your search for a great meal stop there! The carnivores in your life will thank you for taking them to Smokehouse 52 BBQ, some of the best pit barbeque the town has to offer. And take a quick trip to France without living the mitten — the crepes and live music at Zou Zou's Café and Coffee Bar will make you fall head over heels for this classy town.
Here in the Ann Arbor area, our passion to food reflects our commitment to a sustainable, community-oriented way of life. We truly love #LocalFlavor and know that you will, too!
Enjoy our content? Sign up for Destination Ann Arbor's monthly newsletter to have it delivered straight to your inbox!