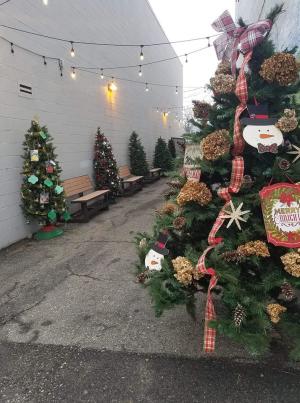 Like a tree that grows from a small seed, Manchester's Christmas in the Village – scheduled each year on the first Friday night and Saturday of December – had humble beginnings.
"There was a group of community members, a group of women, who started a craft show out of their house in the 1990s," said Jennifer Wojtowicz, Manchester Area Chamber of Commerce President. "It's just grown from there." Now the town-wide, two-day holiday extravaganza always starts with a parade on Friday night. "Santa brings up the rear of the parade, which ends at Wurster Park, and from there, kids get in line and get a professional photo, taken for free, with Santa," said Wojtowicz. "A lot of families use that picture for their Christmas cards. And on Saturday, all of our local businesses get involved, with all kinds of fun things and opportunities: specials and sales, open houses, a scavenger hunt, a cookie contest, and a cookie sale – which is a fundraiser for the chamber – and face painting. There's going to be an ugly sweater holiday happy hour that all the restaurants will be participating in from two to four, … a chili cook-off ... and this will be the second year that the school's cross country team will put on a run called the Reindeer Trail Run."
In addition, there are craft shows in Manchester's local churches, live music, a home tour, a festival of trees, pop-up markets, and horse-drawn carriage rides. This is a lot of concentrated activity for a small, rural town – Wojtowicz estimates that well over a thousand people attend the event each year – but the quaintness of the locale is, of course, a central part of its charm.
"We don't have it anymore, but in the past, we had a horse and carriage shuttle," said chamber trustee Linda Stevens.
"But we have a lot of public parking here, so we handle it pretty well," said Wojtowicz. "Everything is centrally located, so it's pretty easy to just park and walk."
Things have been bustling at Christmas in the Village in recent years, but that's due to the concerted efforts of local business owners and community leaders.
"For a minute there, the event had kind of nose-dived, and was becoming poorly attended," said Wojtowicz. "So a group of chamber members decided to revive it in 2017, and it's been picking up momentum since then. … Businesses have been starting to understand that being part of events like this, and hosting activities for them, benefits everyone." Both locals and people from outside of Manchester come to sell their art/craftwork at the event's bazaars, and the same applies to those who attend Christmas in the Village. For the event not only gets you into the spirit of the season but also provides a fun excuse to visit this off-the-beaten-path Washtenaw County town. "A lot of people don't realize, until they come here, that Manchester has quite a music and arts scene," said Wojtowicz. "We've got so many local, talented artists here – nationally recognized artists. … And a lot of times, people will say, once they're here, 'Manchester's so adorable.' Because people often don't realize what we have to offer. Yes, we're a farm town, but once you get here, you'll find that we have really good restaurants, and concerts, and some really fun things to do."
So if you want to turn your "humbug" attitude into more of a "ho ho ho," consider pointing your sleigh toward Manchester this December.
"People love the activities we put on, … and everyone's very friendly," said Wojtowicz. "It's just a really great atmosphere."