Ann Arbor's rich history as a destination for arts & culture goes back decades. Seamlessly interwoven with the University of Michigan's presence as an artistic and theatrical giant in the community, Ann Arbor - and specifically the State Street District on the east side of downtown - is the perfect destination for those who love history, performances, galleries, studios, and more.
First off - museums. You won't find more museums located quite so closely together anywhere else in the city - and these are world-class, researcher-filled, award-winning museums. You'll want to visit them all!
The newly-renovated, re-opening soon University of Michigan Museum of Natural History is absolutely not to be missed. This place will blow you away. Its new Planetarium & Dome Theater will entertain you and educate you with programs from archaeology to zoology and everything in between. The mammoth found just minutes away in the small city of Chelsea will be on display for the first time, along with tons of other new exhibits that are interactive, hands-on, and utterly fascinating.
The University of Michigan Museum of Art is one of the largest university art museums in the country. With frequent boundary-crushing exhibitions and events, and boatloads of programs and services, this super instagrammable museum is an artistic punch in the face.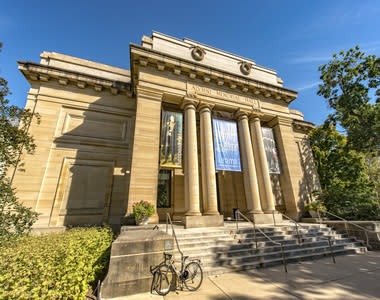 Where can you visit a mummy with a Twitter handle? Right here in Ann Arbor's State Street District at the Kelsey Museum of Archaeology. Djehutymose (the aforementioned sarcophagus), is just the tip of the iceberg when it comes to WOW moments you'll have at the Kelsey Museum.
And performances - truly, we can't say enough about the incredible talent and creativity both cultivated by, and drawn to, the city of Ann Arbor. Here are a few of our favorite performance organizations and venues.
Necto Nightclub - for all your late-night dance club needs. This venue hosts a solid number of shows each year geared towards the LGBTQ community, but open to everyone.
Love classical music? The Ann Arbor Symphony Orchestra will satisfy your craving for classical - but they also perform pieces rooted in pop culture, like their recent Harry Potter-inspired event and annual Disney show.
University Musical Society - better known as UMS - is a world-renowned institution that brings world music and barrier-busting performances to Ann Arbor's historic venues. Recently, actor Alec Baldwin visited for a dramatic reading of Arthur Miller's Death of a Salesman!
The Michigan and State Theaters are historic gems that offer both film and live performances - series of eccentric and international films, internationally-known comedians, and award-winning artistic presentations.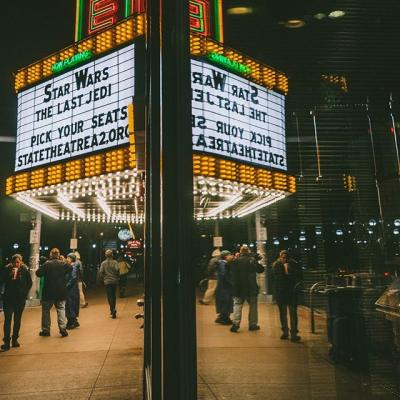 And events! It's not just the mainstays in the State Street District that make it the arts and cultural hub of the city. You'll also find events throughout the year that add to this neighborhood's artistic appeal.
Each January, the Ann Arbor Film Festival descends upon the Michigan and State Theaters. As the fourth-oldest film festival in North America, and the OLDEST experimental film festival, this event attracts over 3,000 entries from filmmakers in over 60 countries.
A bit later in the year, the Ann Arbor Summer Festival is beloved by locals and visitors alike, and draws eccentric and acclaimed performances from artists all over the world to the campus area of the State Street District during the months of June and July.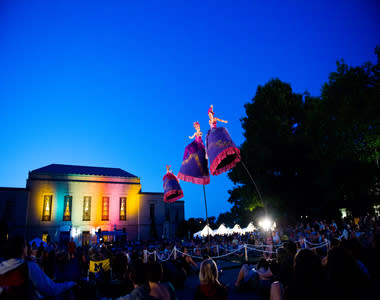 Photo courtesy of Myra Klarman. 
And perhaps most famously, the State Street District is home to one of the four art fairs that comprise the Ann Arbor Art Fair event each summer. Each fair has its own distinct flavor and appeal, and the State Street District's is a great blend of world-class art, unique retailers (with great sales!), and internationally-inspired food.
For more information about the State Street District, check out THIS blog about the food scene in the area, and THIS piece about historic Nickels Arcade (in the heart of the State Street District). 
Photos courtesy of the State Street District. 
Enjoy our content? Sign up for Destination Ann Arbor's monthly newsletter to have it delivered straight to your inbox!