"Let's get a drink!" Whether you're speaking with family and friends, co-workers, or a date, going out for a drink is a time-honored ice breaker to get the conversation flowing and the night going. The Ann Arbor area has some of the best craft cocktails around. You'll find bars, pubs, distilleries, and speakeasies with creative drink menus and bartenders crafting something for everyone. What if you don't drink alcohol? No problem! These master mixologists make fantastic mocktails, some on the menu and some created on the fly.
When you walk into The Last Word, you'll be greeted by a host who will lead you behind a curtain into a moody space with dim lights, woodwork, and comfy chairs. You'll find this hidden, little gem tucked behind an unmarked door on Huron Street. The vast drinks menu is a book, starting at chapter 1 with wines and ending at the epilogue. Chapters 3-5 are dedicated to craft cocktails, both traditional and inventive.
Destination Ann Arbor Staff Pick: Los Lobos – Lunazul Blanco Tequila, Fresh Lime, Fresh Pineapple, Agave Nectar, and Pink Peppercorns.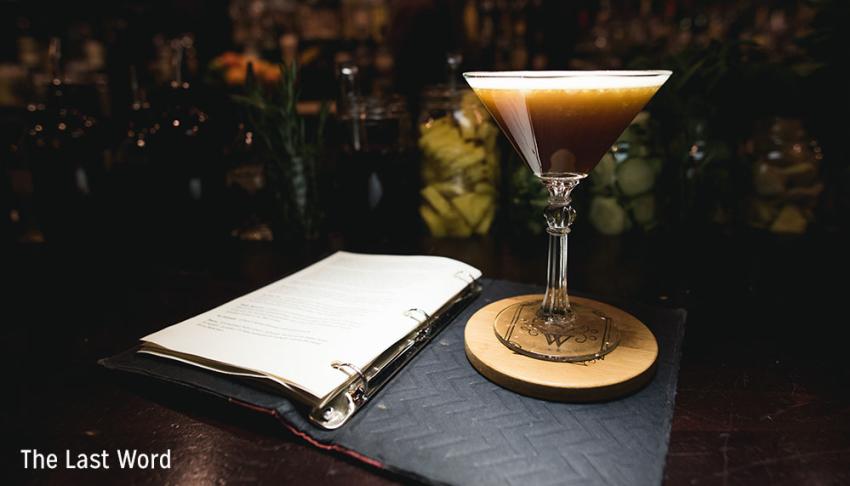 A great spot to start or end your night on the town, Nightcap is located on Main Street. This trendy bar hosts a beautiful marble counter, velvet banquettes, and a menu featuring fresh ingredients and mouthwatering flavors. Creating drinks at the highest level of innovation with cutting edge equipment, let Nightcap's bartenders treat you to a progressive expression of the new cocktail era.
Destination Ann Arbor Staff Pick: Penicillin – Monkey Shoulder Scotch, Honey, Ginger Syrup, Lemon Juice, Laphroaig 10 year.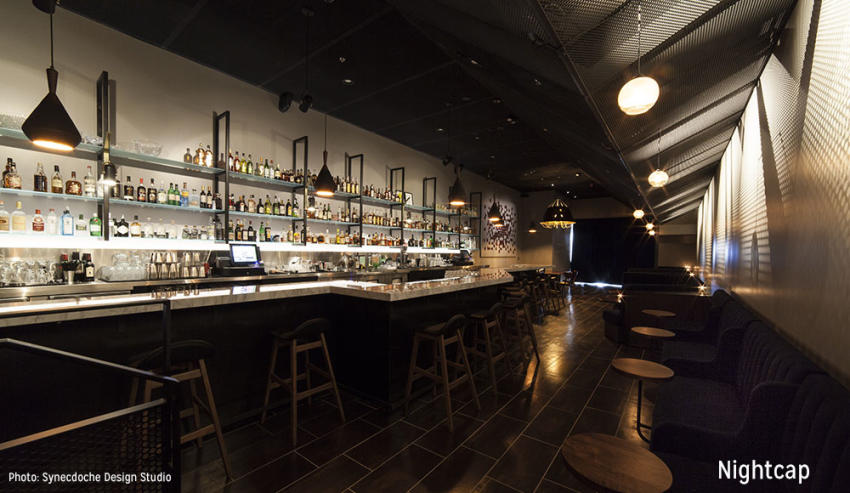 In the nearby city of Ypsilanti, Ypsi Cocktail Club is serving up locally distilled liquors used to create beautiful cocktails. The décor feels like a modern take on 30's style. Very glamorous with grand arches behind the bar, exposed brick walls, and bronze tin tiled ceiling. The menu changes frequently so instead of recommending a particular drink, we recommend asking the bartender for their recommendation from their current drink menu based on your tastes.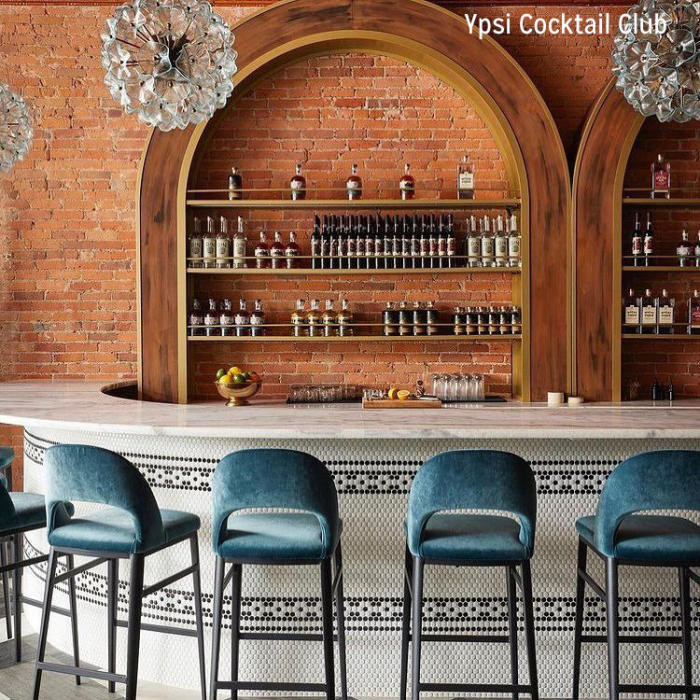 Just a short walk away from Ypsi Cocktail Club, in a building that once housed Ypsilanti's local exchange of the Michigan Bell Telephone Company, you'll find Bellflower.  With a beautifully modern feel, you can enjoy both indoor and outdoor seating options along with a creative cocktail menu. We especially like the attention paid to the non-alcoholic options. The staff are friendly and knowledgeable, so don't hesitate to ask them for a recommendation.
Destination Ann Arbor Staff Pick: Garden Bee (Mocktail!) – Seedlip Garden 108, Michigan Honey, Lavender Syrup, and Lemon.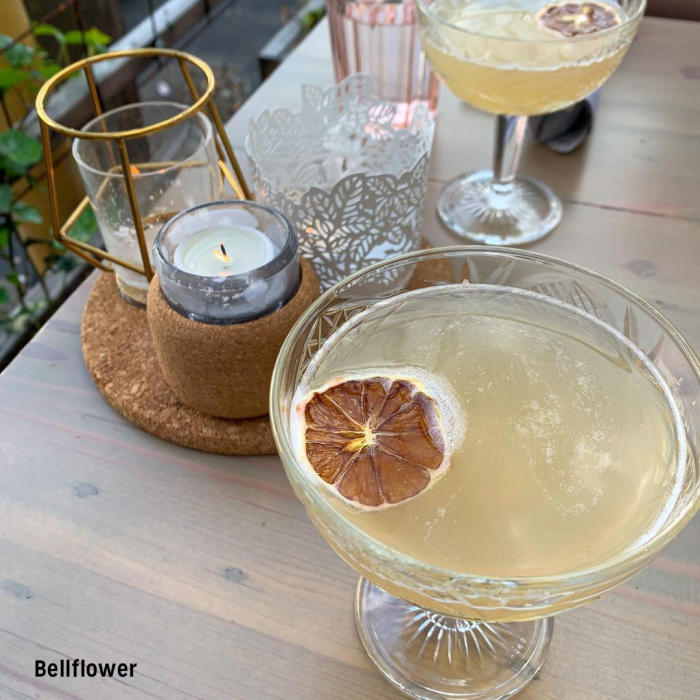 Situated right on Main Street with a wooden raven looking on, stands The Ravens Club. Boasting over 150 American whiskeys, a carefully created yet approachable cocktail menu, and an outdoor patio close to all the action. Offering up the classics like Gin & Tonic and Manhattan, they also have a house-made ginger beer for their mules.
Destination Ann Arbor Staff Pick: Fernet Buck – Fernet Branca, TRC Ginger Beer, Fresh Lemon, and Mint.
Building their cocktails from the ground up, the Ann Arbor Distilling Co. starts with distilling liquors with as many local ingredients as possible. Enjoy in their tasting room or take a few bottles home to make concoctions of your own. We love their Spaulding's Coffee Liqueur and four seasonal gins, but you really can't go wrong with any of their bottles.
Destination Ann Arbor Staff Pick: Spauling's Spiked Hot Chocolate  – Spaulding's Peppermint Schnapps and Co­ffee Liqueur, House Hot Cocoa, Marshmallows, Peppermints.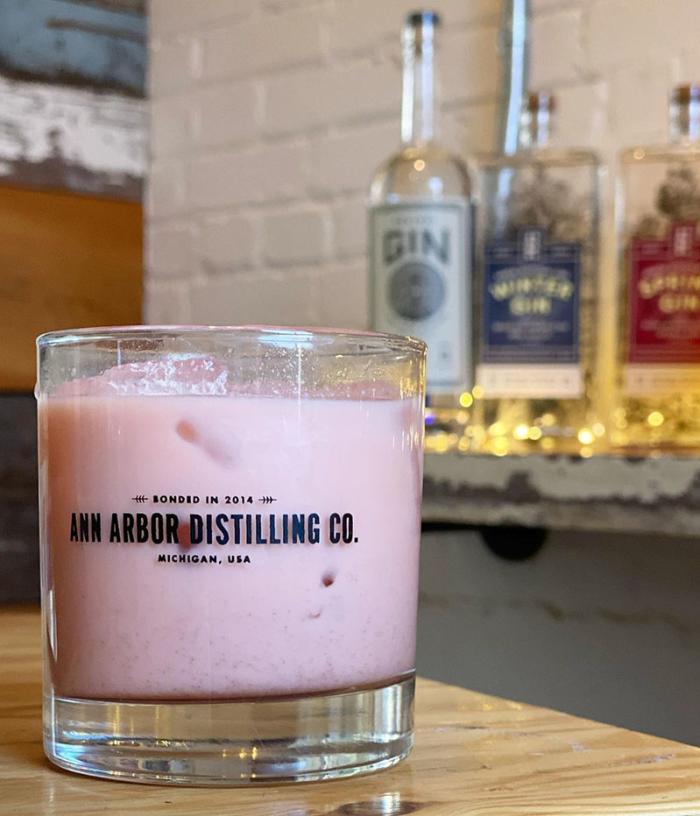 Located in a centuries-old cavernous venue, Root feels like you've stepped into an old wine cellar, but barrels have been replaced with mid-century modern furnishings with little seating nooks for an intimate experience. Root's attention to detail even extends to the ice, with shaped cubes crafted to chill their unique cocktails perfectly.
Destination Ann Arbor Staff Pick: Root Old Fashioned  – Graham Cracker Infused Buffalo Trace Bourbon, Rittenhouse Rye, Crème De Cocao, Angostura, Smoke.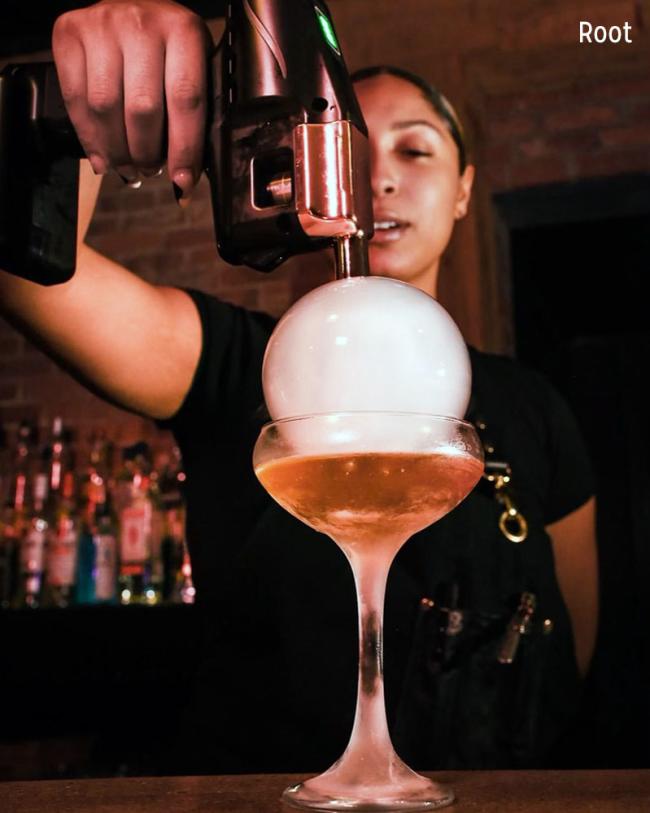 The property hosts four bars (including Root!). Enjoy the rooftop bar, a stunning mural by Ann Arbor's own Gary Horton in the courtyard, the cavernous space of Root, and The Circ Bar itself. These spaces offer a unique venue for your next event, whether it be your wedding, graduation, or retirement party! Thursday through Saturday you can belt out ballads! Karaoke is from 8:00 PM to 2:00 AM.
Destination Ann Arbor Staff Pick: Cucumber G&T – Pink Peppercorn Infused Gin, Cucumber, Lime, and Tonic.
How many bars can you name that serve fresh burrata? This one does, along with plenty of other upscale food options. Enjoy the casual vibes, chill tunes, and fantastic flavors of this hidden, local gem. The cocktail list isn't long; however, The Bar 327 at Braun Court makes each one to perfection. Try one of the Digestivos on offer as well, perfect for after dinner.
Destination Ann Arbor Staff Pick: White Russian – Vodka, Coffee Liqueur, and Cream with Ice Cubes. (If it's good enough for "The Dude," it's good enough for us).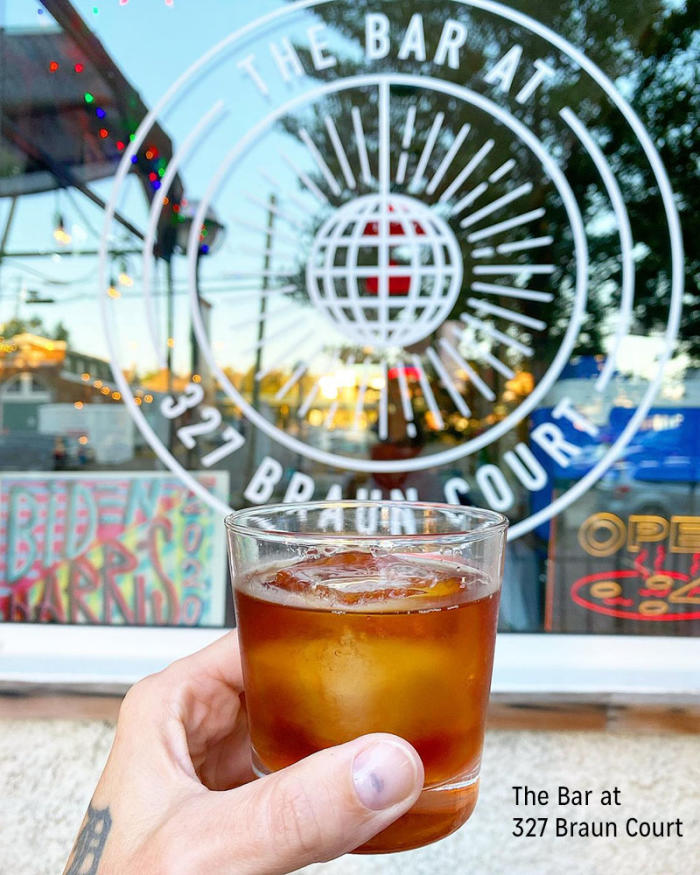 While this bar is not Jack Sparrow's pirate ship, Black Pearl does offer some of the best seafood dishes and complementing drinks on Main Street. Settle into the cool and comfortable atmosphere with friends or a date. Stop by on Tuesdays for tacos and be sure to come for happy hour Monday-Thursday 5:00-6:00 PM.
Destination Ann Arbor Staff Pick: Oaxacan Social – Banhez Mezcal, Aperol, Falernum, Lime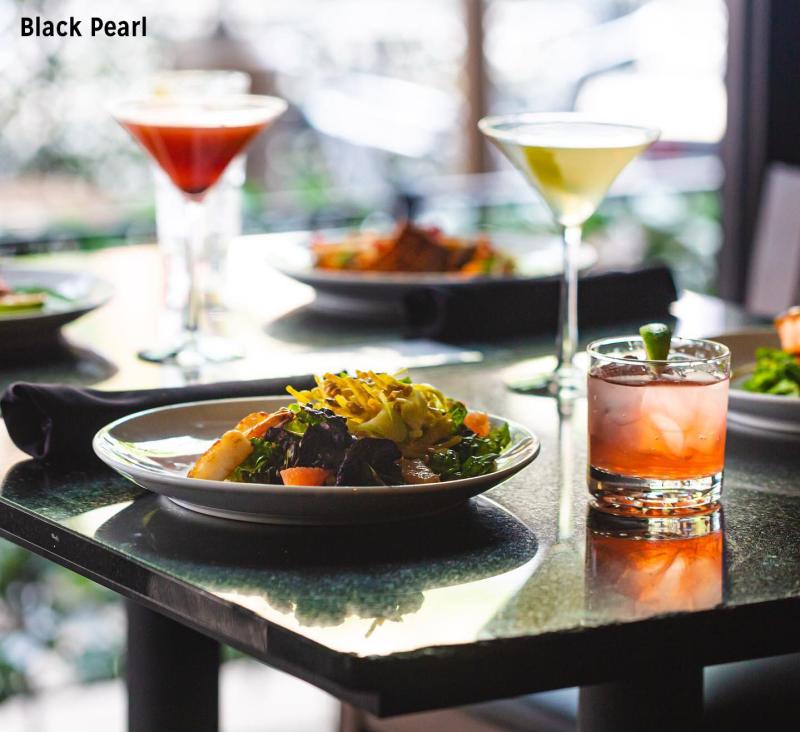 Jim Brady's Ann Arbor
Not to be confused with the famous Michigan alum, Tom Brady, Jim Brady's Ann Arbor is three floors of stunning retro style. Paying homage to the original Diamond Jim Brady's on Seven Mile in Detroit, Ann Arbor is happy to have our own version of this iconic restaurant. Perfect for date night, girls' night out, or even game day thanks to their 222" screen! The bar offers a large variety of spirits ensuring your cocktail is exactly the way you want it.
Destination Ann Arbor Staff Pick: Sugar and Spices – El Mayor Reposado Tequila, Cointreau, Agave, Pineapple Juice, and Turmeric with a Chili Powder Sugar Rim.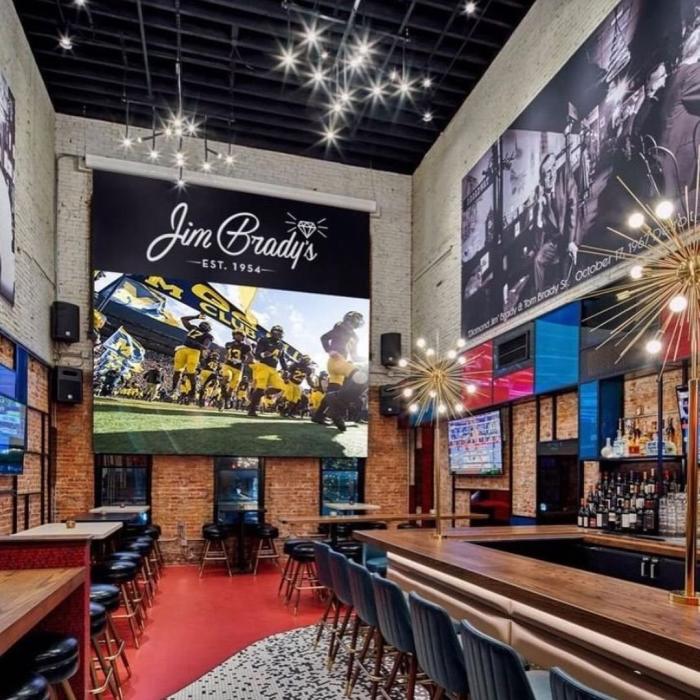 One of Ann Arbor's best kept secrets, Bab's Underground is a cozy space with high back bar chairs, leather couches, and an old-fashioned photo booth. Enjoy cocktails while playing pool on one of two regulation size pool tables, challenge your friends to pinball or other arcade favorites, watch a game, or just have a good ol' conversation. The friendly bartenders will happily recommend one of their signature drinks or whip you up something customized.
Destination Ann Arbor Staff Pick: The Estate – Plantation Dark Rum, Fernet, Strawberry Syrup, Lime, & Ginger Beer.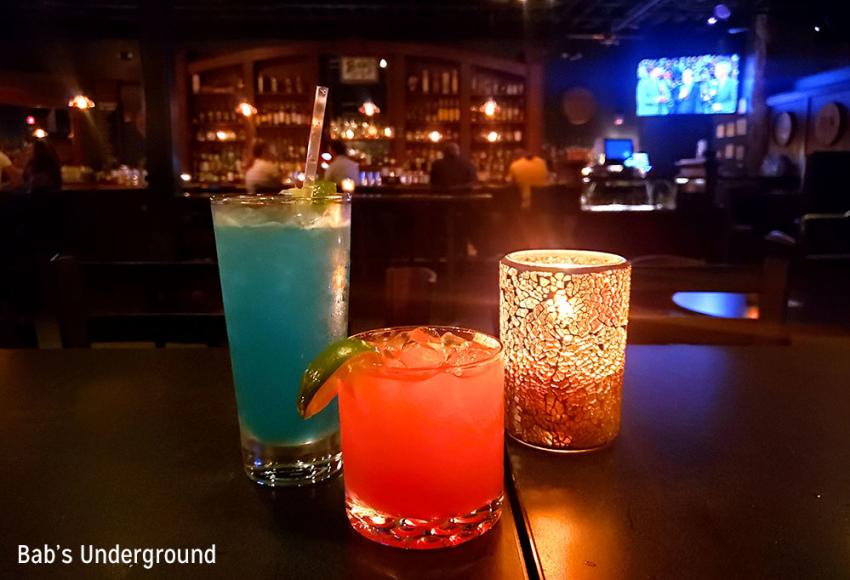 A cocktail bar and live music venue at the family owned and operated Weber's Inn Boutique Hotel and Restaurant. The Habitat boasts an outdoor terrace, dance floor, and for all the wine lovers, a sixteen-bottle wine tap system! Take advantage of the weekday no-frills happy hour with generous food and drink specials. If you're feeling peckish, we highly recommend trying a slice of the carrot cake with your cocktail, it's heavenly.
Destination Ann Arbor Staff Pick: Whiskey Sour – Bulleit Bourbon, House-Made Sour, Egg White, Bitters.
This is another hotel bar at its best! The Allen Rumsey Cocktail Lounge is inside the Graduate Hotel. Whether you're a hotel guest or just coming in for a drink, the green leather chairs, plaid banquettes, and wooden pillars will have you feeling warm and cozy. This bar is serving up classic cocktails and table side service reminiscent of the supper clubs from the 70's. If you're a Michigan fan you might enjoy this fun fact: the lounge provides snacks and breakfast for the University of Michigan football team!
Destination Ann Arbor Staff Pick: The Wolverine – TC Whiskey, Ancho Reyes, Orange, Cinnamon, Clove, and Chocolate.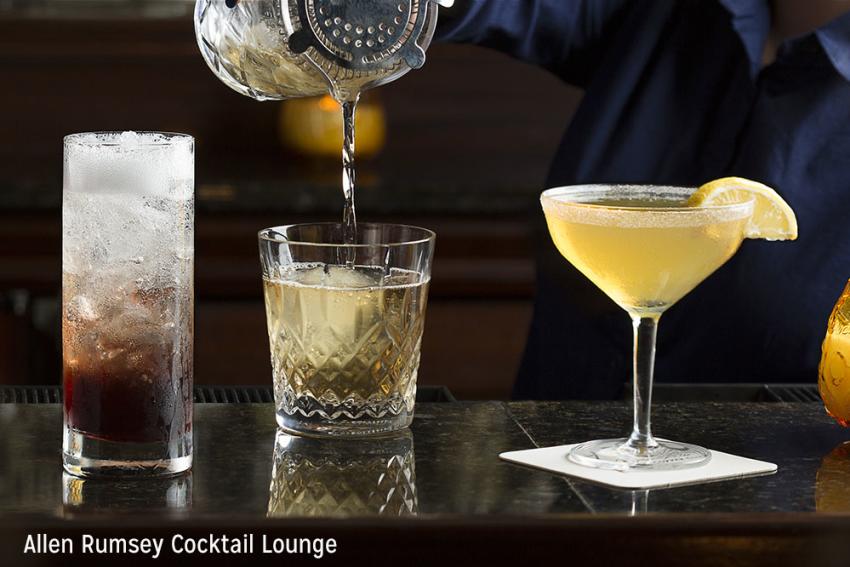 York is a local neighborhood oasis. Winning "Best Wine Shop in Ann Arbor" many times over, it really is a great place to buy a bottle. In addition to the wine, they have amazing cheese, coffee, pastries, and host some fantastic food trucks including Bao Boys. That's not all, they also have craft beer, a full bar, with you guessed it, cocktails! The "York Yard" is a large outdoor space surrounded by murals. During the colder months they have fire tables to cozy up to.
Destination Ann Arbor Staff Pick: Tokyo Drift – Hendrick's, Domaine de Canton, St. Germaine, Lime, Rosemary, Ginger Beer.
This barely begins to scratch the surface of the fantastic array of libations the Ann Arbor area has to offer. Click to check out more amazing places to grab a drink.
Did we miss your favorite place to get a cocktail? Tell us about it in the comments!
Like our Content?
Get all of the latest Ann Arbor happenings delivered to your inbox. Subscribe to our monthly newsletter.
Follow Destination Ann Arbor, @AnnArbor on social media. Instagram, Facebook, Twitter