This article is from 2017, but still has some great ideas for ways to experience Washtenaw County! For updated event dates, click HERE.
Have you ever taken a drive out on the back roads of western Washtenaw County? They traverse some of the most picturesque rural landscapes in the region, and contain one of Michigan's first and largest German settlements. Many of its houses, barns, outbuildings, roads, and farm fields remain visible today. You can learn more about this fascinating history by checking out the interactive Washtenaw County German Agricultural Heritage Tour and reading more below.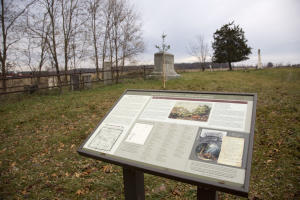 1. No Secret Agents. 
One rural road name that may catch your eye is Spies Road, a short gravel connector between Parker Road and Steinbach Road in eastern Freedom Township. Unlike James Bond and his colleagues at MI-6, this road's name is pronounced "SPEES." Its namesake family were German immigrants who spelled their surname "Spieβ," with an Eszet to indicate a sharp double "s."   
Photo: Freedom Cemetery Waters Rd in Freedom Township
2.  Erie Canal: The Bullet Train of the 1820s.
The first large waves of immigrants to Washtenaw County were descendants of English pioneers who has settled in New England, New York, and Ontario (Canada), and who had arrived after the Erie Canal opened in 1825. With the canal, the journey from New York to Michigan was drastically reduced in both time and hassle. It was way better than trekking through the Great Black Swamp with all of your worldly possessions. Most of the land first occupied by these Yankees was later purchased secondhand by German immigrants, when those original settlers chose to push further West into the American frontier.
3. American. German. German-American.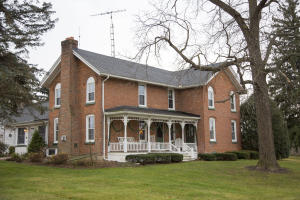 German immigrants made their way to our region in the 1830s and 1840s, hailing from Westphalia, Württemberg, and nearby areas in western Germany. They settled in what is now West Ann Arbor and much of southwest Washtenaw County. They took an established rural roads network, fashionable Greek Revival style buildings, and roadside cemeteries … and quickly made them their own by expanding self-sufficient farmsteads; constructing farmhouses with multiple outbuildings; clearing fields and tending woodlots; as well as establishing schools and churches. They favored solid red brick construction with heavy arched window "hoods" and paired brackets under the eaves to convey status and wealth. This style of architecture can be seen in many of the farmhouses of the area, as well as in Manchester Village, a center of the local German economy.
Photo: John Alber Farmhouse 7501 Eisman Rd in Manchester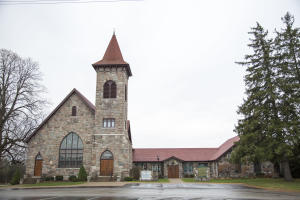 4. Bring the Family. And Provisions. And a Pastor.
The initial German settlers who arrived in Washtenaw County in the early 1830s came in search of economic opportunity. They quickly realized this was a region where they could thrive, and turned their efforts to enticing family members back home to join them. A suave letter back home to Germany stating "it's great here, trust me" simply wouldn't do it. A critical part of making a convincing argument for immigration was the ability to replicate their deeply-held social structure, which was largely rooted in religious identity and language. Hence, an Evangelical Association (now Methodist) pastor named Frederich Schmid was imported from Württemberg, Germany to serve the growing local community. Over the course of the next 50 years, Pastor Schmid founded more than 40 congregations. Many remain active today, including several stops on the Washtenaw County German Agricultural Heritage Tour. 
Photo: Bethel Church 10425 Bethel Church Rd in Freedom Township founded by Pastor Schmid
5.  Party it Down at Church. Seriously. 
While churches were obviously places of worship and faith formation, they were also centers of cultural reproduction. They also provided connections to others of similar heritage and language. The weekly faithful not only heard the Sunday message in their native tongue, they also frequently held picnics, festivals, school events, lectures, and other social events to mark the seasons in their church buildings. Just like social media does today, these events strengthened ties with neighbors and fellow community members (and they were the best places for checking out the local dating scene or catching up on the latest gossip).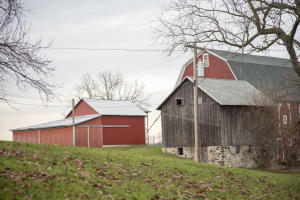 6. Mysterious Crosses.
One of the distinctive characteristics associated with nineteenth century German farmsteads is the diamond-shaped cross cut-out in gable roofed barns. The origin and meaning of these crosses are unknown, but they are nevertheless visible in numerous gable ends of barns in the area, of both German and non-German construction. Historians are uncertain about the symbolic meaning of these markings, but they know one thing for certain: the presence of these crosses indicate that the barn likely dates to before the Civil War.
Photo: J F Stierle Farm 10390 Waters Rd featuring diamond-shaped cross cut-outs
7. We Are (Mostly) Immigrants.
The story of German immigration is only one of many cultural ethnic groups that continued to arrive as part of the great settlement and expansion of Michigan. In the 1830s and 1840s, Irish immigrants began purchasing land in Northfield, Webster, and Dexter townships. By the mid-19th Century, a substantial African American community of both free people and escaped slaves had begun to form in Salem Township, as well as in Ypsilanti and Ann Arbor.  Two separate Jewish settlements occurred in Washtenaw County in the 1850s and 1890s, and an enormous cross-section of Americans came to the Ypsilanti area in the 1930s and 1940s as part of the Great Migration and the War Effort during World War II. These stories of immigration and opportunity continue to unfold into the later 20th and early 21st centuries.
The Washtenaw County German Agricultural Heritage Tour contains more than two dozen sites to see, including many churches, cemeteries, and private homes still beautifully kept.  Check out other heritage tours in Washtenaw County as well!
Enjoy our content? Sign up for Destination Ann Arbor's monthly newsletter to have it delivered straight to your inbox!