This article is from 2016, but still has some great ideas for ways to experience Milan! For updated event dates, click HERE. 
If you're looking for a quaint town that has history, a charming downtown with unique shops, and beautiful parks, then Milan might be the place you want to visit. Milan is a small town with home-style restaurants, unique shops, and more than 200 acres of parks.
Here are eight ways that Milan is going through a remarkable renaissance.
1. Redevelopment. Downtown Main Street is undergoing a remarkable transformation. Earlier this year four historic buildings built between 1845 and 1892 – including the first brick building built in the city – were renovated with new facades and structural updates. The buildings were converted into fifteen new apartments and eight beautiful storefronts. Walk along the tree-lined streets of the charming historic downtown and you'll easily capture the essence of this wonderful community. Other new developments under construction include the Milan Marketplace, a beautiful new pavilion in Wilson Park, and new street paving.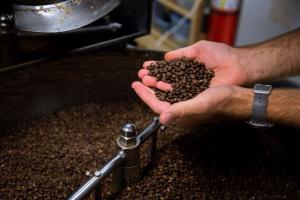 2. Coffee and Food. Milan has one of the most popular coffee shops in the area. Morning Owl was voted among the Top Five coffee shops in Washtenaw County by MLive readers. This coffee shop has put Milan on the map for people across Michigan with a fine selection of pastries, personable service, and ethically sourced coffee beans. Next to Milan Coffee Works at 508 County Street is Mother Loaf Breads, which opened in 2015 and specializes in true sourdough bread, a feat difficult to perfect because of Michigan's ever-changing climate. The sourdough is all-natural and the process to prepare it takes 2-3 days. Even if you don't like sourdough, they'll likely have a bread for you including brioche, chocolate-espresso rye and more. 
3. Co-Working. CoMilan launched this year and is helping startups grow and expand. Located in the heart of downtown Milan and just a few doors down from Morning Owl, CoMilan has working areas for 24 people, 5 offices and a large conference room. It's a great space and beautiful venue conducive for entrepreneurs to launch and grow their business. There are monthly events for networking, learning and meeting like-minded professionals of free-lancers, work-at-home professionals and entrepreneurs.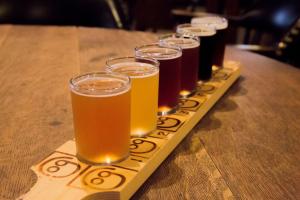 4. Craft Beer. Michigan is known at the "Great Beer State" and ranks 5th in the nation for its number of breweries. Milan is no exception. Original Gravity has been around for eight years and is a favorite among locals and tourists. Go there and get some great pub sandwiches and craft beer. Watch a sports game, play a video arcade game or hang out with your friends and play a board game. Detroit Metro Times lists Original Gravity among the 'Ten Under-the-Radar Michigan Breweries to Visit Right Now'.  
5. Outdoor Recreation. Milan boasts more than 200 acres of beautifully maintained parks to wander through and play. If you like outdoor activities and concerts, Milan is also home to Michigan's largest bluegrass festival each summer.  The Milan Bluegrass Festival is celebrating 20 years in 2017. It is held at the family-friendly and beautifully shaded campground, KC Campground. Plus, pets are welcome! 
6. Agriculture. More than 25 variety of apples are grown at Wasem's Fruit Farm. It is a family-owned farm offering apples, cherries, peaches, plums, pumpkins, and more. Wasem's Fruit Farm has delicious glazed donuts and fresh hot apple cider.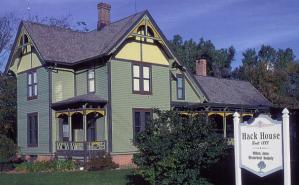 7. History and Architecture. Once the home of a founding family of Milan, the historic Hack House is a tourist destination for people interested in architecture and history from the late Victorian period. The home was built in 1888 and is listed in the National Register of Historic Places. The house is a beautiful example of a 'stick style' Victorian home and is now home to the Milan Area Historical Society. The museum is open Sundays, 1 pm to 4 pm from May through late November and features local history, artifacts and items from Milan families. Other buildings on the property include a three-seat outhouse, carriage house, and more.
What is your favorite thing to do when visiting Milan? Share with us by commenting below. 
Enjoy our content? Sign up for Destination Ann Arbor's monthly newsletter to have it delivered straight to your inbox!