Years ago, when the bookselling industry began experiencing seismic shifts – which can be summed up in two words: Amazon and e-books – bookstores of all sizes faced a dark night of the soul. How might they adapt and find a way to survive in this brave new world?
Many found that they couldn't. A number of independent stores and big chains alike have closed their doors in the interim, leaving just a small number of bookstores still standing. And while you'll still find a handful clustered in Washtenaw County's college towns of Ann Arbor and Ypsi, you might wonder what the local bookstore landscape looks like beyond those academic hubs.
It's sparse, not surprisingly; and none of the four stores found in the county's smaller towns of Chelsea, Dexter, and Milan draw on the traditional model of a general interest bookstore with all-new merchandise. Instead, they've focused on niche markets (comic books, games, and hosting related events); or chosen to sell books for kids alongside toys and puzzles and music; or curated a collection of used books with a highly personal touch.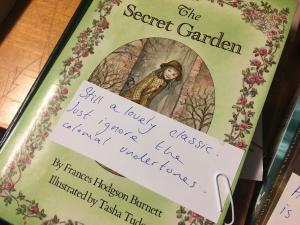 SERENDIPITY BOOKS
Originally founded by Louis Dreyer (known as Corky) in 1985, inside a house that stood next to Chelsea's original library building, Serendipity Books is now, in its current form, a cozy used bookstore (with a few new titles on offer) on W. Middle St. – just enough off the beaten path (i.e., Main Street) to make the store feel like one of those best kept secrets for locals. With eclectically tasteful music playing on low volume, and a few roomy old armchairs inviting you to linger in the store's two rooms, Serendipity nearly gives you the sense that the books on the shelves are talking to you.
And in a sense, they are, since many that are propped up on display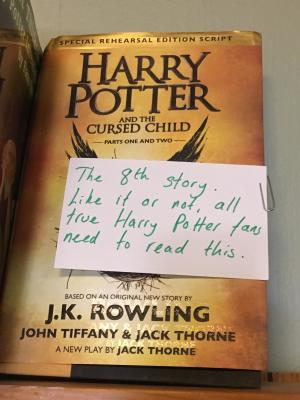 tables have messages penned by owner Michelle Tuplin (who you'll usually find at Serendipity's counter). Some of the messages will make you chuckle, like the card on "The Secret Garden" that reads, "Still a lovely classic. Just ignore the colonial undertones." Some are more personal and revealing, like the one on George Eliot's "Middlemarch" that reads, "At school in England, we pored over this for weeks/months. Still a favorite."
"I actually see a massive resurgence in curated bookstores," said Tuplin, her words shaped by her Yorkshire accent.
Tuplin previously co-owned Serendipity with Lucy Silverio until buying it outright about 18 months ago. "People are looking for authenticity, and some are just looking for guidance about where to start," Tuplin said. "Rather than go somewhere where you get lost in lots of shelves, you can come here and find all these notes on the books. … People seem to love that."
As I was speaking to Tuplin, a man poked his head in at the door to ask if she might want a coffee, since he was about to make a quick run across the street to Zou Zou's Cafe.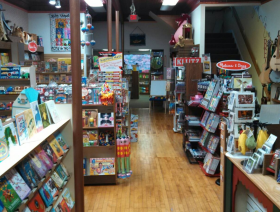 The man turned out to be Bill Harris, owner of the Just Imagine store that flanks Serendipity Books in Chelsea. While Just Imagine sells new books, primarily for kids (a limited selection of picture books and board books, plus Harris' genre of choice, science fiction and fantasy), it also sells puzzles, games, toys, some sheet music, and a variety of instruments.
The up-side of Just Imagine offering a broad range of items, and thus serving a very different function in Chelsea's small business landscape, is that instead of cultivating a "You've Got Mail" sense of tense competition among bookstore rivals, Tuplin and Harris view each other as friendly colleagues.
"It's very lovely, very small-towny," said Tuplin.
"There are varying attitudes in town, of course, but to me, I always think that (Chelsea business owners) all sink or rise together, and I think it's better that way," said Harris.
The fact that Chelsea was a small town with two bookstores was part of what attracted Harris and his family to town thirteen years ago. But when Cranesbill Books closed at the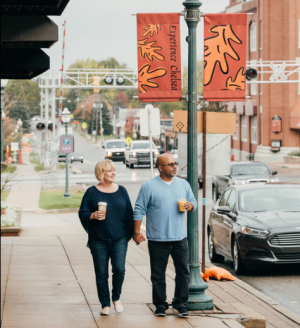 end of 2009, Harris launched Just Imagine in its former space on E. Middle St. Since then, the store moved to Main St., but when the rent price became untenable, Harris moved back to Middle St. in August 2017. And since music is one of his passions – hence the store's inclusion of instruments – he likes that there's a studio across the street, too. "It's like we have our own little arts ghetto," Harris joked.
Just Imagine has clearly lost some of its potential foot traffic since moving from Main Street, but Harris feels that locals still value and seek out his store – particularly when looking for things like last minute gifts to take to a child's birthday party. "It's why I stayed in business," said Harris. "I'm not young. Before moving again, the choice was either leave the business entirely or stay on as a service to the community. Plus, it's a lot of fun, too. But we mainly stayed in business for that reason."
Currently two small-town stores in Washtenaw County cater to comic book fans – Watchtower Comics & Collectibles in the heart of downtown Dexter, and Adventure, Ink in Milan – and in a way, one led to the other coming into being.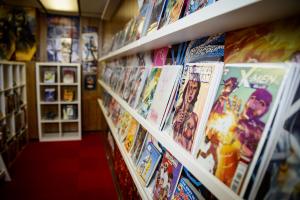 Adventure, Ink is the newest, having launched in January in a Main St. space that previously, since August 2017, housed a second location for Ethan Ernst-Hodys' Watchtower.
"We bought it from (Ernst-Hody) in January, and we've done quite well," said Adventure, Ink owner Jeff Harvey. "I'm local, so I know a lot of people here in town, and I know the community a little better."
Watchtower offers comics, graphic novels, games, and collectibles in its store, with an expanded selection of items online.
Adventure, Ink, meanwhile, aims to thrive by hosting various gaming events in its space. "That was one of the biggest things," said Harvey. "We wanted to create a community for people who are into comic books, Magic (The Gathering) – basically nerd culture. … We want people to feel like they can come down and hang out with others like themselves, and make this space available to them."
Harvey had actually been looking to establish a podcast studio when he reached out to Ernst-Hody about a possible sponsorship; instead, the two men eventually began talking about Harvey taking over the space and opening his own store.
Harvey was initially skeptical about keeping a small-town store afloat, but his wife, who'd always wanted to own a bookstore, nudged him to take the plunge.
Thus, Adventure, Ink was born, and the store may well provide lots of opportunities for Harvey to pursue his passion for making podcasts. In the meantime, Harvey's discerning what his local customer base wants, and how much inventory to carry in his store.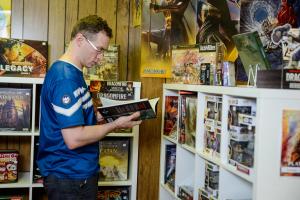 "The product availability changes dramatically," said Harvey. "What's offered is ever-changing, and it's difficult to figure out what to carry. But it's about building a rapport with the community and going from there. We tend to stock light. … We're going as cautiously as possible because we want to be around for a long time."
That's the trick for all small-town, brick-and-mortar bookstores these days: to have enough to keep customers coming back, and making a connection, but not so much stock that you end up having to close your doors.
"It was slow to start," said Harvey. "Things picked up quickly, though. The more events we have, the more people find out we're here. We're still trying to build awareness right now."
Enjoy our content? Sign up for Destination Ann Arbor's monthly newsletter to have it delivered straight to your inbox!