We love football, and this year is extra exciting with the University of Michigan Wolverines being the Big 10 Champions and competing in the National Championship. Keep the enthusiasm going by supporting all the U-M winter sports teams! Not sure where to start? Read on for ideas on how to support the Wolverines this winter! 
Please note - Effective January 1, 2022, the University of Michigan has instituted a proof of COVID-19 vaccination or negative-test protocol for all indoor athletic events. Face masks continue to be required and must be worn during indoor athletic events. Read more about the U-M vaccine policy.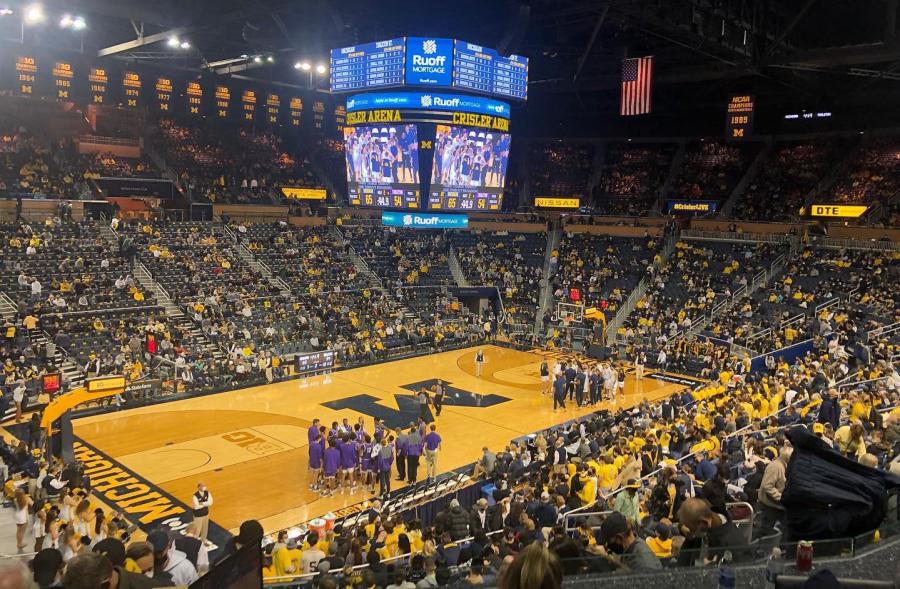 Men's Basketball, Women's Basketball, Ice Hockey, Women's Gymnastics, and Wrestling are all ongoing this winter with plenty of games and meets at Yost Ice Arena and the Crisler Center. Get your U-M athletic tickets online. Support the men's basketball team during the maize out game against Michigan State on Jan. 8th. Head out to the hockey game against Penn State on Jan. 14th for the ice skate shoelace giveaway. Enjoy Pride Night on January 31st with women's basketball. Catch the wrestling team's meet against Michigan State on Feb. 13th. Plan on wearing maize at the maize out gymnastics meet on March 12th. Can't make these dates? Check the U-M schedule for more games and meets this season!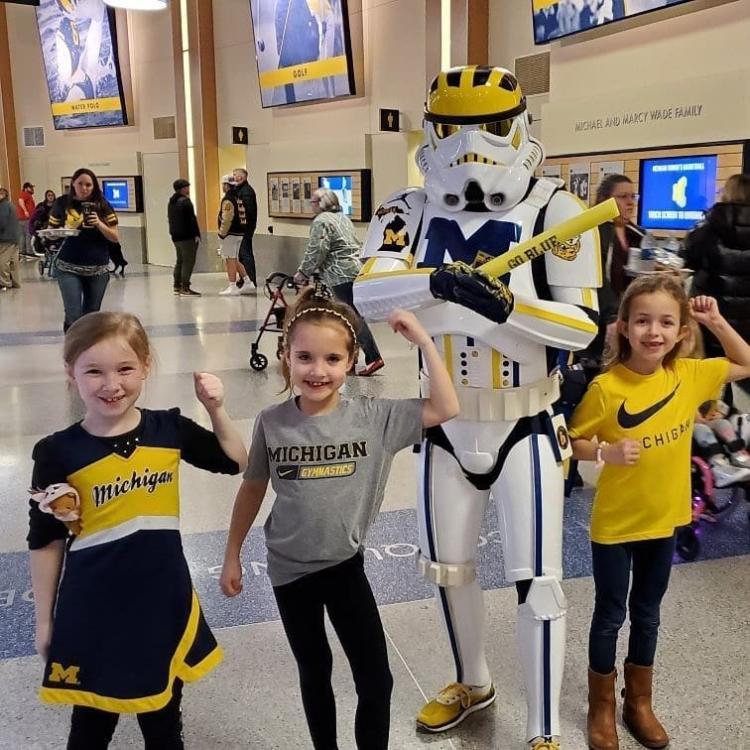 Get the Gear
Going to all these winter games you're going to need some maize n' blue gear! Stock up on all the essentials like sweatshirts, leggings, sweatpants, shirts, hats, beanies, and jackets at M Den and Underground Printing. There's plenty more shopping in the Ann Arbor area whether you are looking for clothes, gifts, and more. Can't make it to any of the winter sports live but interested in supporting or getting a gift for a Michigan fan? Check out the ProudBox Subscription! Visit our shopping page for more options.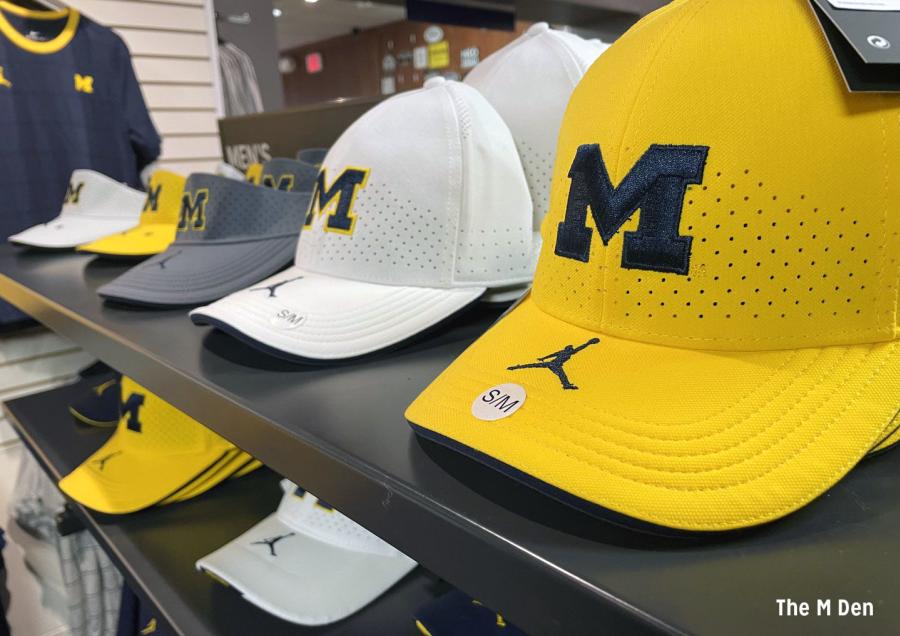 Fill your Belly
We have over 400 restaurants in the Ann Arbor area and we have a few suggestions for where to go before or after a match! For a quick and casual meal head over to Biercamp. This small little shop on State St. just down the road from Yost Arena boasts some of the best sausages around. They work with farms to make sure their meat is raised naturally and humanely with no hormones or artificial ingredients. We highly recommend the Backwoods Tots. A pile of tater tots topped with succulent, homemade bbq pulled pork, pickles, onions, coleslaw and backwoods sweet jalapeno mustard. Finish things off with their delicious banana pudding! For a brewery atmosphere we love Wolverine State Brewing Co. This microbrewery is on Stadium Blvd. just a short drive from the Crisler Center and offers lagers brewed with the best-quality ingredients for the most balanced, unique, and innovative beers possible. They also serve some of the best nachos in the area! Looking for something a little more upscale? Reserve a table at Black Pearl, a lounge serving stellar cocktails and seafood. We love the ceviche, fish tacos, then end your night with their carrot cake tres leches. You won't be disappointed!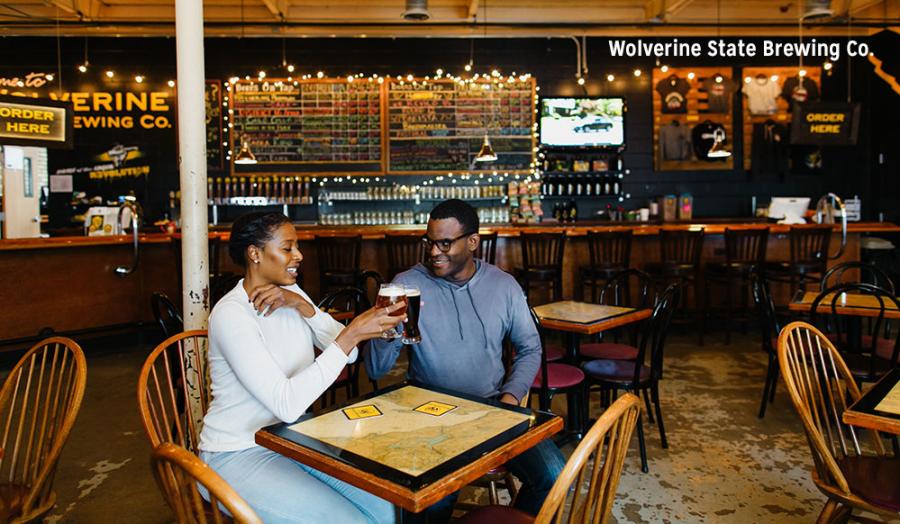 Rest your Head
When coming from out of town or even if you live in the area, it's nice to have a room waiting for you at the end of the night. Our top-rated hotels are clean, comfortable, and staffed with well trained and attentive employees. Stay in the heart of downtown at The Graduate. This beautiful hotel is UM themed and has a bar for a nightcap before bed. If you'd rather stay off the highway for a quick exit in the morning, check in to The Kensington! Another stunning hotel with plenty of amenities. If you're looking for a family-owned option, we recommend Weber's Boutique Hotel. This family-owned and operated hotel has a lounge, award-winning restaurant, and indoor pool. There are plenty of hotel options to choose from in addition to the ones we've highlighted here. Check out our hotel promotions page for specials and packages.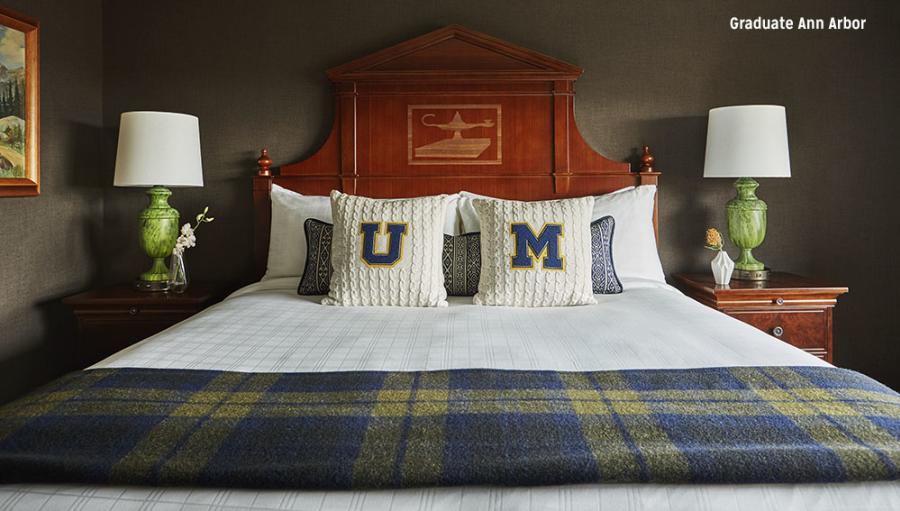 We hope this has inspired you to branch out and support the Wolverines during this winter season. Check out more of our website for other ways to support our local businesses and find winter activities to enjoy all season long. 
Like our Content?
Get all of the latest Ann Arbor happenings delivered to your inbox. Subscribe to our monthly newsletter.
Follow Destination Ann Arbor, @AnnArbor on social media. Instagram, Facebook, Twitter