Thanksgiving dinner is a lot of work. Thankfully, the Ann Arbor area has plenty of restaurants that offer scrumptious turkey day feasts for carryout. Here is a selection of restaurants that offer delicious Thanksgiving meal options, for those who don't want to cook this year. Place your order now! 
Restaurants are currently open for outdoor dining, carryout and delivery. We recommend you contact the individual establishments to verify their hours, offerings and policies.
Chef Kieron Hales at Cornman Farms has curated the perfect farm-to-table Thanksgiving dinner for you. You can choose from turkey or dry-aged beef tenderloin for your main course. The meat is cooked sous vide for 24 hours to slowly develop the perfect flavor. Select sides, such as bacon balsamic brussels sprout, crispy stuffing, honey glazed carrots, rosemary and thyme windfall apples and much more.
The Gandy Dancer offers a Thanksgiving feast to-go, including a 20 lb. roasted turkey, house made turkey gravy, cornbread stuffing and more. Top of your meal with pumkin and pecan pie. Order by November 22 for pickup on Wednesday or Thursday. 
A six-course Thanksgiving feast is available from Fresh Forage. Get a turkey brined and roasted with butter and fresh herbs. Garlic mashed potatoes, old-fashioned stuffing, sweet potato casserole and cranberry sauce are just some of the delicious options to round out your meal.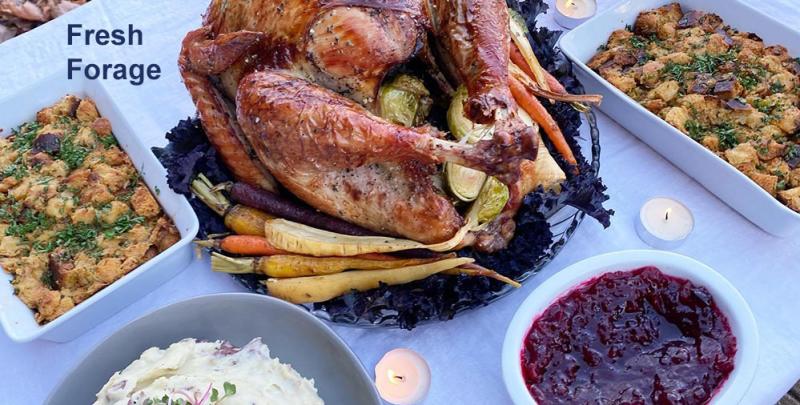 Brined turkey, sage-black pepper gravy, smoked chicken sausage sourdough stuffing, sweet potato chipotle gratin is on the menu at Grange for Thanksgiving. Place your orders by November 18th for a dinner for 4-6 people or larger portions to feed 10-12 people.
Let Weber's, an Ann Arbor staple since 1937, do the cooking for you. Order a family style Thanksgiving feast that feeds up to 10 people. Just need a few of the holiday dinner dishes? You can also order the 15 lb. turkey, whipped potatoes and green bean casserole separately. 
Place an order for Thanksgiving dinner at Knight's Steakhouse by Nov. 18 and pick it up curbside. They have meals for Thanksgiving's of all sizes, whether you have 2 people or 12 people. Get turkey or ham with all of the traditional side dishes and desserts. Couldn't be easier, just reheat and serve.
Let Red Rock BBQ in downtown Ypsilanti do the cooking for you. Feed 8-12 people with over 20 lbs. of food!  The meal includes smoked turkey, green beans, mac and cheese, rosemary & sage stuffing, sweet potato casserole, cranberry sauce, and cornbread muffins. Place your order today. 
The aptly named, EAT, has a fantastic spread for your upcoming Thanksgiving dinner. Impress your guests with wild mushroom and hazelnut soup, maple glazed sweet potatoes, fall quinoa and kale salad, potato and celery root gratin, and much more. They even have a "Thanksgiving Dinner for One" for those folks celebrating solo.
Try something a little bit different this year with Thanksgiving dinner from Mediterrano. How about chorizo and catalan sausage stuffing, grilled Scottish salmon, charred broccolini and backlava for your holiday meal? Their crispy brussels sprout come topped with pomegranate seeds, orange-honey and pistachios. Order individual meals for each person at your table. Everyone gets exactly what they want!
Vegans can get a delicious holiday meal for carryout too! Detroit Street Filling Station has seitan roast and stuffing, apple pecan salad, mashed potatoes, green been casserole, cranberry sauce and pumpkin whoopie pie. Yum. Don't forget to place your order for Thanksgiving pies and cookie boxes also. 
Get a complete turkey feast made by hand with fresh, local, seasonal ingredients from Ann Arbor's iconic delicatessen. Zingerman's Deli has butter-basted, sage-rubbed bone-in whole turkeys and all the sides you could ever need. Place your order by 6:00pm November 22. Food Gatherers' Delonis Community Kitchen will receive a donated meal for every Thanksgiving meal sold.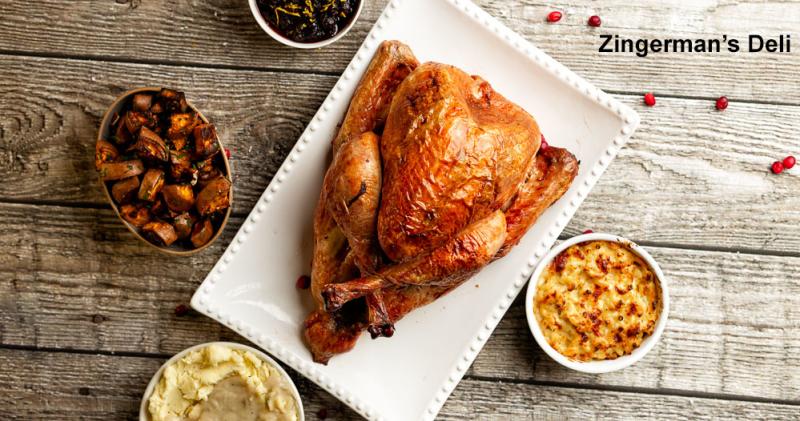 Have your Thanksgiving dinner catered by The Produce Station this year. Pick up a traditional turkey feast or opt for prime rib, ham or beef tenderloin instead. They even have "Turchetta," named a top holiday trend by Martha Stewart. It's a thinly pounded turkey breast rolled with herbs, cranberries, & garlic, wrapped in bacon and served with black garlic turkey créme.
Spencer has the top-quality cheeses, charcuterie platters, baked goods and gourmet extras to compliment your Thanksgiving dinner. Order some Rush Creek Reserve, a bark-wrapped spoon cheese from master milkman Andy Hatch or "the cranberry sauce of your dreams," made with Nordic juniper and Meyer lemon. Place your orders by Friday, November 20.
Let Chef Allie Lyttle and the team at LaLa's create your perfect Thanksgiving dinner this year. Order your 15-18 lb. roasted turkey by November 19. They offer all of the holiday side dishes as well, such as mashed potatoes, gravy, stuffing, mac and cheese, roasted vegetables. Can't decide between pecan, pumpkin and cranberry pie? Why not get all three? 
No matter how you enjoy the Ann Arbor area this Thanksgiving, we want to emphasize the importance of following the requirements and recommendations of local and state health officials, the  Centers for Disease Control, and your health care provider.  All individuals are urged to continue to adhere to social distancing guidelines, practice frequent hand washing, utilize face coverings when in public and be respectful of others. 
Enjoy our content? Get all of the latest Ann Arbor happenings delivered right to your inbox. Subscribe to our monthly newsletter.