A brilliant way to explore Ypsilanti in the fall is by attending First Fridays Ypsilanti, a free and accessible self-guided art and culture walk through Downtown, Depot Town, and more. On the first Friday of each month you are invited to chart your own course through performances, exhibits, tastings, and events at many participating local businesses and venues. Since 2013, FFY has collaborated with businesses and the community to highlight and celebrate the creativity and joy Ypsilanti has to offer, and to stimulate the local economy by introducing folks from all over the area to Ypsi's rich collection of quirky shops, vibrant restaurants, and dazzling art and music. Businesses are invited to be creative with their offerings each month, to build community and relationships with local artists and performers. Powered by a passionate team and committed volunteers, The FFY annual season begins each year in the springtime, and the magic continues through the fall and into December.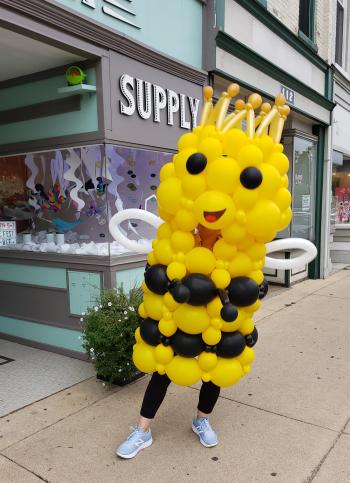 On Friday, September 6th, we will be treated to the annual Festival of the Honeybee, a celebration of one of our most beloved and indispensable pollinators. Did you know that Ypsilanti is actually designated as a Bee City USA? Shops and restaurants all over town are decorated in distinctive honeybee fashion, and activities are themed accordingly! 
Cultivate Coffee and Taphouse is hosting a biscuits and honey tasting with Schramm's Meadery. At Betty Green Organic Beauty, stylists will be on hand to whip up a beehive hairdo for you! Brick and Mortar General Store has information on how to use beeswax in your kitchen, and 22 North Gallery is hosting an art exhibition exploring our connection to the honeybee and the environment. If you're looking for the balloon festooned Queen Bizzy Bee, you will find her at Unicorn Feed and Supply. Be sure to pay one last visit to a huge supporter of First Fridays Ypsilanti, Bona Sera, where you can enjoy a specially themed honey bee menu, art galleries, live music, as well as interactive painting and drawing. As always, Go! Ice Cream will have delicious on-theme honeybee sweets and treats. The main event of the day is the Festival of the Honeybee Block Party on North Washington Street from 5-9pm, featuring live music, art, performances, environmental resources, honey and flower vendors, and more - featuring special guest Detroit Hives.
Dance and groove at the "Wine Ya Waist" Afro-Carribean music party at 734 Brewing Company, be moved by the live jazz at Ziggy's, or groove at the throwback vinyl party at Puffer Red's. Stop by Dolores Restaurant for some tacos and a DJ set, or catch Music Night at STUFD Burrito featuring Ypsilanti Youth Orchestra and Washtenaw Community College students and alumni. Dine on special dishes at the Ecuadorian restaurant Encuentro Latino, or sip a cocktail and shop for gems from days gone by at Salt City Antiques.
Other highlights of the September event include voter registration at Ypsilanti District Library and a display of work from the Prison Creative Arts Project at B-24's Espresso Bar. 
There is much more to see, do, and taste, so be sure to begin every FFY adventure at the Ypsilanti Visitor Information Center at 106 West Huron Street, where you can grab your free FFY map and directory, and be sure to tag your social media posts with #YpsiReal so we can see the fun and flavors you find!
There are three more chances after this to fill your life with Ypsi culture and excitement - October 4th, November 1st, and December 6th. We'll see you there!
Like out content? Have all of the latest  info delivered right to your inbox. Subscribe to our monthly e-newsletter.