Ypsilanti is not only a hub for fantastic food, beautiful recreational opportunities, and quirky local attractions, it's also a tight-knit company of people with a deep attention to community betterment. Around every corner is an opportunity to learn something new, invest in a good cause, or support local business owners. And, in true Ypsilanti style, it's never boring.
That's why Ypsilanti is the perfect place, not just for a date night, but for a date night that doubles as a community investment. Here are six ways your romantic weekend can be good for everyone:
Go Early
I know, I know. I said "date night," and then I said "go early," but I promise, it's worth it. Quiet Saturday mornings in Depot Town are a treasure, with the sun streaming in between the buildings, and the sparkle of the morning dew. Park on River Street, and start with a coffee and toast at Cultivate Coffee & Tap House. All of Cultivate's profits go towards supporting underserved community members, through organizations like Food Gatherers and Hope Clinic. Bonus points if you order in an eco-friendly "for here" cup!
If the weather is warm, take a romantic stroll in Cultivate's beer garden: a sunny space chock full of lush garden beds. All the food grown in the beer garden is donated to Growing Hope, one of Ypsilanti's foremost nonprofits, committed to supporting local healthy food access. And, if all that's not enough, it's a dang good cup of coffee, and they offer toast with Nutella on it.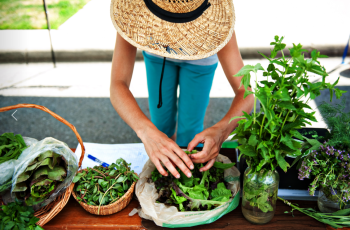 Once you and your special someone are sufficiently caffeinated (and Nutella-ed), head over to the Saturday Farmers Market, less than a block away. The market features booth after booth of local farmers and entrepreneurs, and delicious tastes galore. The vendor list rotates, so you can always find something new to be excited by, and a new community member to support. A few of my favorites are Fairytale Baked Goods (butterscotch scone will change your life), Nightshade Industries (locally grown and produced salsas!), and Simply Gourmet Fresh (salsa, tortilla chips, gourmet butters, with a portion of proceeds benefitting veterans' charities). The market continues through the winter on the 2nd Tuesdays of the month, indoors at the Robert C. Barnes Sr. Marketplace Center from 3-7pm.
If you prefer housewares to horseradish, Sunday mornings May-September feature the Depot Town Flea Market at the Freighthouse. The historic Freighthouse is a sight to behold, with wood floors, vaulted ceilings, and wall-to-wall vendors of antiques, handmades, and gorgeous home decor items. What could be more romantic than channeling your inner Chip & Jo?
Go Classic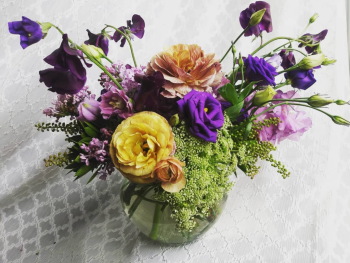 Consider a lush bouquet of flowers for your love. Nobody does it better than Ypsi-woman-owned We Adore Flowers. Gorgeous, rich clusters of seasonal flowers are available for order every day, and pickup on the weekends.
Or, for living flowers, swing by YpsiPlanti Garden Supply, an arm of Growing Hope that sells a variety of plants and flowers, including cute potted succulents, cacti, air plants, and a wide array of gardening supplies, all to promote local food security through Growing Hope. YpsiPlanti also occasionally offers classes: learning together is an incredibly fun way to deepen your relationship. That, and shared custody of a cactus.
Go Small
When the dreaded date-night question comes up—"Where do you want to eat?"—consider going small. Some of Ypsilanti's most cheerful eats come from food trucks and carts, like Duke's Gridiron (dogs & brats), Naughty Boy's Rolled Ice Cream, Jamerican Grill (Carribean-American food), the Bigalora Wood-Fired Pizza Truck, and StuffYourBelly (American & Mediterranean). The experience of a food truck or cart is made even more fun by connecting with the individuals involved: they wouldn't be doing it if they weren't full of passion! Ask what on their menu excites them the most and make a connection. Plus, they know their menu best, and will certainly hook you up with something delicious.
Most food truck/cart fare is offered "to go," so you and your honey can enjoy a sunset stroll in Riverside Park while you nom on your Jamerican chili fries.
Go Around the World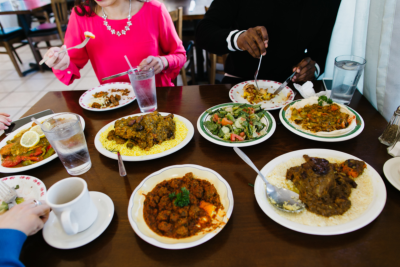 Give back by learning and growing. Expand your palette with adventurous international eats, and support local immigrants and entrepreneurs who are bringing their rich heritage to our local community.
Ypsilanti has a significant Guatemalan & Honduran community, and with that, some uniquely delicious food. For authentic Honduran food, head to (the deceptively named) Antonio's Coney Island. For authentic Guatemalan fare, visit Encuentro Latino (wildly delicious) & Panaderia de Benedicion (super affordable).
Other international cuisines in Ypsi include Moroccan at Casablanca, Vietnamese at Pho House, Korean at Macheko Grill, and Chinese at Asia City Restaurant.
Go Online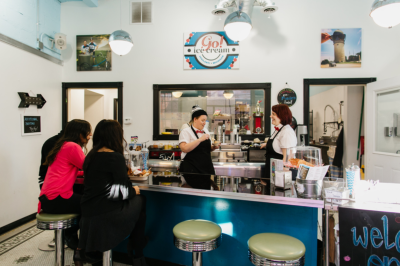 No matter what you do for your date night, tweet about it.
Be "that patron" who hits Insta or Snapchat before digging in. Before you roll your eyes and mutter "dang Millennials," hear me out. One of the most impactful ways you can give back—with very little extra effort—is word of mouth. Introducing a local business owner to your network via a kind review or even simply a check-in or tagged mention can be a huge help as they seek to grow their business. I recently had the best Carnitas tacos of my life at Dolores, and I took the time to post about it on Instagram. I also stopped in for a round of Mario Kart at Ziggy's, and threw down on some Go! Ice Cream. The next day, I had numerous conversations with people who had seen my post, and never heard of any of those places, and suddenly they were making plans to go. Local business thrives on personal connection, so take the time between awkward kissing selfies to post a photo of a taco— your community thanks you.
It's easy to transform your date night into an outing with community significance. Whatever your style, Ypsilanti has something fun and engaging to offer to you and that special someone. Ypsi makes it easy go get those endorphins flowing, knowing you've done something good for the community!
Enjoy our content? Sign up for Ypsi Real's monthly newsletter to have it delivered straight to your inbox!