Meet the Huron River Water Trail--miles of inland paddling and five Trail Towns to welcome you - designated a National Water Trail by the Park Service. The Huron River Water Trail is the only state-designated Country-Scenic Natural River in southeast Michigan. In fact, Ann Arbor has been called one of North America's (Next) Best Paddling Towns by Canoe & Kayak Magazine. 
For kayaking, canoeing, fishing on a fly, and other freshwater pursuits, the Huron River Water Trail is a Michigan treasure worth exploring. From rushing rapids to relaxing floats, from small town to city, a variety of paddling adventures await. The Washtenaw County section of the trail begins in Baseline Lake and travels 36 miles to the Ford Lake Dam.
With the warm temperatures here, paddlers will take to the Huron River for trips both short and long. This summer, reservations are required to rent all types of boats.

To get the most out of the Huron River Water Trail (HRWT) and its Trail Towns, please consider the following:
1. Paddle Safely
HRWT has compiled some safety recommendations and tips to keep yourself safe while exploring the Huron River or other waterways. As aways, make sure to follow standard safety procedures, like telling your friends where you're going, dressing appropriately, and knowing your skill limitations.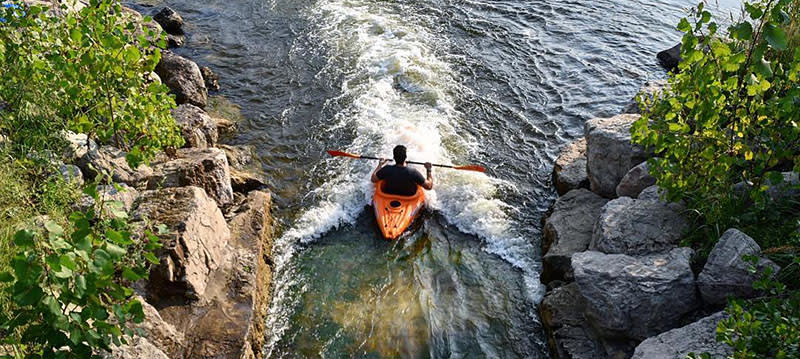 2. Study the Trip Planner
The HRWT's Trip Planner is an online resource that shows the entire trail through five counties in Southeast Michigan. Interactive maps allow for zooming into each section and studying the services along the route. Look at the whole river under the "Explore" tab. There are several recommended trips for upper, middle and lower sections of the river under Recommended Trips.
3. Get Guidebooks and Maps
The waterproof Paddler's Companion is a flip book containing rich, full-color maps of the trail with 3-5 river miles per page. The book is loaded with details including boat rental locations, safety tips, and amenities in the five largest Trail Towns. Purchase one for $15 at huronriverwatertrail.org or at one of the participating retailers and communities.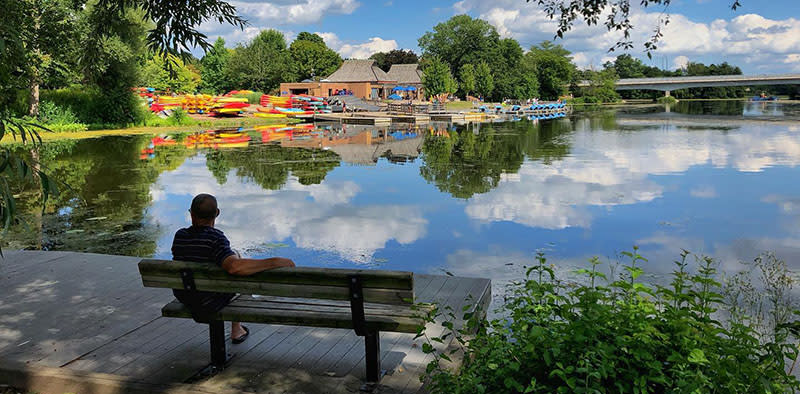 4. Review Trail Updates and Conditions
River conditions, weather forecasts, and trail updates all can be found at huronriverwatertrail.org. This online resource provides the most current information available to anyone getting ready to navigate the water trail. Don't head out until you have confirmed conditions are good.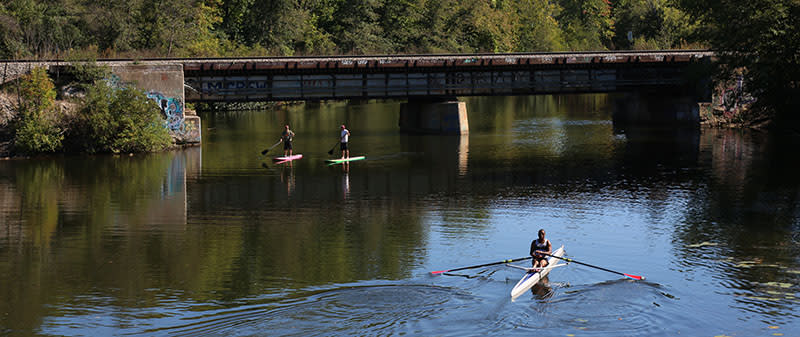 5. Hone Those Skills
To be ready for a longer paddle, you need to be physically fit, have experience paddling a canoe or kayak in a variety of water and weather conditions, and have solid navigation skills. Paddling instruction is offered throughout Southeast Michigan; local clubs offer both on-the-water and pool sessions depending on the time of year. Teach yourself how to use a map and compass, or attend a workshop through a local club, scout group, or outdoor recreational store.
Want to learn more? View short videos about Fly Fishing the Huron, Paddling the Huron River Water Trail, and more to learn about the places and people on the river. Please note: when you follow the Huron River Water Trail, you assume responsibility for your own safety.
Like our Content?
Get all of the latest Ann Arbor happenings delivered to your inbox. Subscribe to our monthly newsletter.
Follow Destination Ann Arbor, @AnnArbor on social media. Instagram, Facebook, TikTok, Twitter