This article is from 2017, but still has some great ideas for ways to experience Dexter and Ann Arbor! For updated event dates, click HERE. 
Introduction to Cornman Farms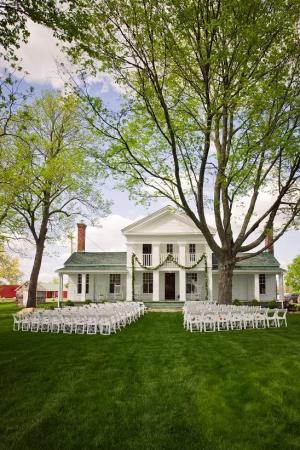 As the only member of the Zingerman's Community of Businesses based in Dexter, we are fortunate to enjoy the best of both what Dexter has to offer while still being ingrained in the Ann Arbor community. Situated just west of downtown Ann Arbor, the town of Dexter has become such a special place to get married as many of our couples have strong ties to the area. Whether they attended University of Michigan or they grew up nearby, this community provides a sense of nostalgia for so many. Here are some of my favorite things about the area that make Dexter such a special place to get married.
Home & Away
What could be better than gathering your closest friends and family members in a place that holds such special memories for you? As I mentioned earlier, many of the couples we meet at Zingerman's Cornman Farms either grew up in the area or met at University of Michigan, from undergraduate programs to the Ross School of Business to the medical school, the University is a true cornerstone of this community and we love learning about their connections to the area. Zingerman's Mail Order is a perfect example of how deep the University's roots are spread throughout the country as the mail order business launched in part due to the numerous requests from U-M Alumni who couldn't live without their beloved Reuben. Seriously, true story.
Town & Country
While Ann Arbor provides the amenities of a large city with a small city feel, you can easily escape to Dexter in minutes to enjoy the pastoral beauty of the countryside. It provides that remote feeling that is difficult to find in such proximity to a great city like Ann Arbor. From bustling restaurants and bars, shops and new hotels in downtown Ann Arbor, your guests will have no shortage of activities to enjoy during their stay. Combine that with the charming town of Dexter, nestled along the banks of the Huron River and Mill Creek where the numerous nature trails and two metroparks offer plenty of opportunities to hike, stroll, picnic, fish, canoe and bike. What's better than having the best of both town and country at your fingertips? The added bonus is that Ann Arbor and Dexter are incredibly easy to get to with the Detroit Airport less than 30 miles from downtown Ann Arbor, and Dexter located just 10 miles northwest of Ann Arbor.
Food & Drink
Having cooked in so many different countries over the years, it is amazing to see so many incredible restaurants and bars popping up in this small radius. There is no shortage of restaurants in the Ann Arbor area for guests to enjoy. Mani Osteria, Spencer and Zingerman's Bakehouse are some of my favorites. You also have access to a variety of cuisines with restaurants such as the newly opened Miss Kim, Cardamom and Jerusalem Garden. Ann Arbor cocktail bars like Alley Bar, The Last Word and The Raven's Club will let you keep the party going until late into the evening too.
Farm-to-Farm
Dexter has such rich agriculture and history, the town was settled before Michigan became a state in 1824, and is home to one of the oldest CSAs (community supported agriculture) in the state. I think the biggest thing that sets Cornman Farms apart from other wedding and event venues in the area is that we are operating on a real working farm. It's not just a pastoral backdrop. The property's farming history is what initially inspired me to renovate the property into an event venue. I saw it as way to incorporate a lot of my personal passions, such as canning and jarring and the farm-to-farm model where the produce never leaves the property while providing a truly unique space to host weddings and special events. Our wedding couples, whether I am personally cooking for them or if it's one of our catering partners like Zingerman's Roadhouse, Zingerman's Deli or Forte Belanger, get to experience a taste of the farm whether it's an heirloom tomato and burrata salad or crookneck squash soup or filet of beef. We also have a strong focus on our bar program, offering a true farm-to-bar experience. Our bartenders draw inspiration from our production gardens to create cocktails using herbs from our gardens for homemade syrups and garnishes for our guests and wedding couples.
Having moved from England to this area nearly 10 years ago, I have grown to truly love this community, its history, agriculture, the people and their passion for food and farming. We hope you'll come say hello and pop in for a cup of coffee next time you are driving by the farm.
Enjoy our content? Sign up for Destination Ann Arbor's monthly newsletter to have it delivered straight to your inbox!