University of Michigan sporting events are legendary! Some folks, however, may not be able to commit a whole day trip to a game, or may feel intimidated by the large crowds and fan excitement in Ann Arbor on game days - but still want to experience the fun of Michigan sports. Fear not! There is a fun and easy way to dip your toe into the world of U-M athletics in a more intimate setting that delivers excitement and school spirit. Michigan Athletics facilitates 27 varsity sports, many of which offer outstanding experiences for fans throughout the year. Winter and early spring in Ann Arbor are great times to take in a U-M volleyball, hockey or basketball game, or attend a wrestling or gymnastics meet in a top-class facility almost every night of the week.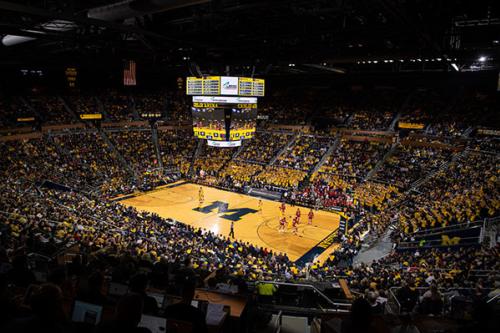 Almost as familiar a scene as the football team running down the tunnel at the Big House, seeing hockey sweater-clad fans enjoying a pre-game dinner and drink at a renowned Ann Arbor restaurant is a classic Michigan experience. You'll be sure to see groups decked out in Michigan gear, flagging down their servers to get their checks before the opening puck drop. Dinner at Slurping Turtle, Jolly Pumpkin, or Buddy's Pizza is one of my favorite Saturday evening activities during wintertime. You're more likely to be able to find easy, convenient parking during the winter months, and enjoy a short walk to the game regardless of your arrival time. 
The biggest crowds for winter sports at Michigan are at ice hockey and basketball games, which draw thousands of fans to an electric atmosphere nearly every week. Volleyball, gymnastics, wrestling, and many other varsity sports are just as entertaining, however. Most events feature a pep band or the Michigan Cheerleading squad (or both!) as well as other entertainment throughout the event. The dedicated U-M student sections, dubbed the "Maize Rage" at basketball and "Children of Yost" at hockey games, are entertaining on their own as well!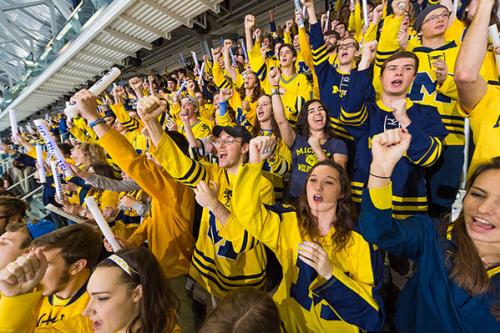 Another benefit of attending winter sports at Michigan is the great value that makes them a family-friendly and group-friendly activity for everyone. You can often find admission to events for under $10 on the U-M Athletics website or at the door. For hockey and basketball, it's advisable to look for tickets ahead of time. 
After you've attended your first hockey or basketball game and fallen in love with the teams and the energy at their events, you can take your passion to the next level by attending the Inside Michigan Basketball Radio Show at the Blue Leprechaun on South University, or the Michigan Hockey Radio Show broadcast weekly from the Pretzel Bell. Both feature head coaches Juwan Howard (Men's Basketball), Kim Barnes (Women's Basketball), and Mel Pearson (Ice Hockey) along with current student-athletes, assistant coaches and alumni.
Winter U-M sports offer unprecedented access to breathtaking athletics, outstanding coaches, and unforgettable experiences. Go Blue!