Opera, jazz, electronic music, Shakespeare, carillon, modern dance, international music, symphony… if you're a fan of the performing arts, Ann Arbor is a place you want to be. One of the major reasons for this is the renowned University of Michigan's School of Music, Theatre, and Dance (SMTD).
The University of Michigan (U-M) has a well-deserved reputation as the Leaders and Best, with awards and accolades for virtually every program or department within the organization. U-M is consistently ranked highly on Forbes' list of top universities and is an integral reason, of course, that Ann Arbor shows up frequently on lists of the best college towns in the country. Carol Hutchins, the winningest coach in NCAA history, leads the Wolverine softball team, and Michigan Medicine earns a consistent spot on lists of top hospitals in the nation. And, the University of Michigan shows up, often, on lists of the best colleges for LGBTQ students.
The School of Music, Theatre, and Dance is no exception - with the third-highest number of alumni working on Broadway in 2017-2018 of any college. Notable SMTD alumni include Benj Pasek and Justin Paul (who together wrote the music and lyrics for Dear Evan Hansen),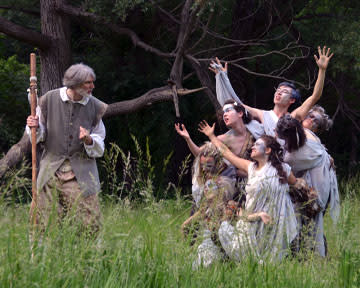 Darren Criss (Golden Globe Award-winning actor from American Crime Story and Glee), and Margo Martindale (Emmy Award-winning actress from The Americans and Justified). 
It's not just alumni who are doing great things as a result of their education at the University of Michigan, however. Students working on their degrees here in Ann Arbor are already doing incredible things before graduation. Take Runyonland Productions, for example - this student-founded company has produced several Broadway-level artistic experiences that serve as educational outlets for young artists and creators at the University. One such production was SHEL - read more about this show here - a musical written by and starring U-M alum Noah Kieserman, who currently understudies for the title role in the national tour of Dear Evan Hansen. Ann Arbor, and the University of Michigan, are truly catalyzing creative expression.
So how can you experience the jaw-dropping talent of the students and faculty at the University of Michigan's performing arts department? We're glad you asked. Below you'll find a digest of opportunities to see these world-class performers here in Ann Arbor.
---
ORCHESTRA
University Philharmonia Orchestra 
April 18, 2019
Richard Strauss was a German composer who, upon his deathbed, described dying as "just the way I composed it in Death and Transfiguration". Come to hear the piece in historic Hill Auditorium, performed by the always-phenomenal University Philharmonia Orchestra, in addition to two other works.
---
MUSICAL THEATRE
February 21-24, 2019
This "artful and moving evening of documentary theater" (Variety) follows the true stories of six wrongly convicted inmates and their paths from death row to freedom. This play won the 2003 Drama Desk for "Unique Theatrical Experience", and was converted to a movie by the same name in 2005.
Sweeney Todd: The Demon Barber of Fleet Street 
April 18-21, 2019
A musical melodrama set in the 1840s and based upon an allegedly true tale, Sweeney Todd features a vengeful barber and his unhinged landlady in a terrifying and exhilarating story that opened on Broadway in 1979. More recently adapted to a motion picture starring Johnny Depp, Sweeney Todd has one of the most thrilling scores in musical theatre.
Musical Theatre Senior Showcase 
May 5, 2019
It's difficult to overstate the immense talent on display at this yearly event. Alumni of the musical theatre program often go directly from Ann Arbor to Broadway, and this showcase is your chance to see these young stars perform here before they hit the big time.
---
CHORAL MUSIC
Men's Glee Club - Spring Concert 
April 18, 2019
The Men's Glee Club at the University of Michigan is a FORCE of creativity and excellence. Check out this blog we wrote on this subject HERE. This year's concert will also feature The Friars (think the U-M equivalent of Pitch Perfect's Treblemakers).
June 15, 2019
Featuring works by composers from Mozart to Leonard Cohen, this engaging event will be conducted by Norma Freeman.
---
OPERA
March 28-31, 2019
Alcina is a story of mistaken identity, adventure, power and sorcery, set to music by Georg Friedrich Handel (yes, THAT Handel - the Messiah guy). One of Handel's 49 operatic works, Alcina premiered in April 1735 and remains engaging and relevant.
---
JAZZ
March 16, 2019
This is an event no jazz fan will want to miss! Wycliffe Gordon, acclaimed recording artist, band leader and soloist, will perform along with the U-M Jazz Faculty Trio and the U-M Jazz Trombone Quintet.
---
BONUS!
U-M MUSKET
March 22-24, 2019
Not an official SMTD production, but guaranteed to be every bit as impressive, MUSKET will bring the story of Elle Woods and her pink-attired rise to legal brilliance to the stage at the Power Center in March. MUSKET has been around since 1908 and is a completely student-run organization that presents Broadway-style musicals, both contemporary and classic.
---
Enjoy our content? Have all of the latest Ann Arbor area information delivered right to your inbox. Subscribe to our monthy newsletter.