Ypsilanti is a town full of creative, vibrant people, with an ever-growing network of talented artists. Ypsilanti artists and art fans will find a number of booths featuring Ypsilanti artists at the Ann Arbor Art Fair this year.
The 2018 Ann Arbor Art Fair will take place July 19-22. While attending the Art Fair, make a point to stop by and visit the booths of these creative Ypsilanti artists!
Ann Arbor Street Fair, the Original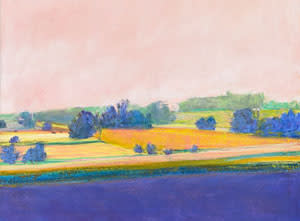 Karin Coron,  karinwagnercoron.com
Ypsilanti resident and EMU graduate, Karin Coron, has been a working artist for over 35 years. She has been displaying at the Ann Arbor Street Fair for 25 years. She draws and paints the American landscape. Her work is a combination of oil, oil pastel, graphite. Her mediums include paper and canvas. She uses photography as a basis for her compositions, to capture a particular time of day or interesting light. You can find Coron at Booth NU813 on North University, right across from Hill Auditorium.
What is your favorite thing about Ann Arbor Art Fair?
"I love getting to know other artists who travel all over the country to sell their artwork at these shows. The camaraderie is awesome and makes doing a long show so much more fun."
How would you describe your work?
"My work is Midwest, Great Lakes region landscapes that moves from descriptive to minimal. The materials are a combination of oil and oil pastel on paper or canvas with considerable drawing and building up of layers to create a textured surface. The palettes vary from somber to very bright and unnatural."
What is your process?
"I have regular days I work in my studio to produce work. I think about new work months before I actually produce it. I collect images and photographs before I begin a new series or body of work. I also leave blank pieces of paper on the wall for a while until I visualize the image. I make sure I always have all the materials on hand so when the inspiration or energy arrives, I'm ready to produce. I try and remember to be flexible. If the piece isn't going in the direction I thought, I might allow the process to take more control of the piece."
Ann Arbor's South University Art Fair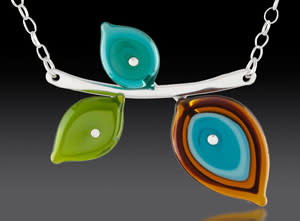 Kristin Perkins,  kristinperkins.com
Ypsilanti artist, Kristin Perkins, has been making jewelry for more than 25 years. She has displayed her work at the Ann Arbor Art Fair for 10 years. Perkins creates her unique, colorful jewelry by hand, glassblowing each bead one at a time, using a lampwork technique. You can find Perkins at Booth SU876 on South University, between Tappan and State.
How would you describe your art?
"I make glass and sterling silver jewelry. My jewelry is modern with a colorful, clean aesthetic."
What is your favorite thing about the Ann Arbor Art Fair?
"I grew up in the neighborhood near the South University section and Art Fair was my favorite time of year. My family went every year and we saved our money all year to buy pieces at the show. Since I'm local to the show, I host a number of artist friends at my home and it's a lot of fun."
What is your process for creating your pieces?
"I make my colorful glass beads by melting glass rods at a torch. I then make sterling silver settings for the glass by cutting, shaping, and soldering the metal. Earrings, necklaces, bracelets, rings, and cuff links are all part of my jewelry line."
What inspires you?
"I am inspired by the natural beauty of glass as well as the simple, clean design."
Anything additional information you would like people to know about you or your work?
"I grew up in Ann Arbor and took jewelry making and design classes all through high school, starting at Pioneer High School. My current jewelry line was started after taking a series of glass blowing lessons at Baron Glassworks in Ypsilanti. I soon realized that glass would be the perfect material and focus for my jewelry designs. I have been making and evolving this current line of jewelry for 18 years."
The Guild's Ann Arbor Summer Art Fair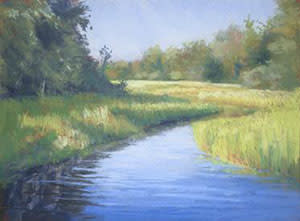 Carolyn Weins,  cweins.com
Long-time Ypsilanti resident, Carolyn Weins, will be displaying at the Art Fair for her 15th year. She has been exhibiting her colorful, pastel landscapes at art fairs throughout Michigan since 2003. Weins creates her pieces with chalk pastels on textured papers to produce a rich, a painterly effect. You can find Weins at Booth L1220 on Liberty Street, between Fourth and Fifth Street.
How many years have you displayed at the Ann Arbor Art Fair?
"This will be my fifteenth year. The first year I participated in the Ann Arbor Art Fair was 2004. My pastel "Under the Autumn Oak" was used by the State Street Art Fair for it's advertising. I switched to the Guild's Summer Art Fair several years ago and now I am on Liberty Street, in front of the Post Office/Federal Bldg."
What is your favorite thing about the Ann Arbor Art Fair?
"My favorite things about the art fair is meeting new people, seeing past customers, answering questions about my art and finding nice homes for my work."
How would you describe your art?
"I create pastel landscapes, primarily inspired by scenes in Michigan."
What is your process for creating your pieces?
"I start with small sketches of what I want to do. On sanded pastel paper, I put down my overall design with hard and soft pastels. I layer the pastels, using a variety of marks and often intensifying the colors."
How do you select the scenes for your art?
"Whenever a scene inspires me, whether a vista or intimate vignette, I try to commit it to memory and take a photo or sketch it. These references are a starting point, when I'm in my studio. I change things around. I'm interested in creating a mood and showing the beauty in nature. Hopefully, my landscapes remind the viewer of any number of special times or places they have experienced. When I work outside, I enjoy the challenge of capturing on paper the lighting and feel of a landscape."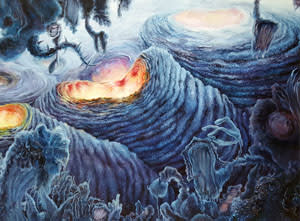 Carolyn Garay,  carolyngaray.com
Ypsilanti artist, Carolyn Garay, creates one-of-a-kind mindscapes using oil paint, acrylic paint and ink on board or paper. This will be her 8th time displaying at the Art Fair. You can find Garay at Booth MN379 on South Main Street.
What is your favorite thing about the Ann Arbor Art Fair?
"I love seeing the reactions people have as they experience art that impacts them in some way - positive and negative responses alike."
How would you describe your art?
"Painted Mindscapes, grown from the personifications of all the selves that make up a human Mindworld, often exploring the more ominous pools of consciousness, and, with slightly twisted playfulness, the guilty satisfaction that can come from immersion into their depths. Ink Doodle-Masses, where forms upon forms grow out of agitated lines, trapped into a suffocation that is, somehow, not altogether devoid of pleasure. General explorations of figurative forms and voluptuous physicality relating the mind to the flesh in which it is sustained, trapped, and by which it is controlled."
What is your process for creating your pieces?
"For larger paintings, I often see the place; I can picture a swirling energy and its surroundings as it wants to be expressed in my mind. However, details tend to grow more slowly and evolve from the pen sketch-masses that I do to fulfill my hand's repetitious twitch-need. These drawings grow out of agitated line from a strangely satisfying trance of tedium that will periodically break into moments of alert consciousness. This is when a specific idea that takes hold- a moment of interaction between the personifications growing to inhabit the drawing might make me laugh, or the interplay between them touches on meaningful self discovery. These moments then often make their way into the larger paintings, and construct the detail as narratives weaving into the greater purpose."
What inspires you?
"There is something beautiful and extraordinary about the connections forged across our mind worlds. We humans have so many beliefs, allegiances, backgrounds, histories, religions, yet somehow we are bound together across vast differences by the familiar strangeness of what it is to be a human. So different, yet somehow, everyone across the world can look up at the vast night sky and feel fear and awe, feel the weight and exhilaration of being so small yet a part of something infinitely vast. It is that feeling when we are faced with our own mortality, beyond our comprehension, the unknown infinite beyond our existence: before life, and after death. The most powerful art for me inspires a confrontation of my instinctual desire to survive with my own finitude, making me forced to examine myself, then to comprehend something beyond myself, outside myself, yet ultimately always through the only tool I possess to comprehend - myself."
Anything additional information you would like people to know about you or your work?
"Everything I create has something about it/in it/behind it/in front of it/spilled onto it that makes me laugh. That might be the most important part."
Enjoy our content? Sign up for Ypsi Real's monthly newsletter to have it delivered straight to your inbox!