Time to start checking off boxes on that gift-shopping list! With the holidays just around the corner, shop retail locally this year and show your love for small businesses. Here in Ypsilanti, you'll find quality products and gifts for your loved ones to enjoy while feeling good knowing that your purchases go a long way.  
When shopping in the Ypsi area this holiday season, you're helping support small businesses within the Ypsilanti community.  In addition to shopping around, you can help support these local businesses by purchasing gift cards, leaving online reviews, and engaging with these businesses on social media.   
Check out these very special, locally owned businesses in the Ypsilanti area for all your shopping and gift-giving needs this holiday season and beyond! 
Please remember to follow the CDC guidelines and safely distance when shopping around town. Masks are required in stores and are operating with limited capacity during store hours. Please check with businesses for new hours and regulations before visiting. 
 
Just What You're Looking For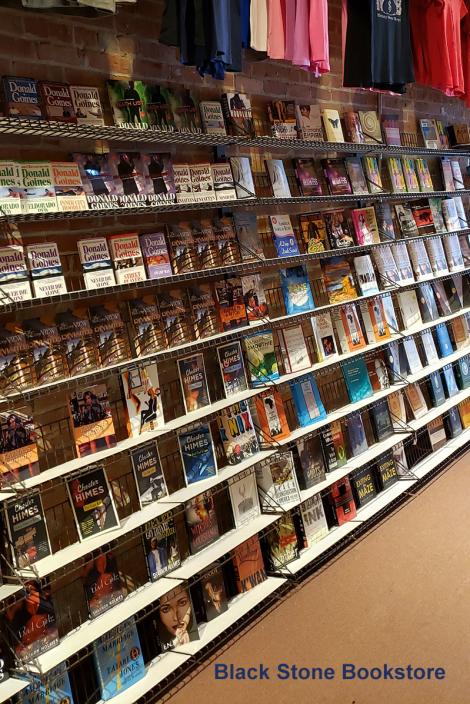 Searching for that certain kind of gift for that special someone on your list? Do you know their interests but need to know where to find it? In Ypsilanti, there are tons of specialty retail shops continuously bringing in new merchandise and perfecting their craft to design and display only the best products to shoppers and visitors.  
For the dedicated book lover and learner, visit Blackstone Bookstore & Cultural Center. This independent African-American bookstore aims to bring awareness to true African-American literature and culture. Black Stone has partnered with Black Men Read, creating a wish list allowing shoppers to gift books directly from Black Stone Bookstore to help fulfill requests from school libraries, community centers and shelters cross Washtenaw County. By giving from the wish list, you're helping send books to children, families, and teachers where needed most while helping support this local business.
Go on a shopping spree at Unicorn Feed & Supply and bring out your inner child! Known as a sparkly gift shop, UFS carries great gift ideas and fun products like fairy garden accessories, TONS of stickers, several Holiday ornaments and holiday items LGBTQ gifts, exclusively carrying rainbow-lettered 'Ypsilanti' socks, enamel pins, unicorns galore and even more! Shop face masks fitted for both children and adults with fashionable patterns and vibrant colors. Unicorn is open for in store walk-ins and shop calls through video chats, plus free curbside pickup.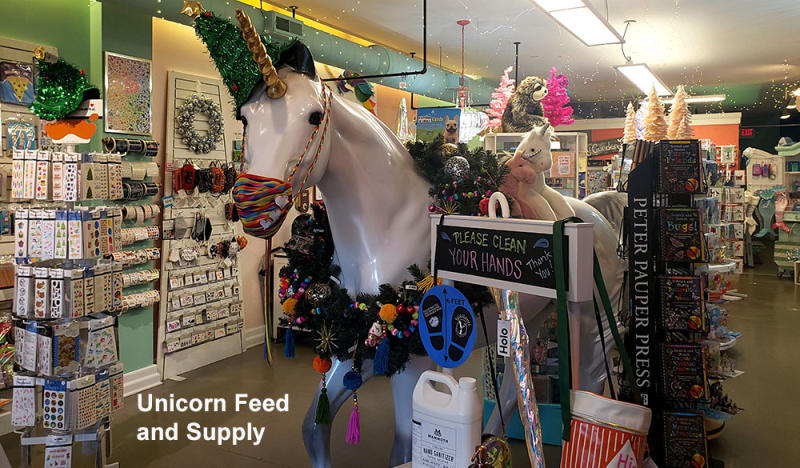 Ypsilanti Running Company: Ideal gifts for the active walkers and runners in your life! Find top-quality running shoes and active gear. YRC is offering call-in orders, scheduled shop appointments, online shopping, and welcoming walk-in visitors.  
Nelson Amos Studio: Offering custom framing, artist services, oil paintings of portraits, landscapes, and local images of Ypsilanti. Shoppers can also shop for fine, Classical guitars by Alhambra of Spain. The studio is open by appointment for custom framing and outside of normal business hours.  
Evenstar's Chalice: Specializing in divine wares, vintage relics, gallery arts, and sacred swag. Shop for candles, journals, tarot and oracle decks and more. Offering online classes and services. Shop in-store or online.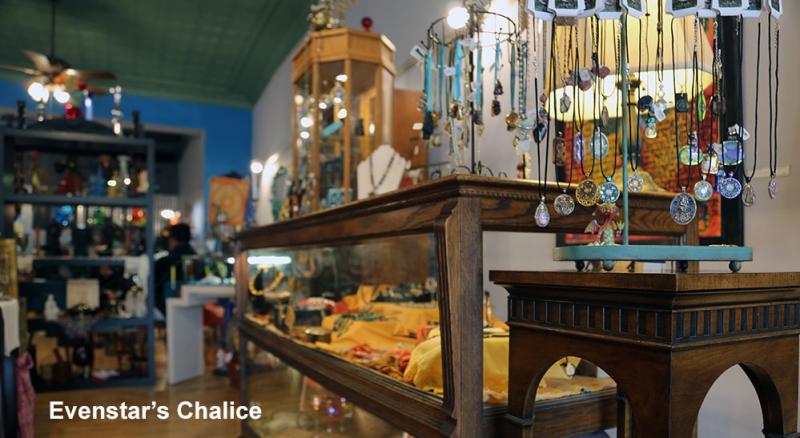 Grove Studios: Self-service music rehearsal, DJ production and podcast recording studios. Share some love for the musicians, artists, and producers in your life by purchasing gift cards and vouchers for studio credit that doesn't expire! Shop services online.  
Schultz Outfitters: Southeastern Michigan's full-time, four-season fly-fishing guide service. Top quality fishing gear for any time of year! Knowledgeable staff will assist in finding the perfect gift for those who enjoy fly-fishing, experienced or new to the sport.  Shop in-store and online. 
Norton's Flowers & Gifts: Selling occasion flowers and plants including Hanukkah and Christmas arrangements varying in size to cater to differing budgets and preferences. Shop their selection online and in store. Offering same day delivery.  
Olympia Skate Shop: Your one-stop skate shop! Browse hard goods like skateboard tools and soft goods including hats, clothing, and footwear from top skater brands like Spitfire and Vans. Shop in store and online.  
Cool and Unusual   
The Ypsilanti community is filled with local love and individuality. It's no surprise Ypsilanti is home to some of the coolest and most eccentric shops in Michigan! From crafted creations to specialty collections, find those perfect gifts at these cool and unusual retail shops.   
Visit Depot Town's newest oddities store, This, That & the ODDer Things, where you can shop gifts of peculiar forms of artist-made goods. Let your curiosities soar once inside the kookiest store! Shop cool gifts, T-shirts and clothing, toys, ODDer Things swag, kitchen and barware goods, and vintage and antique gifts. Browse and shop the selection of cool and unusual items online or in-store.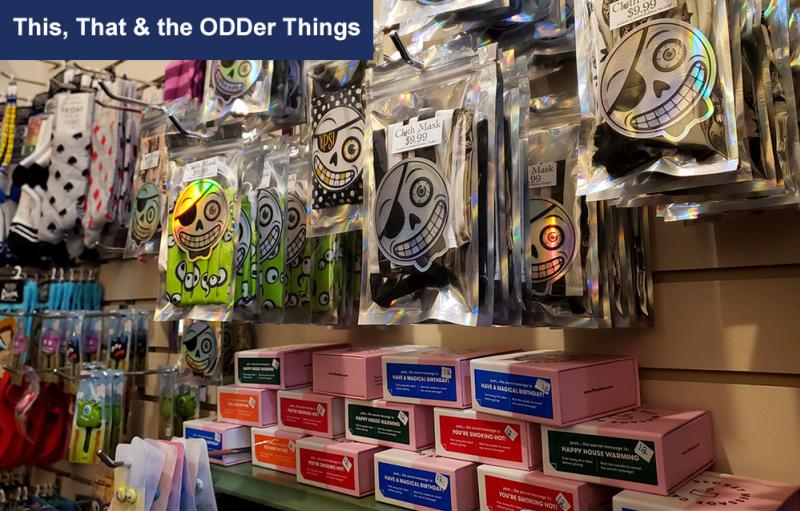 Shop supercool gifts, Ypsilanti swag, retro candy and a huge collection of novelties at The Rocket, located in the heart of Downtown Ypsilanti! From stocking stuffers to unusual holiday ornaments to Funko POP! Figures to jigsaw puzzles, you'll have lots of fun browsing and gift shopping at The Rocket! Now offering local customer pick-up and free shipping on orders over $35.  
World of Rocks: World of Rocks Is the ideal shop for avid collectors of rocks, unusual fossils, and colorful minerals. Shop in store at one of Michigan's largest rock shops, adding new stock daily. Services provided include cutting and polishing and custom jewelry created by Michigan artists. Know what you're looking for? Email or call ahead for curbside pick-up or local delivery.  
ModelCave:  Model kit shop with a huge selection of new and vintage kits ranging from classic cars to action figures to complex ships and aircraft. Find building tools and supplies for any model. Call-in orders available for pick up.  
Fun 4 All Comics & Games: Find a wide variety of card games and board games, and accessories including Magic: the Gathering and Dungeons & Dragons RPG books and miniatures. Browse hundreds of comics with new shipments coming in frequently. Open for curbside pickup and in-store shopping.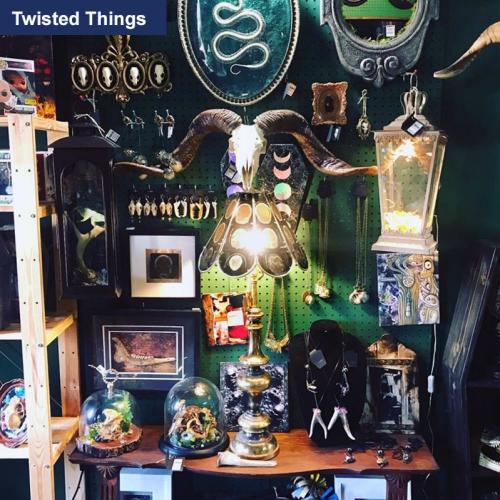 Twisted Things: Curious goods and organic apothecary specialty shop carrying items created from over 50 artists! Shop unusual pieces, apothecary herbs, leather works, wood crafts, organic handmade bath and body products and much more. Newly expanded and carrying more items for particular interests. Shop in store or call ahead for curbside pickup.  
Nankin Hobby: One stop shopping for remote control cars, planes, boats and more. Shop drones, model kits, toy train sets and plenty of hobbyist tools and accessories. Find a collection of toys, science kits, and board games through their website!  Available for curbside pickup by phone or by shopping online.   
Golden Rhino Games: Tabletop gaming store offering a wide variety of games, expansion packs, hobby supplies and gaming accessories. Shop online for store pickup or shop in store during business hours.   
 
 
Great Gifts for Everyone   
When visiting retail shops in the area, you'll find stores that just have great gifts for anyone on your list. Shopping becomes fun and easy whether you're looking for your loved ones, acquaintances, and even when treating yourself. You might even end up spending a little extra! Here are some one-stop shops for the gift-giving season. 
While in the Downtown area, head to Stone & Spoon for home, kitchen, and garden goods to inspire cozy living. Stone & Spoon takes pride in carrying items from small businesses as well as artists and makers from the Ypsilanti community. Shop plants, holiday gifts, various cookbooks, and more great gifts during walk in store hours. Shoppers can also schedule virtual shopping appointments and private shopping hours by request.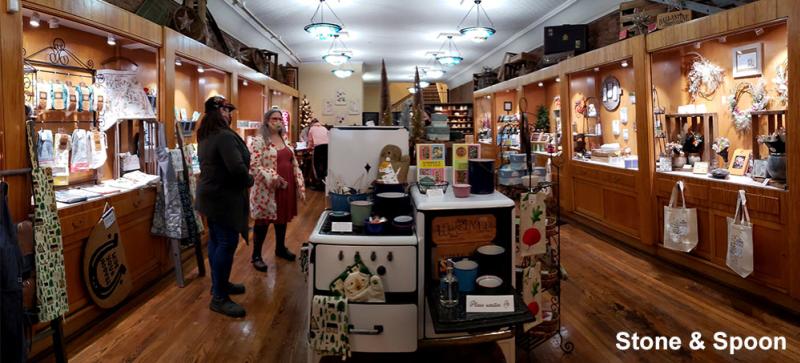 Ypsilanti's newest thrift and consignment store, The Thrift Depot, is filled with special finds! Here, search through holiday-themed gifts and decorations, new gloves and hats and winter apparel, general home goods, and more for low-cost pricing. The Thrift Depot's mission is to support people locally experiencing homelessness and hardship by partnering with local organizations to provide essentials to people in need. Visit the shop in Depot Town and shop in store. 
Brick and Mortar Modern General Store: Bringing back the classic general store from past eras with a modern twist, carrying home décor, bath and body products, art and supplies, dry goods and good gifts for any age created by local artists. Shop in store or call for custom framing orders.  
Ypsilanti Thrift Shop: Consignment shop providing affordable, gently used clothing for all ages. Along with their usual items, The Thrift Shop is now carrying holiday decorations galore, plus a rack of items that are new with tags that make great gifts: parkas, sweaters, pants, shirts, jackets. Shop in store during select business hours.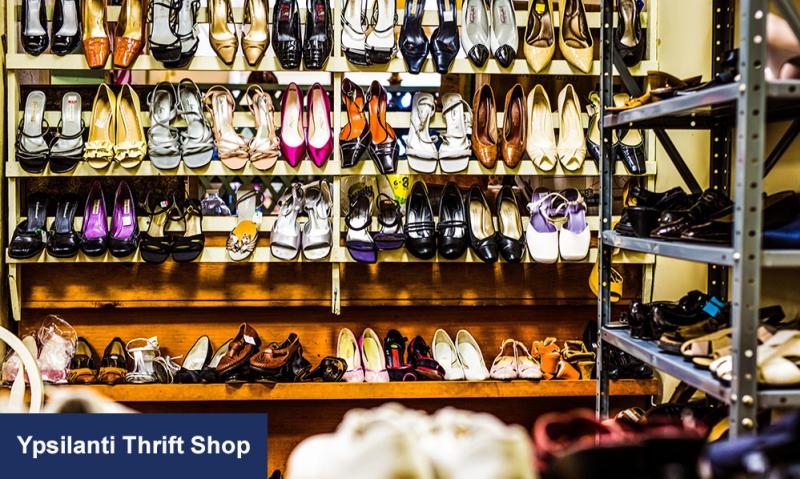 Fashion Forward  
Shop with ease for those fashion lovers and savvy stylists! Find boutiques, custom apparel, exclusive collections, and favorable fashion lines here. As meaningful as style is to one's expression, feel comfortable knowing that the Ypsilanti area has you covered! 
Downtown Ypsilanti staple, Puffer Reds, is a premiere sneaker and apparel boutique that has been serving the community for 40 years. Here, you can find top quality brands and the latest fashion including hard-to-find brands and exclusive releases like Nike Quickstrikes and Adidas Originals exclusives. Shop online and in store. Curbside pickup is offered for online orders.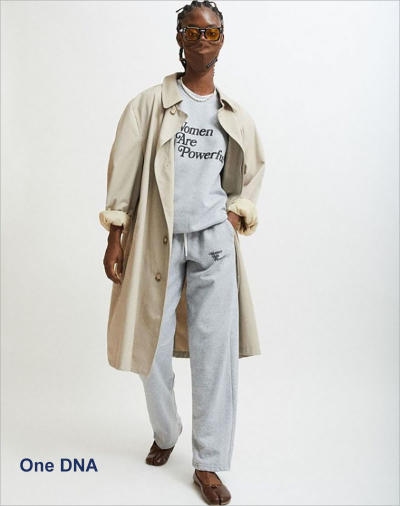 One DNA: Gender-neutral apparel store carrying special exclusive collections and truly fashionable pieces.  Shop the Women Are Powerful collection, with 50% of the profits going to the National Women's Law Center. Also offering eco-conscious and one-of-a-kind items. Shop online and at the new brick & mortar store Downtown.  
Ivy Couture Boutique: Upscale ladies boutique carrying a range of sizes in dresses, tops, shoes and accessories. Shop by brand or browse the specially marked racks to find the perfect deal! Shop in store and online.  
MIX: A curated collection of art in fashion, carrying artistically chic and designer clothing lines, jewelry and accessories. Visit the 're-MIX' section of gently used clothing with special pricing. Shop online with free shipping or shop in store.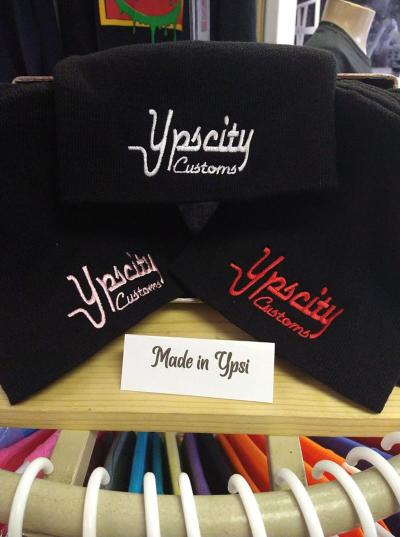 Ypscity: Ready to create custom apparel and sneakers by local designing artists. Offering services including shoe cleanings and restorations. Also carrying products created by local artists as part of the Ypsilanti Culture Club to help shine light on Ypsilanti area talent. Call in or shop in store.
Love at First Try: Clothing boutique for fly, fun, feminine fashion. Pre-orders available online for the newest arrivals.  Gift a shopping appointment to your loved ones to find the right style or piece they're searching for with peace of mind.  Shop online, in store by appointment or during walk-in hours. 
Antique & Vintage 
Ypsilanti is a shopper's dream when it comes to antique and vintage finds. From mid-century furniture to rare art finds to retro gifts that bring back nostalgic memories, you'll find it here! Have an idea of a time era or interest? Shop owners and workers are ready to answer your questions and help find you that perfect gift for those special people on your list!  
When shopping downtown Ypsilanti, visit Silver Spoon Antiques, an antique jewelry store that's been in business for 30+ years! Silver Spoon Antiques specializes in jewelry and accessories from the 1800s to the 1980s.  Shop on their online Etsy website or in store during regular business hours. 
Salt City Antiques: Two-story antiques shop carrying a selection of Mid-Century antiques and collectables as well as vintage clothing, jewelry, and accessories. Many items have been restored and are ready to be gifted! Shop in store to for the coolest finds.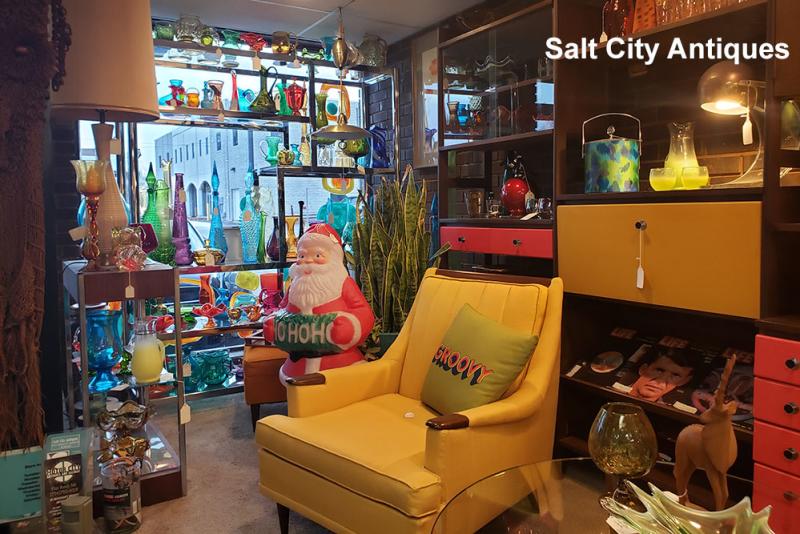 A2 Vintage: For shoppers seeking everything vintage, industrial, and just plain cool. Browse through vintage décor, clothing including classic band Tees and holiday sweaters, a large vinyl and CD collection plus more vintage goods. Open for in store shopping.  
Materials Unlimited: Full-service antiques restoration facility in a 15,000 square foot, 3-floor building.  Antique and home improvement store filled with restored antique lighting, stained glass windows, antique furniture and more. Check out the full inventory online, and shop in store. Shoppers can now take a 360 virtual tour online of Materials Unlimited before visiting.  
Bowerbird Mongo: Vintage store selling art, pottery, jewelry, books, and more. with exclusive shop hours and pop-ups. Visit their Facebook page for up-to-date in-store hours to book a shopping appointment on select days.  
 
Gift of the Year: Gift Cards!
Shop gift cards this holiday season! Your purchase now can help support our local establishments.  
Retail Gift Cards: Many area retail shops listed above offer gift cards or gift certificates to purchase online or in store. Help support these local businesses by purchasing now and shopping later, and by gifting to others to pick out that perfect item they've been wanting from their favorite stores!  Find more Ypsilanti shopping here.
Restaurant Gift Cards: There are so many amazing restaurants in Ypsilanti, from the hidden gems to the well-known flavors, you can't go wrong with the food here! Help support area restaurants this winter by purchasing gift cards to the eateries in the Ypsilanti area. Gift cards can be used online and over the phone for takeout, pickup, and delivery orders.  Call or visit the establishment online to see what gift cards are offered!  Find Ypsilanti area restaurants here.  
Brewery Gift Cards: Many area breweries and bars are now selling cans and cocktails to-go in addition to sweet swag like T-shirts and pint glasses. Show some love for Ypsi breweries creating your own gift basket for the craft beer and cider lover on your list! Add swag, a gift card, and a tasty beverage for those of age!  Find Ypsilanti area breweries here.  
Coffee Shop Gift Cards: Help fuel someone through these Winter months by giving the gift of coffee! The coffee scene in Ypsilanti is incomparable, so you can feel great gifting a bag of craft coffee and gift card from a local Ypsilanti shops. Many coffee shops are open for orders to-go and online when shopping for coffee beans and merchandise.  Find Ypsilanti area coffee shops here.  
The Ann Arbor/Ypsilanti Chamber of Commerce has created a list of area businesses currently offering gift cards in an effort to support area businesses including local retailers & artisans, restaurants, hotels, salons and more! Shop small this holiday season. Browse the list of businesses here!
Your support goes beyond this holiday season and in many different ways. Once gifted, share those cool finds on social media by tagging the business and sharing with hashtag #YpsiReal! Then when you're ready, revisit and shop your new favorite locally owned businesses in Ypsilanti.  
Have a business we missed? Add it in the comments below!  
Love our content? Get all of the latest Ypsilanti happenings delivered to your inbox. Subscribe to our email newsletter.