It's official: Zingerman's famous Camp Bacon is just as dreamy as it sounds.
Now in its tenth year, this multi-day celebration (happening May 29-June 2, 2019) of everyone's favorite savory meat features a film festival at Greyline; a Bakin' with Bacon class at the Bakehouse; the Bacon Ball (this year spotlighting 'nduja, a spreadable salumi blended from Calabrian sweet and spicy peppered pork) at the Roadhouse; a bacon tasting program for kids at the Deli; a cheese tasting – alongside Zingerman's specialty bacon Pimento, of course – at the Creamery; a breakfast (prepared by four-time James Beard Foundation finalist Steve McHugh) at Greyline; a lunch talk with "Travels Through Dali: With a Leg of Ham" author Mei Zhang; and a Camp Bacon Street Fair at the Sunday Artisan Market in Kerrytown.
But even with all these tasty options, the appropriately titled Main Event symposium at Cornman Farms is Camp Bacon's centerpiece, offering a full day of "meaty speakers" and, of course, a bacon-centric breakfast and lunch.
None of this, however, specifically aims to mark Camp Bacon's one decade anniversary.
"We don't really care about that, other than it's a nice, round number," said Zingerman's co-founder Ari Weinzweig. "It's like a birthday. We just try to keep getting better, like everything else we do. We never get it all right, so we keep pushing the envelope."
Attendees make the Zingerman's Camp Bacon pilgrimage to Ann Arbor from near and far. There are even several international attendees.
"The Main Event pulls from all over," said Weinzweig. "We had someone come from Australia, people from all over the country, from Spain. There are always some food professionals, some cooks and writers, but I'd say the majority are just food-fascinated consumers."
The Main Event often sells out, with spots for just 100 people, but no matter which Camp Bacon events you attend, you'll find both a reverence for food and a sense of playfulness.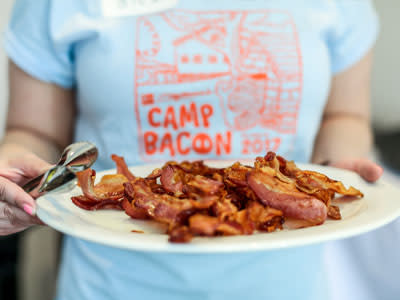 "We try to make it aligned with our work at Zingerman's, which is to say, we take learning and food and cultural history seriously, but we don't take ourselves seriously," said Weinzweig. "It's a fun event. It really is like going to camp."
How did a thing like Camp Bacon get started?
By way of an offhand joke that Weinzweig made in the 2009 book, "Zingerman's Guide to Better Bacon" –something along the lines of, "What if there was a camp you could go to, and everything was about bacon?"
"I'd just been goofing around when it popped into my head, and we left it in the book," said Weinzweig. "Six months later, (former colleague) Peter Sickman-Garner said to me, 'Hey, we should really do Camp Bacon.' So I thought about it for a few days and decided, yeah, we should do this."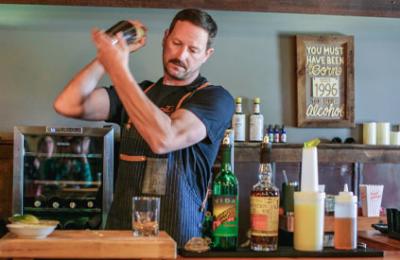 Besides being one big bacon party – which would be enough, right? – Camp Bacon is a fundraiser for both the Mississippi-based Southern Foodways Alliance and 4-H in Washtenaw County. All of the bacon-y goodness is for a good cause.
"I think a lot of times, things we throw off as jokes are actually good ideas," said Weinzweig. "We [at Zingerman's] try to always be sensitive to possibilities and not get stuck, as we all can be, in the status quo, when really what we need more of is to think a little bigger and outside the box, and allow the creativity everybody has to come out. … I love [that Camp Bacon] brings people from all over the country … to this cool, one-of-a-kind event in our town."
Like our content? Get all the latest Ann Arbor info delivered right to your inbox. Subscribe to our monthly e-newsletter.