The Ann Arbor area is a vibrant, eclectic, unique community, full of wonderful and special shops, eateries, theaters, museums, galleries, and more. Many of these businesses and organizations have been affected by the COVID-19 outbreak and resulting mandates for closures of dine-in restaurants, bars, performance spaces and more.  This will be part of an ongoing series. Get the latest coronavirus updates here.
There are a multitude of ways to continue enjoying some of the outstanding experiences that Ann Arbor and its surrounding communities have to offer. Here are a few of our favorite ideas. 
1. Connect with nature 
Getting outside in the early spring sunshine is great for your mental and physical health. We wholeheartedly recommend exploring the Ann Arbor area's parks and recreational areas (just be sure to maintain those social distancing recommendations from health officials) - where you can observe wildlife, listen to bubbling streams and rushing rivers, and connect with the greater outside world. Here are a few of our favorite spots. 
Rolling Hills County Park 
With one of the best disc golf courses in the area, and loads of trails, Rolling Hills County Park is one of Washtenaw County's gems in the park system. Take your road bike for use on the paved trail, or a mountain bike to enjoy three miles of nature trails – or, grab some binoculars for spectacular bird-watching.  
Dexter-Huron Metropark 
With the Huron River running through it, the Dexter-Huron Metropark is heavily wooded and offers some of the most peaceful trails in the area. Pets are welcome (just keep them on a leash!) and you're sure to see some of the resident wildlife when you visit. Additionally, the metropark system offers virtual programs and activities as well.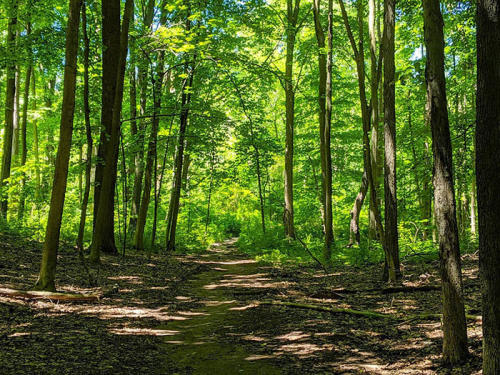 Bird Hills Nature Area 
The largest park in the city of Ann Arbor, Bird Hills Nature Area is hilly and wooded and perfect for long walks. With five trailheads that wind through ravines and wildflower groves, you'll absolutely love a relaxing jaunt through this undeveloped sanctuary.  
2. Get restaurant takeout or delivery 
The Ann Arbor area is one of the most well-known foodie havens in the Midwest. With award-winning restaurants, internationally-inspired cuisine, and townie favorites, we want to keep our local dining scene as vibrant and robust as ever. Currently, restaurants are offering deliver and takeout only – but you're in luck, because there are some really tasty options out there for meals to-go. Some are offering special deals right now, as well! 
The Earle 
The Earle, a fine dining, French and Italian-inspired restaurant that's served the Ann Arbor area for years, is offering curbside pickup for the first time. Locals rave about the Sauuteed Duck and the Sea Scallops, and there's no better place in town for a classic French Onion Soup! And, right now, The Earle has a great deal on gift cards – buy one for $200 and get an extra $25 added on.  
Go! Ice Cream 
Ypsilanti's fun, inclusive, friendly ice cream bike-turned-shop, Go! Ice Cream, is offering delivery to Ypsilanti and Ann Arbor – and you can't beat these flavors. Classics like Michigan Strawberry and Chocolate Sorbet are complemented with funky tastes like Moonwinks Magic and Irish Cream. You won't be disappointed – Go! was named the Best Dessert Spot in Washtenaw County two years in a row! Bonus – for every $100 gift card purchased right now, Go! Will donate $10 worth of ice cream to a local health care clinic serving vulnerable community members.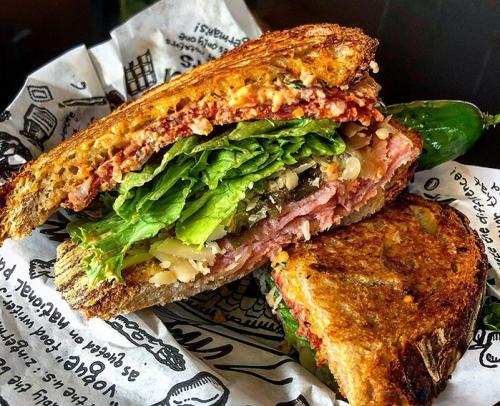 Zingerman's 
Ann Arbor's classic, famous deli – Zingerman's – is joined by the other businesses in the Zingerman's family to offer its full-flavored food and beverages via curbside pickup and delivery. If you're in the Ann Arbor area, swing by the Bakehouse for the city's best chicken salad sandwich or some tasty chocolate cherry bread. Coffee-lovers can pick up their beans curbside (and grab an avocado toast while they're there!). For the first time ever, Zingerman's Roadhouse is delivering within a six-mile radius, so you can get your BBQ fix (don't forget those epic sweet potato fries as well). If you're not here locally at the moment, never fear – zingermans.com (Zingerman's Mail Order) ships tons of products, including a reuben kit, nationwide.  
There are lots more eateries offering takeout and delivery – visit our Restaurants page to see many more options. Just call ahead, to be sure that they're operating right now. Or, call or get online to order gift cards from your favorite eateries. It'll help them stay afloat while they're closed for dine-in customers, and you'll be ready to go for your favorite eats when they reopen! 
3. Livestream or enjoy recorded music from local artists and art organizations 
Ann Arbor and the surrounding area is known as a destination for outstanding, world-class performing arts. Since most of these performances have been cancelled or postponed for the future (we'll post revised events dates ASAP!), here are some ways to hear live music from our local artists. 
Live From The Bird House 
There's an amazing community of musicians in the Ann Arbor area, and some of them, like Erin Zindle and the Ragbirds, will be doing shows on Facebook Live as part of a series called 'Live From The Bird House'. Cancelling gigs is hard on musicians, so they've set up a system to offer payment for viewing the performances, if you're inclined.  
The Blue LLama Jazz Club 
Blue LLama Jazz Club is the newest music venue in town – featuring jazz musicians and music-inspired food and beverages. For right now, they're offering delivery and takeout for their menu, and they're livestreaming music for the public to enjoy.  
University Musical Society (UMS)
UMS is known for bringing award-winning, world-renowned musical and theatrical performances to Ann Arbor throughout the University of Michigan's academic year. Since the remainder of the season has been canceled, UMS is offering playlists for a variety of artists – including Helene Grimaud, a French pianist whose March 14 concert was canceled. Her exact concert recital program is available on the UMS website. Stay tuned for more content from UMS artists as well! 
4. Virtual tours, classes, and online exhibitions and shows 
58th Ann Arbor Film Festival 
This year, North America's longest-running independent and experimental film festival is going online! From March 24-29, you'll be able to see all the short and feature films for the Ann Arbor Film Festival's lineup. Don't sign off too quickly! Moderated live Q&As with filmmakers will be streamed following the screenings to facilitate conversation between audiences and filmmakers.  Please note: The films are not rated. All programs are intended for mature audiences, unless otherwise noted.
Kelsey Museum of Archaeology 
University of Michigan's Kelsey Museum of Archaeology has a web page dedicated to viewing past and present exhibitions. Check it out for a virtual visit to this campus gem – and also follow the museum's resident sarcophagus, Djehutymose, on Twitter! 
Verapose Yoga 
Dexter's inclusive, welcoming yoga and meditation house has just gone virtual! Now offering classes and sessions via Zoom and Skype, owner Courtney Fitzpatrick is ensuring that current and future yogis have the opportunity to continue their practices with her help. Check out the Verapose Yoga Facebook page for more details.  
5. Virtual and online shopping 
Unicorn Feed & Supply 
Ypsilanti's magical, whimsical shopping experience is now available completely virtually! Unicorn Feed & Supply is one of the newer retail establishments in the area, but it's already made a huge impact, drawing shoppers from around the Midwest to see Reggie Pep, the 7-foot-tall unicorn in the middle of the shop, and to purchase fantastical gifts, jewelry, stickers, and more. Now, the shop is restricting foot traffic, and offering FaceTime and Google Duo virtual shopping experiences with owner Jen Eastridge. You can use the Unicorn Drive Thru to pick up your goodies, get quick delivery for $10, or have your items shipped.  
Literati 
Ann Arbor is a book-lover's paradise, with many independent, niche, and unique shops selling everything from comics to antique books and children's literature to local authors. Literati is one of Ann Arbor's most beloved bookstores, and home to the famous Public Typewriter. In light of the current situation, Literati has ramped up its easy-peasy online shop, and can ship books for just $1. Books never go out of style, so you can also grab a gift card that's easy to use online or in person when they reopen.
BONUS: Literati operates a sunny coffee shop on its top floor, which is currently closed – but they can deliver their locally-roasted beans to your house! Tasty coffee, timeless books, and supporting a locally-beloved business was never easier. 
Spun 
Yarn delivery? YES! Spun is Ann Arbor's dedicated shop for knitting and crocheting needs, and they're offering free delivery and free shipping for orders placed over the phone. You won't believe the gorgeous colors and textures at this fun, friendly store - and there's never been a better time to take up crafting. Order your yarn for delivery, and you may even get the pleasure of meeting Queenie, the Spun Delivery Dog!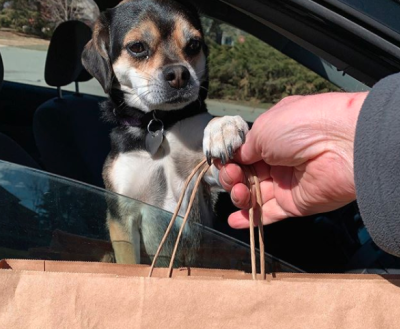 We've also been so proud of the ways that our local Ann Arbor area businesses are innovatively supporting our community. Take the Ann Arbor Distilling Company and Ugly Dog Distillery, for example – they're both producing hand sanitizer to distribute free of cost. Underground Printing, a local company that produces apparel, has started a t-shirt project that will send net proceeds to businesses that have seen economic difficulties as a result of the COVID-19 situation. 
Here in Ann Arbor, we're all about supporting and maintaining our unique, creative small business and hospitality community. We hope you'll support the businesses mentioned above, and others. The current public health situation won't keep us from enjoying the great outdoors, dining, artistic, and shopping opportunities here in the Ann Arbor area – we hope you'll take advantage of them as well. 
PSA: The safety and health of our community is on our minds right now, of course. We wholeheartedly encourage both residents and visitors to adhere to the requirements and recommendations of local and state health officials, the CDC, and their health care providers. Precautions and resources can be found here.