NAIA Cheer and Dance National Championships
March 11-12, 2022
Eastern Michigan University George Gervin GameAbove Center (View Map)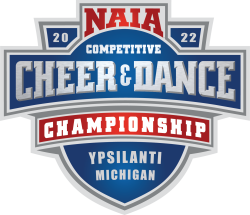 Join us at Eastern Michigan University in Ypsilanti, MI for the 6th Annual NAIA Competitive Cheer and Dance National Championships!
The NAIA is the only athletics association to offer a national championship in this sport. 12 dance teams & 15 cheer teams qualify for a Prelim/Finals National Championship. 
The order of competition for the Preliminary Rounds will be announced Feb. 28, 2022, with the qualifiers announcement. Event tickets will be available once qualifying teams are announced.
Ypsilanti and Eastern Michigan University is conveniently located only a 15 minute drive from Detroit Metro Airport. 
History of Competitive Cheer & Dance