This article is from 2016, but still has some great ideas for ways to experience Ann Arbor! For updated event dates, click HERE.
Ann Arbor, located 30 minutes west of Detroit in southeastern Michigan, is completely unique in the beer scene – with a brewery that creates solely sour beer, to a kombucha beer brewery, and everything in between. Below is a run-down of what Ann Arbor has to offer beer lovers – and also links to the local hops farm, a local brand-new distillery, and a multi-tap bar with beers from around the world.
Kombucha Beer is a magical elixir created with 30-day brewed kombucha, organic hops and organic fruit. These beers are full of flavor – raspberries, ginger, peach, juniper, and grapefruit. Born from Unity Vibration's original passion for kombucha tea, their kombucha beer concocted in bourbon barrels by hand, and is teeming with probiotics. Naturally raw, organic and gluten-free, this beer has a tart, sour, and effervescent appeal that has captivated many health food stores, co-ops, and even national grocer Whole Foods. Visit Unity Vibration's quirky, funky tasting room in nearby Ypsilanti (15 minutes from Ann Arbor) for a beer experience like you've never had.
In the heart of downtown Ann Arbor, Blue Tractor creates award-winning fresh, tasty, cold craft beers. Recognized six times by the Beverage Tasting Institute (BTI), Blue Tractor's "Hands Off My Goat" Oatmeal Stout, Bad Moon Ryeizen IPA and Demonic Ale are not to be missed.
Also in Ann Arbor's neighboring community of Ypsilanti, Ypsi Alehouse sells Michigama Craft Brewing beers – from local legend Ted Badgerow, who in 1982 opened Michigan's first new brewery in thirty-eight years (back when terms like "craft beer", "brewpub" and "microbrewery" were basically unknown), and who now brings his lengthy experience brewing small-batch ales to Ypsi Alehouse. Founder of the Ann Arbor Brewers Guild, Ted specializes in ales brewed using traditional, historic methods.
Wolverine State Brewing Company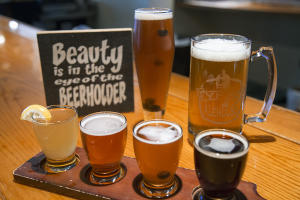 Named for the University of Michigan's fierce and fearsome mascot, Wolverine State Brewing Company brews lagers, exclusively. Why? Ales are overdone and overrated, in their opinion. So, they created India Pale Lagers, plus dark, amber and light lagers, and seasonal lagers for year-round fun. Unapologetically locally-driven, Wolverine brews beer that is inspired by and brewed for Ann Arbor locals and visitors alike. Big House Brown, for example, gives homage to the University of Michigan's stadium and is perfect for autumn. The Barista Coffee Lager uses locally-roasted coffee from Ann Arbor's RoosRoast for a unique take on coffee and beer that took home the gold medal at the 2015 World Expo of Beer.
Pioneering the craft brew scene in Ann Arbor (open since 1995, the fifth in all of Michigan), ABC handcrafts beer in both Ann Arbor and Ypsilanti with a passion for sustainability (with award-winning efforts for environmental responsibility), buying and selling locally, and supporting the Ann Arbor community. With brews like Violin Monster (named after an Ann Arbor character recently seen on America's Got Talent), Mackinac Island Fudge Stout (featuring a beloved Michigan sweet treat), and Ypsi Gypsy (named after Ann Arbor's bohemian neighboring town of Ypsilanti), ABC has beers that are approachable, likable, and drinkable.
Northern United Liquid Libations (NULL)
Brewing for Grizzly Peak, Jolly Pumpkin, and North Peak, NULL Is located in the historic and charming town of Dexter, just a few minutes west of the city of Ann Arbor. Specializing in sour beer (and in many circles becoming synonymous with American sour beer), NULL is one of the premier United States-based sour beer microbreweries. Brewing genius Ron Jeffries leads the team and mentors aspiring sour beer brewers around the country.
In charming Chelsea just west of Ann Arbor, the CAB creates American and English style ales using hops sourced solely from Michigan. One featured beer, the Chinook Harvest Ale, uses hops from local Groovy Hopster Farm (also located in Chelsea and providing heritage hop varieties to the world – including a hop-infused iced coffee at Milan Coffee Works in nearby Milan, Michigan). You'll also find a Ginger Pale Ale brewed with fresh ginger, and a pub menu that shines by featuring house-made sauces, house-smoked pork and other local favorites, like soft pretzels from the Chelsea Bakery. Live entertainment appears several times per week, and book clubs, trivia nights and song circles are also frequent.
Perhaps known more for its impressive improve troupe, well-attended open mic nights, and theatrical performances than its beer, Pointless Brewery & Theatre offers approachable beers like a pumpkin apple ale, an espresso stout, a chocolate peanut butter milkshake stout, and some crowd-pleasing IPAs.
Resident fermentologists Ed and Jason are picky guys. Particularity around water chemistry, house-made yeast, local ingredients, mash pH and perfected recipes pays off at this 116-year-old stained-glass windowed former church-turned brewery. Located in Saline, just a few minutes south of Ann Arbor, Salt Springs Brewery is named for the local salt springs that brought mammoths and sabertooth tigers to the spot where Saline now sits.
Not a brewery, but featuring 70 beers on tap, Ashley's is an Ann Arbor institution. Michigan's premier multi-tap, and "One of the 100 best beer bars in America" according to Draft Magazine, Ashley's is located next to the University of Michigan's iconic campus and prides itself on offering a truly world-class selection of a huge variety of beer.
Also not a beer brewery – but of interest to those who love good drinks – AADC opened in 2015 and began serving Ann Arborites some of the best vodka, gin, rum and coffee liqueur you can imagine. As locally-sourced as reasonably possible, hand-crafted from scratch right here in Ann Arbor, and with a lively tasting room featuring completely unique cocktails, the Ann Arbor Distilling Company is as unique as Ann Arbor itself.