The Ann Arbor area is an exciting, pioneering tech hub. Those who visit Ann Arbor, buy a home here, take a job here, or enroll in a university here are sure to enjoy our beautiful natural landscape and our diverse, multifaceted community along with all the lucrative perks of a booming center of innovation.
In Ann Arbor, tech start-ups are leading in inventive ideas. With a constant stream of brilliant, ambitious graduates from the University of Michigan and Eastern Michigan University, Ann Arbor tech companies have a front-row seat to securing the best-of-the-best talent. Google recently opened a gorgeous new campus on the north side of Ann Arbor (and has a strong presence in the Ann Arbor community), devoted to Google's DoubleClick and AdWords programs.
Along with Ann Arbor tech companies' efforts in digital marketing, local firms are also making moves with autonomous vehicles. May Mobility, a company that sells self-driving cars, focuses on short distance travel and robotics. In June, the University of Michigan launched their Mcity driverless shuttle program. The shuttles provide a unique way to get around North Campus. In addition to providing transportation, U-M also uses the program to study peoples' reactions and opinions to autonomous vehicle technology. Autonomous vehicle businesses are gearing up to be the future, and Ann Arbor is driving the industry.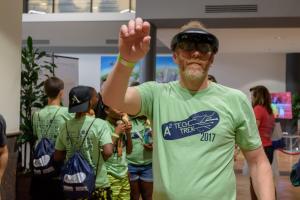 And then there's Ann Arbor SPARK, an economic engine in Southeast Michigan that propels industries forward. Ann Arbor SPARK supports technological and economic development across Washtenaw and Livingston counties with a variety of business development services and events. Their biggest event of the year is Ann Arbor Tech Trek, an annual gathering where local tech companies can open their doors to the public. Tech Trek is a great way to see the latest tech innovations, meet fellow techies, or professionally network.
Over in Ypsilanti, they're doing tech their own way. Local business Ypsilanti Tech Works manages secure IT infrastructure for businesses in the Southeastern Michigan area. For those seeking website and tech support solutions, Samsa is their go-to choice. Ypsilanti has also recently become home to the American Center For Mobility, a non-profit testing and production facility that aims to accelerate development and ensure safety.
Saline's cutting edge culture towards innovation is looking good as well. Akervall Technologies, the make of SISU Mouthguard, is making national headlines with their product. Akervall made Saline proud in the 2018 Edison Awards, after being named a finalist in the Injury and Disease Prevention. Akervall is doing its part inside and outside their factories. The company has come a long way from its origins at the kitchen table — Crain's Detroit Business recently named Akervall CEO Sassa Akervall a Notable Woman in Manufacturing.
In Chelsea, change is happening from the ground up. Local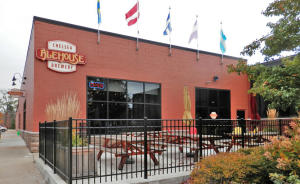 architecture firm Dangerous Architects is doing some of the most influential architecture in the area. This innovative firm, renowned for its commitment to both aesthetics and sustainability, took a run-down factory and turned it into the hopping Chelsea Alehouse Brewery.
Chelsea's go-getter attitude and the globally competitive companies bolster the ingeniousness of nearby Dexter as well. One of Dexter's largest and most beloved employers is Dexter Fastener Technologies, Inc, also known as Dextech, which uses complex engineering to keep Southeastern Michigan (and our cars) running strong. Dextech employs around 230 people in Dexter, making it an integral part of the community.
Innovation is the key to continuing success, and Ann Arbor is leading the way. Our strength in innovation comes from our pipeline of talent from our incredible school systems and the forward-thinking attitude here toward creating new ideas. If you're talking tech, you should be talking about Ann Arbor!