Ann Arbor is bold, vibrant, and one of MONEY magazine's "Best in Travel" locations. Recently named the #1 small college town by WalletHub, Ann Arbor and the surrounding areas offer a unique and inclusive range of experiences for everyone in your family, young and old. Everyone in your family will love a reunion in the Ann Arbor area.
If you're looking for a venue where you can do it all—socialize, eat, sleep, repeat—then Weber's Boutique Hotel and Restaurant in Ann Arbor is perfect for you. Weber's on-site event spaces accommodate 10 to 500 people, with options ranging from the expansive grand ballroom to indoor conference rooms to the outdoor patio. After a long day of activities, families can take a break at Weber's indoor salt water pool or play around in their one-of-a-kind pinball arcade.
If you only need a place to sleep and use as home base, check out our full listings of Ann Arbor area accommodations HERE.
Aside from hotels, there are plenty of other venue options, both indoor and out. The Michigan Theater, in the heart of downtown Ann Arbor, is available for events and the perfect place to host your gathering or a cozy addition to your itinerary, offering discounts on group tickets.
In Dexter, Michigan, just a short drive from downtown Ann Arbor, sits one of the most idyllic venues in the area. Zingerman's Cornman Farms is a gorgeous working farm, with award-winning spaces for intimate and social events. They host corporate retreats, weddings, and other events, and can provide a custom experience for you and your group featuring the exceptional cuisine that Zingerman's is known for.   
Both Matthaei Botanical Gardens and Nichols Arboretum, on the University of Michigan campus, offer rooms that can be rented for private family events, showcasing beautiful views of the properties and full of natural light. Both Matthaei and the Arb are free and open to the public and should be a part of your "to do" list if your family enjoys nature.
Gallup Park is a beautiful location full of great views and outdoor activities. Located along the Huron River, Gallup Park offers picnic areas, trails for biking and walking, a canoe livery, and more. At the Gallup Park Canoe Livery, your family can rent canoes, kayaks, rowboats, and whatever else you may need to enjoy the lovely Huron River. There is also a meeting room accommodating 40 people available year-round, overlooking the waterway!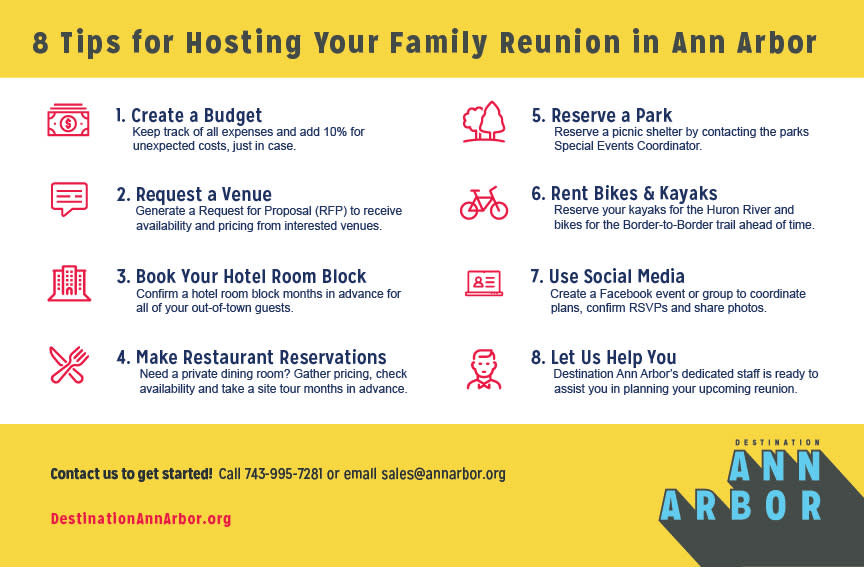 Ann Arbor prides itself on its numerous world-renowned, diverse eateries. The variety of the food scene is unparalleled, from Korean comfort food, to Cuban-inspired burgers, to a world-class deli (Zingerman's!). The vast delicious, locally-driven options make Ann Arbor a celebrated foodie destination!
These Ann Arbor mainstays will satisfy the whole family with internationally-inspired, award-winning eats and unparalleled hospitality. They're well-suited for larger groups and most offer private dining areas:
Just outside Ann Arbor, these spots are great picks for families:
Arbor Brewing Company – with locations in both Ypsilanti and Ann Arbor, Arbor Brewing offers their locally- brewed craft beers, a delicious menu and various rooms available to rent
Ollie Food + Spirits (Ypsilanti) – offering locally-sourced, high-quality ingredients, and plenty of choices for family members with special dietary needs
Salt Springs (Saline) – located in the heart of Saline, offering farm-to-table foods and a variety of private event options
The Ann Arbor area is a destination – vibrant downtowns, bold attractions, scenic getaways. Tour Michigan Stadium, kayak down the Huron River, or take some time to explore downtown Ann Arbor. Check out Main Street, ranked one of the best streets in America by Fodor's Travel, or the artistic State Street District. Enjoy window-shopping and coffee shops, and maybe even book a By The Sidewalk Food Tour or check out one of the many locally owned, indie bookstores like Literati or Crazy Wisdom.
Spend some time in Ypsilanti, where the Downtown and Depot Town areas are full of quirky shops, microbreweries, and innovative eateries, bordering Riverside Park - the perfect place for outdoor family recreation. Don't miss Ypsilanti staples Go! Ice Cream, Dom Bakeries, and Hyperion Coffee.
Families will also love a stop in Chelsea, just 15 minutes west of Ann Arbor, full of some of the best tours in Michigan. The world-famous "JIFFY" Mix plant offers tours of its historic plant, and guided nature walks at Eddy Discovery Center, located in the Waterloo Recreation Area, are always a treat. 
Most importantly, you aren't alone in this endeavor! Get your family members involved and contact us here at Destination Ann Arbor – we're here to help.
Our sales team can assist in gathering hotel block pricing info, restaurant reservations, and coordinate site visits and tours at interested venues, hotels and restaurants. We're also happy to provide welcome bags for your attendees with helpful materials like our visitor guide, downtown maps, museum brochures, and other Ann Arbor swag like pens and stickers.
Event planning and relatives can be stressful on their own, that's why we're here to take your reunion to the next level and ensure that everything goes smoothly! Need more ideas, or assistance planning your family reunion? Contact Destination Ann Arbor for personalized assistance today at sales@annarbor.org or give us a call at (734) 995-7281. We hope to welcome you soon!  
Like our content? Get all the latest Ann Arbor info delivered right to your inbox! Subscribe to our monthly email newsletter.