The Ann Arbor area's vibrant and robust artistic and cultural organizations have given our county a well-deserved reputation as a true destination for those who love the arts. The Ark has rocked us for 47 years, Artistica (in Dexter) gives us a great spot for artistic gifts, and the Purple Rose Theatre Company gives us unique and never-before-seen theatrical pieces. The Gutman Gallery's pieces inspire us, the Riverfolk Music and Arts Organization entertains us, and the Ann Arbor Art Center gives us a place to purchase local art. So, it's no wonder that our innovative, forward-thinking arts organizations have come up with creative ways to stay engaged with our community during the COVID-19 crisis. Venues and galleries and producers are live streaming, offering virtual tours, and putting up online exhibits to ensure that all of us are still able to experience the arts during this tough time.  
Here are some of the virtual, online arts experiences that we're loving at the moment. 
University of Michigan Museum of Art (UMMA)'s Art in Your Inbox 
For artistic inspiration sent straight to your email address, sign up for this new program from UMMA. You'll receive a couple of emails per week highlighting pieces from the museum's collection that are intended to invoke thoughtful dialogue, act as a commentary on our shared experiences, and give us an escape from what, for many of us, is a daily life spent mostly at home.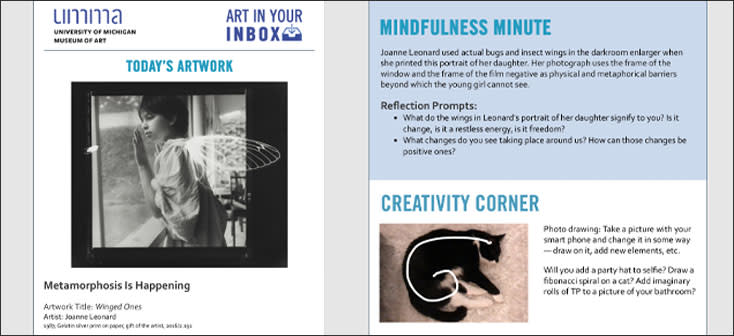 The Michigan Theater's Virtual Screenings 
Stream rare and artistic films, lectures, theatrical productions, classics and more – all courtesy of the Michigan Theater! There are virtual watch parties, post-film discussions, and live chat parties happening as well.  

Riverside Arts Center FLY Creativity Toolkit 
Perfect for the young and the young-at-heart, the FLY Creativity Toolkit was created by the Riverside Arts Center in collaboration with Eastern Michigan University's School of Art & Design. Intended to inspire wild ideas, valuable explorations, and enjoyable moments, this downloadable artistic endeavor is sure to entertain. There's no payment required so that the toolkit is available to everyone, but financial contributions are appreciated. BONUS: RAC is also offering an online exhibit right now. View the RAC online exhibit here.  

Ann Arbor Symphony Orchestra's Music @ Home Series 
Give the A2SO a "like" on Facebook to stay up-to-date with its latest video series – Music @ Home. Ann Arbor Symphony Orchestra's musicians are sharing their performances in their homes with the public, and there's even a family that performs together. Music is therapeutic for so many of us, and this series brings it right to your desktop or smartphone. BONUS: There's a fun activity for kids available from the A2SO as well. Click here to check out the A2SO kid's activities. 

UMS Staff "Quarantunes" 
After the cancellation of the remainder of UMS' 2019-2020 season, we were uplifted to hear that the UMS staff came together to create a "Quarantunes" playlist for us. Spanning many genres and time periods, the playlist is available on Apple Music and Spotify.  

Kerrytown Concert House Live @ the 415  
Free, live streamed concerts from KCH musicians will pop up regularly on Facebook! If you missed the first one with the band Accidentally Hip, never fear – more are coming. Give the Kerrytown Concert House a "like" on Facebook to stay up-to-date with the schedule for future performances.  

Finally – The Arts Alliance Creative Washtenaw Aid 2020 fund has been formed to support our local musicians, arts educators, photographers, actors, magicians, studio artists, dancers, and arts organizations. This is an outstanding organization's resource for our local artists and creative community, and another great example of how the Ann Arbor area is stepping up to the challenge of this tough situation.  
Click here for more information about artistic and cultural attractions and events in the Ann Arbor area.
These are definitely uncommon times but Ann Arbor is an uncommon place, full of resilient, passionate people! We are putting out a call. What does Ann Arbor mean to you? Show us by posting photos or videos of all the places in Ann Arbor that you can't wait to get back to. Post using the hashtag #AlwaysA2. Let's spread the Ann Arbor love! Learn more about the #AlwaysA2 campaign. 

Like our content? Get all of the latest Ann Arbor updates delivered right to your inbox. Subscribe to our monthly email newsletter.