Looking to stay active, while getting outside and enjoying nature? The Border to Border Trail (B2B Trail) is the ideal way to explore the beauty that Ann Arbor, Dexter, Chelsea and Ypsilanti has to offer. The trail runs all through the county, following along side the Huron River in most areas. The Border to Border Trail is deeply loved by area residents and visitors alike. 
The B2B Trail is a paved pathway for non-motorized travel. It's the perfect path for walking, running, rollerblading and biking. The path will take you through beautiful parks, as well as city centers. Stop along the way to enjoy the scenic overlooks. Easily identifiable maps and signs help guide you as you journey along the trail. Plan a B2B adventure with your family and friends today!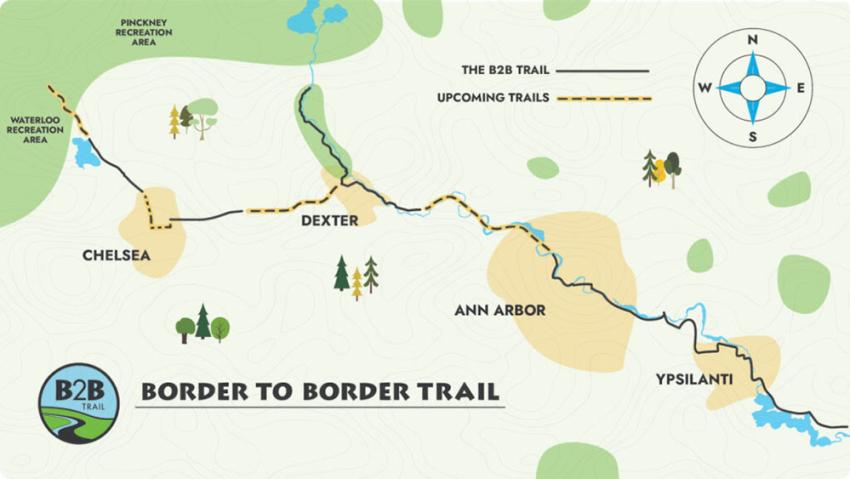 Trail Corridors
The B2B Trail has 8 trail corridors that run across Washtenaw County. More than 40 miles of trail exist currently, with 70 miles planned. Corridors listed from east to west: 
Chelsea-Stockbridge:  4.7 mi.

Dexter-Chelsea Corridor:  2.1 mi.

Hudson Mills Metropark Corridor:  4.58 mi.

Ann Arbor-Dexter Corridor:  9.1 mi.

Ann Arbor Corridor:  5.6 mi.

Ypsilanti Corridor:  11.67 mi.
Accessible for All
The existing portions of the B2B Trail are ADA-compliant, allowing the opportunity for everyone to enjoy the trail. All pathways are wheelchair and mobility assistant device friendly. The trail is constructed with gentle slopes and stable surfaces. Pathways are typically 10-feet wide, with 2-foot grass shoulders on each side. The trail surface consists of asphalt, concrete, or boardwalk.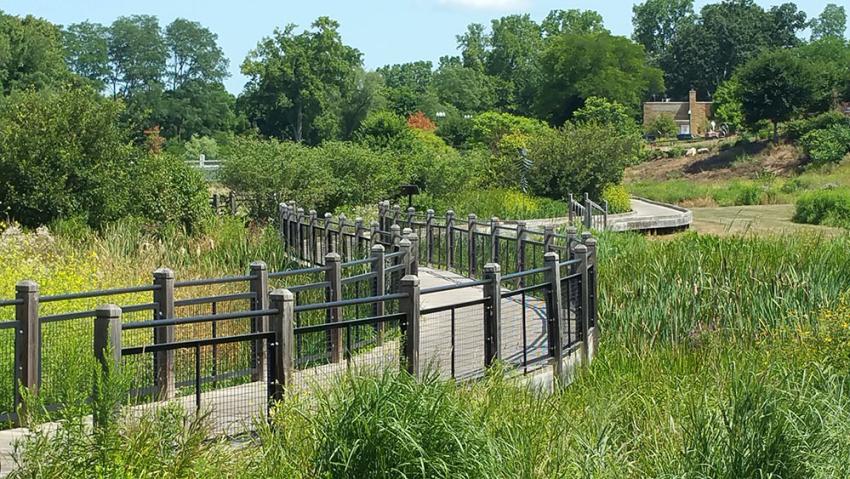 What to Bring
Comfortable Shoes - Wearing comfortable shoes is important, as well as appropriate attire for the weather conditions.
Sunscreen - Sunscreen is always a good idea, anytime of the year. 
Water - Staying hydrated is key! Not all B2B Trail sections have access to water fountains.
Cell Phone - Taking your phone with you is a smart idea, just in case something were to go wrong, especially if you are making a longer journey. And you are definitely going to want to snap some photos of the beautiful scenery! 
Funds -Please be aware that there are parking fees at some of the access points.
Just for Fun Extras - Items like cameras, binoculars, plant and wildlife identification books and drawing sketch pads can be an extra way to immerse yourself in the nature experience even more.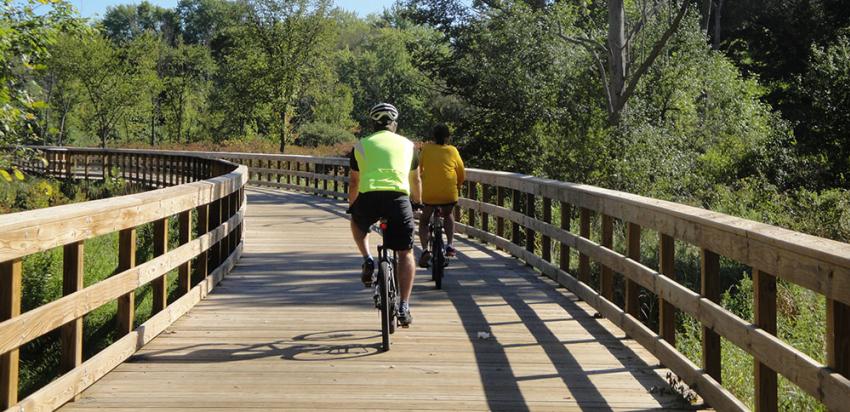 Guidelines
Be Kind! - Please be kind and respectful to each other and to the surrounding nature while on the B2B Trail.
Follow Trail Etiquette - Slower travelers should stay to the right. Those traveling faster, should pass on the left. When passing, please indicate so by saying "on your left" or using a bicycle bell. Following trail etiquette keeps everything moving smoothly and safely.  
Be a Responsible Pet Parent - Pets are welcome on the B2B Trail, but you must keep your pets under control at all times. Dogs must be kept on a leash, per state law, for their own protection, as well as other users and wildlife. And don't forget to always clean up after your pet.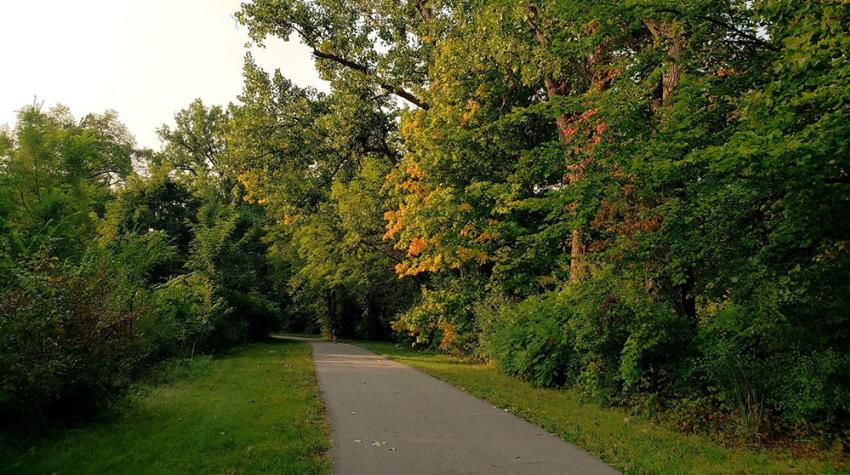 The B2B Trail has provided many benefits to the area since its launch and continuation. Chelsea was recently named among the Top 10 bike friendly cities in Michigan, and Ypsilanti is a recognized bike friendly communitym thanks to the B2B Trail.  Check out the trails and try for yourself! 
 
Like our Content?
Get all of the latest Ann Arbor happenings delivered to your inbox. Subscribe to our monthly newsletter.
Follow Destination Ann Arbor, @AnnArbor on social media. Instagram, Facebook, TikTok, Twitter