To many, just attending a Michigan football game on any given Saturday in Ann Arbor is a beloved outing to the Big House. For others, the experience includes preparing, hosting, and executing top-quality outdoor extravaganzas in honor of the big game - a tradition we know as tailgating. A small group of friends and I have been hosting one such tailgate for around ten years. Along the way we've picked up a few tips and tricks that can help you host an epic tailgate.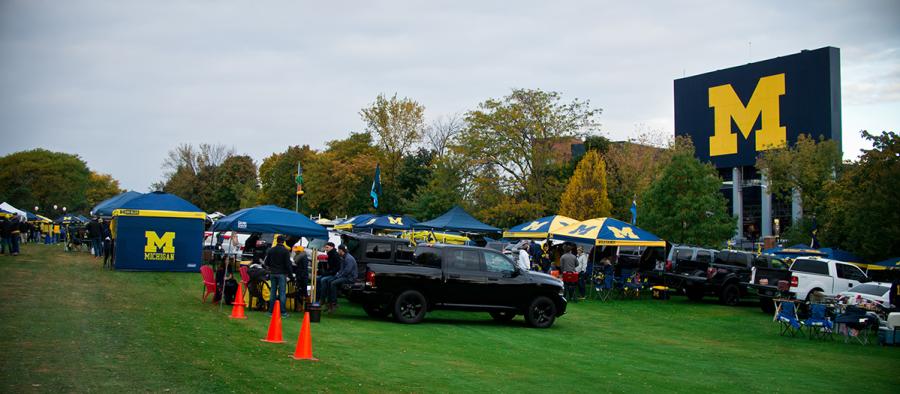 WHERE to tailgate: 
Many of the Wolverine tailgating elite stack up shoulder to shoulder in lots adjacent to the Big House on the east and north sides; as well as areas along Main Street. These coveted spots can take decades to secure and almost seem to pass down through the generations like family heirlooms. Even if you can't get in, I'd highly recommend strolling through before a game to see what the big league is like.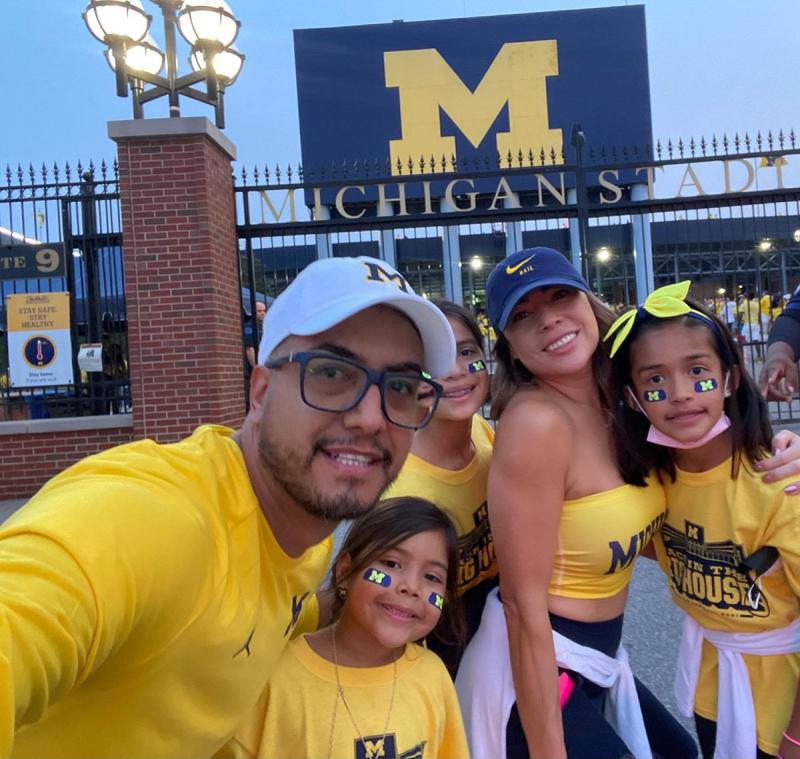 For a newcomer to the tailgating scene, I'd suggest trying the U-M golf course or The Ann Arbor Golf & Outing Club, both just south of the Stadium. These places offer a fantastic place to stretch out, pitch an awning, and throw a football around or play a round of corn hole. If you do find one or both closed due to weather, (you can check online), I recommend finding a house selling EZ-out parking spots for the day of the game. I personally feel the west side of the Stadium is a little bit easier to manage post-game if you're staying somewhere in that direction.
WHEN to tailgate:
There are many schools of thought on this. Your timeline will be determined in large part by the time of the game. If it's a noon game (the most common kickoff time), I like to get to my tailgating spot at around 8:30 a.m. to give about 3 hours of tailgate time, but there are some that will get there at 7 a.m. to line up for the best spot. For a 3:30 p.m. kickoff you can get there at 10:30 or 11 a.m. to have 4 or more hours to relax and enjoy a beautiful autumn day in Ann Arbor.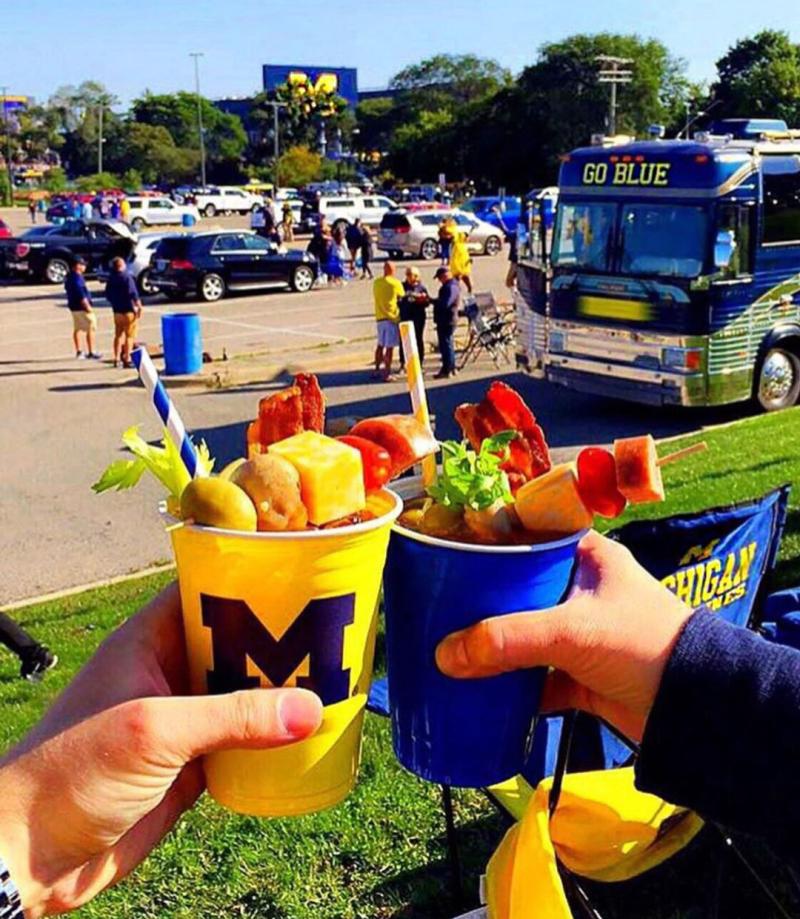 Night games are rare but really fun - you can plan for as much time as you are willing to spend tailgating before the game, but remember to pace yourself (especially when it comes to your drinks!). Regardless, always be sure to check online to find out when your chosen location will open up. Assuming the game is on the early side, you can also come out after the game, set your tailgate back up and get some more socializing in while you let the traffic clear out.
WHAT to bring:
Probably the most important question of all! Basics include a cooler or two, a folding table, lawn games, and some folding camp chairs, preferably all in brilliant shades of maize and blue emblazoned with large block M or wolverine graphics. More advanced accessories include things like propane grills, pop up awnings, flagpoles, full service folding bars, and propane fireplaces for those chillier late-season games. For food, I have some local favorites that include Washtenaw Dairy donuts, Zingerman's pimento cheese, and Ann Arbor Tortilla Factory chips.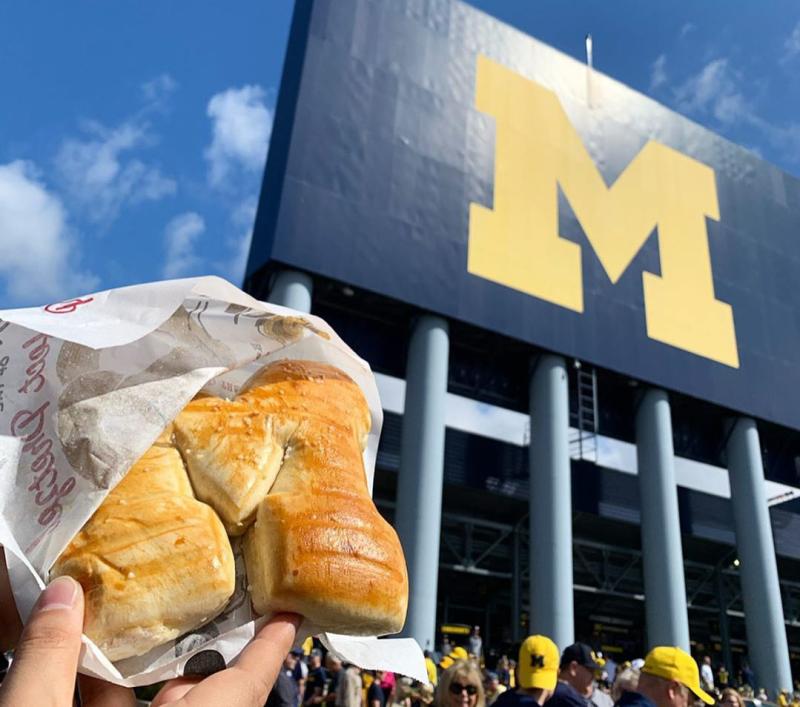 At our tailgate we like to spice it up with a themed drink and food to match our opponent; think BBQ for Texas, crab cakes for Maryland, Guinness stew for Notre Dame, popcorn for Nebraska, etc… but you can't go wrong with local libations every time, like beer from Arbor Brewing Company or spirits from the Ann Arbor Distilling Company. 
There you have it! My tips for how to host a fantastic tailgate - that can become almost as big of an event as the game itself. Most importantly, have fun and Go Blue!!
Need a ticket to the game? Get your football tickets here >
Like our Content?
Get all of the latest Ann Arbor happenings delivered to your inbox. Subscribe to our monthly newsletter.
Follow Destination Ann Arbor, @AnnArbor on social media. Instagram, Facebook, TikTok, Twitter