When the days turn cold and the snow starts to fall, it can be quite the task finding options for family fun outside of the house. There's no need to stay cooped up with the kids all winter - a quick road trip to Ann Arbor is a perfect option for the whole family, with indoor and outdoor activities and fun times galore. 
Learn and Play Indoors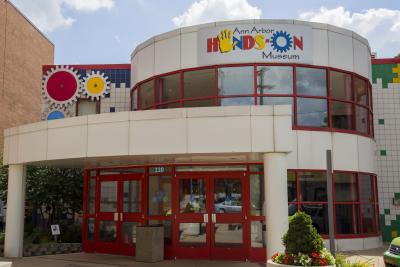 Keep warm while you play indoors at the Ann Arbor Hands-On Museum, an all-ages museum that features STEaM exhibits where the curious can explore the world and how things work. Bonus - touching is not only allowed here, but encouraged! Grab some popcorn and catch a flick at one of Ann Arbor's historic movie theaters, the State Theatre and the Michigan Theater. Get your game on at Pinball Pete's, home to vintage pinball machines, Skee-ball, air hockey, and all the latest arcade games for you to play. Exchange your hard-won tickets for fabulous prizes, then grab a fruity bubble tea at nearby Bubble Island - try the yellow jelly stars for a burst of jiggly color! Revel and Roll offers bowling, billiards and arcade gameplay in a high-energy environment. Zap Zone boasts the #1 Laser Tag Center in Michigan, and they also host a bumper car arena, virtual reality gaming experiences, and yet another arcade if you've still got the energy.
Winter Wonderland 
Channel your inner Olympian and head to Yost Ice Arena for public ice skating. Skates are available for rent and there is a discount for children. The Arctic Coliseum in Chelsea is another nearby option, and on Saturday nights they host DJ Skate - twirl on the ice beneath a colorful laser lights show while a DJ spins some tunes. Rolling Hills Winter Park features a sledding hill, a half-mile of cleared walking trail, and three miles of groomed cross country skiing trails - with a mile of torch-lit trail for night skiing. Tubes and cross-country skiing equipment are available for rent. True anglers know that fishing doesn't have to stop when the weather turns cold! Cavanaugh Lake and Independence Lake offer ice fishing when the conditions are right, and you can catch such fish as Blue Gill, Perch, and Pike. A fishing license is required and can be obtained locally. 
Shop and Snack - Plus a Bit of Magic
Zingerman's Deli is a can't miss food opportunity - those in the know will ask for a meat or cheese cone - an on-the-go sampler of the best of the best from the deli case. If you're traveling on a lucky day and book in advance, Zingerman's Bakehouse offers family baking classes, where the whole family can learn a hands-on recipe together and take home their treats at the end. Visit the Zingerman's Creamery and sample house-made gelato flavors, and be sure to hit the nearby Zingerman's Candy for more sweet treats.
Ypsilanti. Head straight downtown to neighboring shops The Rocket and Unicorn Feed & Supply to stock up on glitter, candy, toys, crazy costumes, fairy garden supplies, gifts, and more. Uncover the magic of the Aurora Society in the Decode Ypsilanti Escape Room - and if you make it out, top off your adventure with a visit to Go! Ice Cream for a warm cookie salted caramel sundae or a hot cocoa topped with fresh whipped cream.
Plant & Animal Lovers 
Take some time to warm up with the orchids, tropical plants, and desert cacti in the indoor greenhouse at Matthaei Botanical Gardens. Talk with the animals at the Creature Conservancy - visit with the regular cast of resident animals every day, and meet featured animals each winter month: in December you can hang out with Sven the reindeer, meet a sloth and its South American neighbors in January, and celebrate the Crested Porcupine and its African animal friends in February. Learn about the Earth and the universe past, present, and future at the newly re-opened University of Michigan Museum of Natural History. See and touch real specimens, view the night sky in the new Planetarium & Dome Theater, view striking rock and mineral specimens, and so much more. You can even peek at the researchers at work in the Fossil Prep Lab. Visit Tiny Lions Cat Café for coloring, yoga, or trivia with cats - or snuggle and watch a family flick with the feline residents at Family Mew-vie Night.
The Ann Arbor area is home to tons of wintertime festivals and events. Visit our events page for a complete listing of options by date, and click here for more family fun options. We hope to see your family in Ann Arbor soon!