Fall is finally here! Take advantage of those beautiful Fall colors and cool, crisp weather by bundling up, heading outside, and finding your new favorite Fall activity. The Ann Arbor area offers so many outdoor recreation opportunities that are fun for all ages. Want to try something new? Pick up a new hobby and explore the area at the same time. Here are eight activities to try this Fall around the #AnnArbor area! 
 
Play a Round of Disc Golf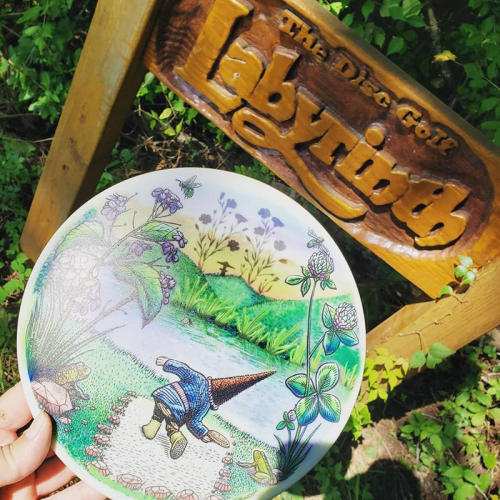 Michigan is a popular destination for disc golfers of all skill levels! Did you know Washtenaw County is home to some of Michigan's top-rated courses? Several courses are open year-round, and many are free of charge. Two of Ann Arbor's city parks feature disc golf courses winding through open space and wooded areas. Play the 18-hole course found at the Mary Beth Doyle Park, surrounding the park's central pond where you can catch views of wildlife. For a quick round, play through the 9-hole course at Bandemer Park found along the Huron River equipped with three tee pads at each hole.  
Head to Ypsilanti and check out Michigan's largest disc golf shop, The Throw Shop open to walk-in visitors every Tuesday for all your disc golfing needs.  After gearing up, play the two 18-hole Lakeshore courses outside of the shop, open year-round. Looking for a change of pace? Test your putting game at the Rolling Hills County Park's Disc Golf Labryinth. Improve your skills on this practice course through wooded areas and with challenging tee shots! Ready to try out your new skills? Move to the 18-hole course within the park, a popular setup known for hosting local and outside disc golfing tournaments.  
Visit Hudson Mills Metro Park in Dexter for two pay-to-play, 24-hole courses rated among the top courses in Michigan. Find a mixture of open and tight wooded fairways that are well-maintained year-round. These courses are longer and may be more challenging for beginners, but all players are welcome. 
 
Order Takeout for Lunch in the Park  
Many area eateries are now offering lunch and dinner for takeout or curbside pickup. Plan a fun Fall Ann Arbor afternoon by ordering your favorite dish(es) to-go, then head to one of the area's picturesque parks and gardens for a meal to remember.    
More of an early bird? Order brunch for pickup from Ann Arbor breakfast hotspot Angelo's and head to the Arboretum close by! Nichols Arboretum is a great spot for couples and families to relax and enjoy the seasonal blossoms, providing colorful and scenic views.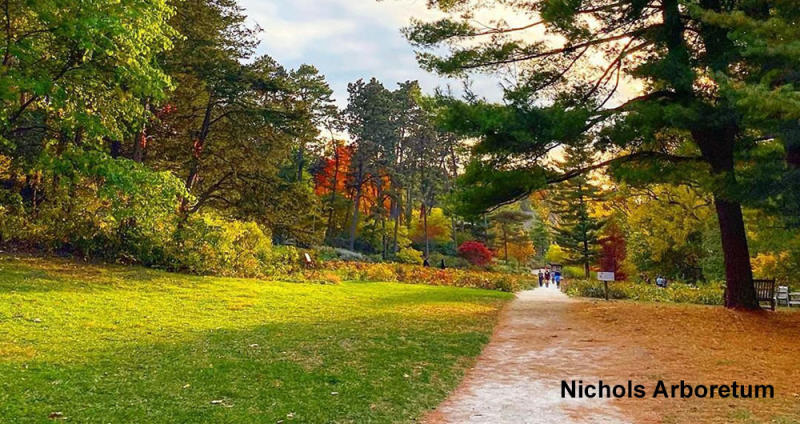 For those seeking a quiet vibe while staying downtown, order Mediterranean fare from Loomi Café and find a table outdoors in the Kerrytown courtyard located within the historic Kerrytown District. If visiting on a Saturday, be sure to shop through the Ann Arbor Farmers Market, open all year and fully supplied with local vendors selling seasonal gifts and goodies.  Find more area restaurants to choose from.
 
Gone Fishing  
The Ann Arbor area provides tons of fishing options and opportunities for catching blue gill, bass, and other pan fish. Before heading to the waterways, remember fishing is only permitted for those with a fishing license. Click for more information on license requirements. 
On the west side of Ann Arbor, explore the Dolph Nature Area, a 57-acre park containing the only naturally formed lakes within the city. The area is heavily wooded with unpaved trails, and provides platforms and docks at both lakes for superb fishing opportunities. In the Chelsea area, try casting at Cavanaugh Lake County Park, a well-known and popular fishing destination. From dawn 'til dusk, choose a fishing spot along the lake and get ready to catch the big one!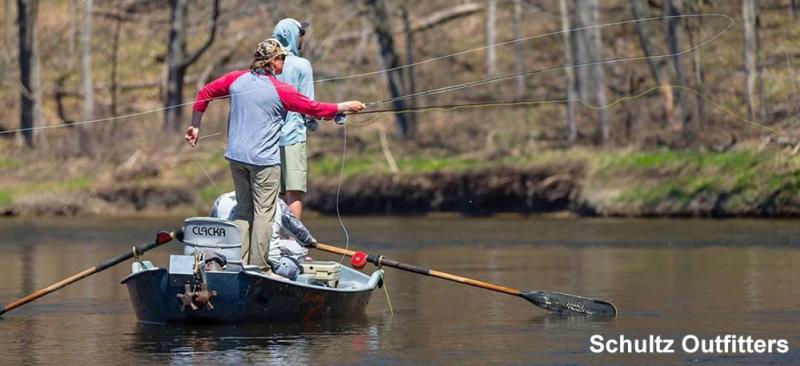 Update your fishing equipment and find new additions at Schultz Outfitters, located next to the Huron River and specializing in Southeastern Michigan angling and fly-fishing gear. Fly-fishers rejoice while fishing in the Huron River (catch and release only). Find out more about area fishing here 
 
Mountain Biking  
Washtenaw County has some seriously epic trails for mountain bikers looking for that next adrenaline rush! Load the bike rack and head to Hewens Creek Park, offering a 5-mile trail with three trail loops and connections to Rolling Hills County Park pathways. For advanced bikers, this trail is rated easy but will require premium bike handling for speed-seekers. Sprinkled with small obstacles along the course, this is an ideal place for both amateur and experienced bikers. Next, visit Sharon Mills County Park in Manchester, a historic site and 264-acre park with a 3.8-mile mountain bike trail along the mill pond weaving through open fields and woodlots, a great place to take in Fall scenery.
Olson Park offers several options for outdoor recreation including paved pathways, a dog play area, and mountain biking trails fit for all experience levels. Bike the continuous perimeter loop or keep your options open by choosing various connectors and detour paths throughout the park. Find a mixture of hard pack, log jumps, and stretches of tight switchbacks along the trail.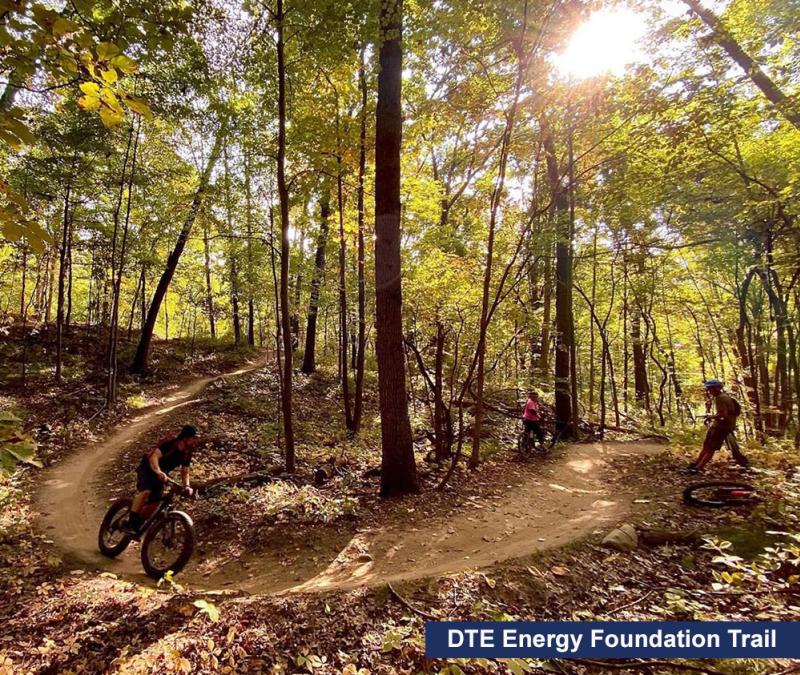 The DTE Energy Foundation Trail is one of Michigan's most premiere mountain biking trails, with four completed trail loops that offer miles of pathways that vary in difficulty level. Most recently added was the Sugar Loop, the shortest on the trail, but packed with plenty of rollers, switches, and sweet exciting features.  The trail is located within the Waterloo Recreation Area, the largest Michigan state park in the Lower Peninsula!   
 
Get Your Skate On 
The Ann Arbor area continues to grow as a destination for regional skaters. Even professional skaters including Tony Hawk have skated at the Ann Arbor Skatepark! Whether you are a skateboarder, inline skater or BMX biker, there's something for you here.  
The Ann Arbor Skatepark is a 20,000 square foot park located at Veteran's Memorial Park. Admission is always free and open to the public year-round. Find fun and challenging features including a snake run, kidney pools, and clover and flow bowls to ride.  
The brand new CommUNITY Skatepark in Ypsilanti Township is a 9,000 square foot park combining street-style and bowl skating features. The skatepark was made possible through the joint effort of community members, partners, and local skatepark advocates. Nearby at Prospect Park, discover the DIY Skatepark filled with community-built obstacles, ramps, and quarter pipes. The skatepark is fully painted with vibrant colors and eccentric patterns that bring good vibes to all who skate here. 
For apparel, footwear, and skating goods, visit Olympia Skate Shop in Ypsilanti, or check out their newest downtown Ann Arbor location inside of Lo-Fi Bar! Gear up and head out to the skatepark of your choice, or skate them all!  
Take a Self-Guided Art Tour  
Recently, Ann Arbor has welcomed new murals to buildings all around town. Dedicate a day to exploring downtown public art and find the many murals and installations that make Ann Arbor an arts destination. Find public art of all sizes from tiny creatures created with chalk and charcoal by sidewalk street artist David Zinn, to Treetown Murals' 10-story 'Challenge Everything, Create Anything' Mural.  Snap a selfie and share your favorite murals with us on Instagram! #DestinationAnnArbor 
Find these murals by walking around town, or download the Spin app to unlock electric Spin scooters found scattered around downtown Ann Arbor. Then, safely take a ride to admire the art by taking your own path. Check out some of these awesome art guides to help create your own self-guided tour:  
Ann Arbor Art Center Mural Project  
Geocaching & Scavenger Hunts  
For those searching for a new hobby fun for all ages, bundle up and head to the parks for Geochaching! You'll feel like you're searching for treasures while exploring county and city parks. Use a geocaching app to discover maps to help pinpoint your next cool find.  Don't forget to bring a pen! Once you find the geocache, sign and date the logbook! Find more information on Geocaching. 
Decode Detroit have created activities that allow for social distancing while participating in scavenger hunts and solving puzzles outdoors. Explore town by playing Minerva's Escape, a free scavenger hunt built into small shops around Ann Arbor! Participants choose from four missions and will follow clues leading to the next location. This is a fun date, family activity, and a great way to check out local businesses. You can also visit the Decode Detroit's front window and take a 'journey around the world' in 30 minutes, where you'll solve five challenges to unlock something magical before your eyes!  
Cider Mills & Orchards 
Explore the cider mills and orchards for the perfect outdoor Michigan Fall experience.  Pick up a dozen cinnamon sugar donuts and apple cider at the Dexter Cider Mill, a family-favorite tradition serving up fresh goodies to snack on while taking in views of the Huron River. The cider mill is also part of the Michigan Ciders Makers' Guild and has been family-owned and operated for over 130 years.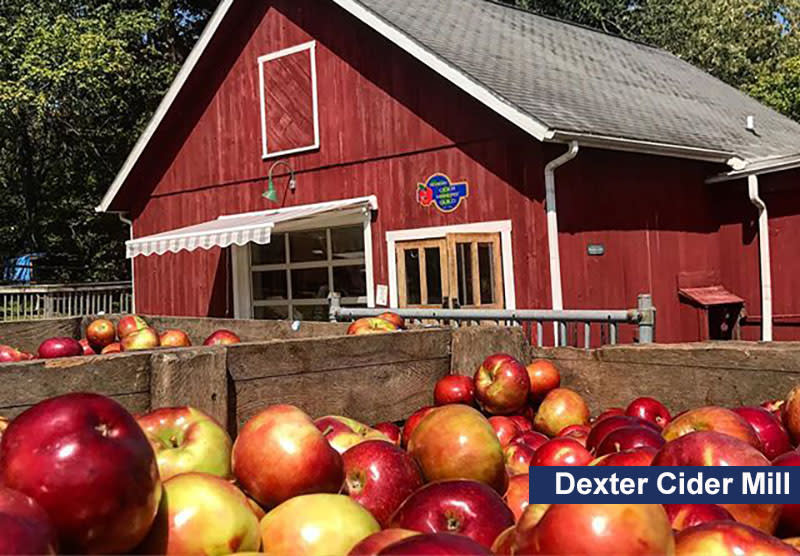 For more family fun, visit Alber Orchard & Cider Mill, offering apple picking, socially-distant hayrides on weekends, cider and donuts, and more family-friendly activities. For more cider mills, orchards, and seasonal family fun, check out 6 more ways to enjoy Fall Fun in the Ann Arbor Area. 
No matter how you enjoy the Ann Arbor area, we want to emphasize the importance of following the requirements and recommendations of local and state health officials, the Centers for Disease Control, and your health care provider.  All individuals are urged to continue to adhere to social distancing guidelines, practice frequent hand washing, utilize face coverings when in public and be respectful of others. 
Enjoy our content? Get all of the latest Ann Arbor happenings delivered right to your inbox. Subscribe to our monthly newsletter.