Destination Ann Arbor and Wickfield Properties recently teamed up with renowned local artists Mary Thiefels and Danijel Matanic to create a mural that celebrates human creativity, ingenuity and curiosity in a playful and illustrative way. The "Challenge Everything. Create Anything." mural, which reflects Ann Arbor's vibrant energy and strong community feel, was completed in the summer of 2019 on the 10-story tall wall of Courthouse Square at 100 South 4th Avenue and has been widely praised by the community.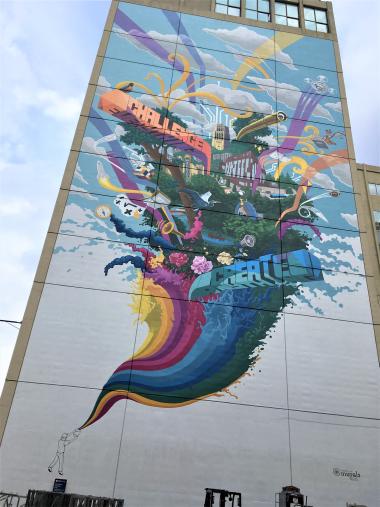 In regards to the ongoing artistic projects commissioned by Destination Ann Arbor, Mary Kerr, President & CEO, said "We want to celebrate our local arts community, inspire our residents, make something beautiful in our community, and motivate travelers to visit the Ann Arbor area. We believe we can utilize our local artists like no destination has done before, creating vibrant works of art that capture the unique attitude and voice of Ann Arbor – and give something back."
Originally from Ann Arbor, Thiefels founded the award-winning company "Tree Town Murals," with a mission to create opportunities for transformative art installations. Mary, who also serves on the City of Ann Arbor Public Arts Commission, worked on this project with her husband and Tree Town Murals Creative Director, Danijel Matanic, who has designed and painted large scale murals internationally in Serbia. Together, they have painted murals for the University of Michigan Museum of Natural History, Corner Health Clinic in Ypsilanti, and other organizations in the Ann Arbor area and beyond. "Being able to creatively contribute to the fabric of my hometown with Danijel and help continue to grow Ann Arbor's public art presence is a dream come true," said Thiefels.
Check out this video documenting the fascinating process that Mary and Danijel undertook to complete the mural:
Like our content? Get all of the latest Ann Arbor happenings delivered right to your inbox. Subscribe to our monthly email newsletter.