Dexter
Nestled along the banks of the Huron River and Mill Creek, Dexter is a friendly town located about 10 miles northwest of Ann Arbor. With an expansive network of walking trails, 14 parks, and a dedicated environmental awareness plan, Dexter is truly a city where one can enjoy the green side of life. One of the many trails guides visitors to the downtown, where they can explore a variety of historical, shopping, and dining experiences.
WALK THE TOWN
As an award-winning hub of recreation, Dexter has plenty of things to do in the outdoors. Because of its placement among so many rivers and trails, including the Border-to-Border Trail, there is a wide variety of recreational options. Biking, walking, canoeing, kayaking, fishing, and hiking are all popular activities that can be enjoyed at one of the many local parks. There are also expansive sidewalks and trails throughout the city that connect to popular sites such as the Dexter Cider Mill, Farmers Market, Library, and more.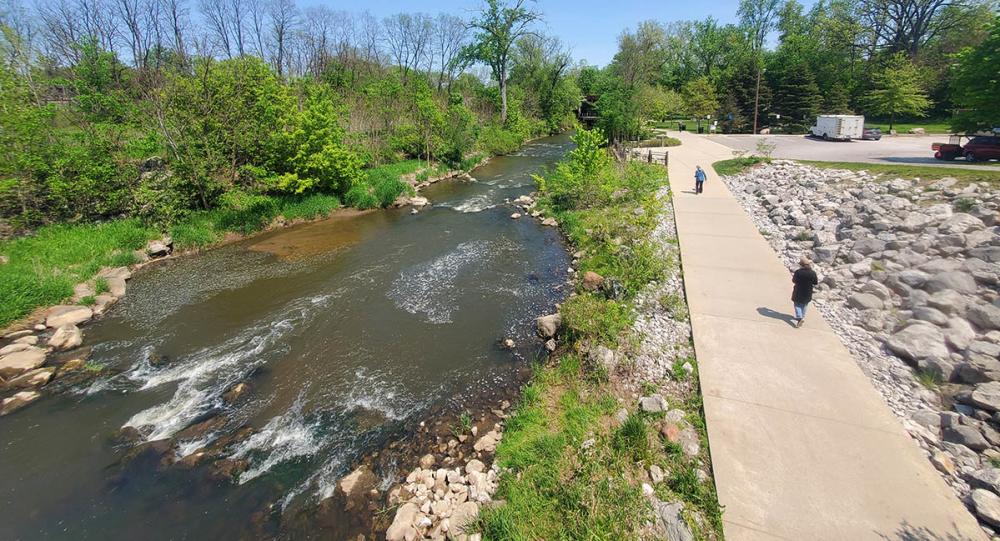 CULTURE & FESTIVALS
As a community that is immersed in culture and the arts, Dexter offers many options for things to do. The local Encore Musical Theatre Company provides year-round productions that entertain and inspire viewers, while featuring local, regional, and national talent. Art lovers will enjoy the Dexter Art Gardens, which display an ever-rotating selection of sculptures alongside the city's permanent collection. History buffs will enjoy touring the historic 1840's Gordon Hall. The Summer Music Concert Series and Dexter Daze are beloved festivals that draw crowds from all over, offering artisans, crafters, and free entertainment. In late summer, artists gather for Paint Dexter Plein Air Festival to paint the town.
SHOPPING CORRIDORS
Dexter has three distinct shopping corridors that each have a unique personality. The Downtown Corridor is focused around Dexter's historic Main St. and is known for its three-story architecture and natural beauty. Residential homes are mixed in among the commercial businesses, which include the Dexter Pub, flower shops, Side Door Gallery, exciting new eateries, the Beer Grotto Dexter, ice cream shoppes, creameries, Zingerman's Cornman Farms and much more. The Baker Road Corridor is undergoing a transformation that started in 2010. With the building of a wellness center in addition to the already-existing Post Office, financial services, convenience stores, and dry cleaner, this corridor is becoming a center for personal amenities. The Dexter-Ann Arbor Road Corridor is the final shopping district and has seen several large-scale projects in recent years. Home to two large shopping centers and two banks as well as several smaller businesses related to leisure, this corridor is the perfect place to do some relaxing and fun shopping.
Find out more at www.DexterMi.gov