Autumn is a busy time, so take a second right now to mark Friday, October 26 on your calendar: the date of the third annual ypsiGLOW.
What is ypsiGLOW? Well, I'm glad you asked, because the answer is literally one of the most "Ypsi" sentences I think I can muster. ypsiGLOW is an annual community event that's part costume party, part parade, part art installation, part dance break, and all-out, everyone's invited, DIY, better-together fun!
The Costumes
In short, glow hog wild. Anything glow-in-the-dark, anything that lights up, tinsel, glitter, or anything that works with a black light is perfect for ypsiGLOW. This year's theme  is Take Flight! Don't fight the urge to dress up as a glowing flying squirrel, lightning bug, or Willow Run bomber.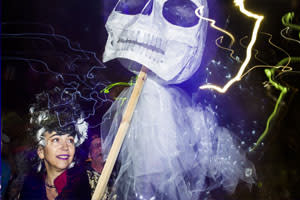 Get into your most expressive glowing costume, and bring it downtown. If you're not on this girl's level, you might find that you need to stock up on glowing accoutrements, and, in any other city, that might be a problem. Not in Ypsi! Between The Rocket, and Unicorn Feed & Supply, Ypsi makes it easy to fill a basket with glowing goodies, and unleash your costume creativity. There are even costume-making workshops, including one on October 7 at Cultivate Coffee & Tap House (in conjunction with First Fridays Ypsilanti).
The Parade
Ypsi Glow begins in memorable fashion with a community procession to showcase those amazing costumes and art pieces. Meet up in at Cultivate Coffee & Tap House in Depot Town at 6:30pm, and join the walk downtown. Business throughout  Depot Town and Downtown will be dedicating their window spaces to glowing installations or displays, which adds to the fun! Many of the displays will have been up for a little while, but "activated" for the parade, by way of adding a performance artist or other "live" element to the installation. If you're a business owner in these areas, there's still time to host an installation! If you want to meet up even earlier, Cultivate is hosting a last-minute costume making party right before the parade kicks off. There's no excuse not to get your glow on!
The Art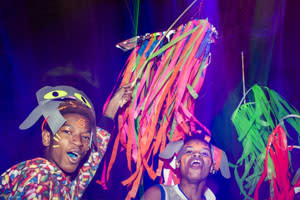 Much like Ann Arbor's annual FestiFools parade (also hosted by Wonderfool productions), ypsiGLOW features luminaries: illuminated wire and tissue paper sculptures that light up the night. If you'd like to make a luminary or other art piece for ypsiGLOW, you can attend a GLOWorkshop: a time to consult with artists and experts, and get to work on your own luminary creation! By attending these workshops, the fun and community of ypsiGLOW doesn't have to stay contained to only one night. You can make an art piece to be proud of as well as make a meaningful community connection. Another way to make art together is to apply to occupy a storefront window with your art! Static artists and performance artists are both welcome! 
Quick Sidenote
ypsiGLOW is particularly amazing if you're an EMU Student, Faculty, or Staff, and here's why: FREE MONEY. You can propose an art piece to the office of outreach & community engagement (Engage @ EMU, which is in Boone Hall), and the University will award three proposals with an extra $300 grant to make your piece! What could your imagination do with an extra $300 of materials?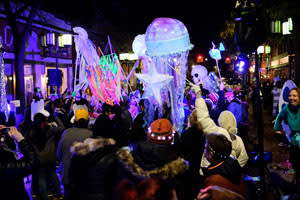 The Dance Party
The glowing procession leads downtown, culminating in a dance party (with airborne DJs?!) on Washington Street! Dance in the light of video projections, giant luminaries, and lasers. We're a community that loves to cut loose!
The Fun Starts Now
The festivities are already beginning. So, what to do first?
If you're an artist or a community group:
Submit a proposal for an individual art piece, submit a proposal to occupy a storefront with your art or performance, or submit another musical act or other performance.
If you're a business owner:
Sign up to host an installation or performance!
If you've got ideas:
The very best thing about ypsiGLOW is that everything about it is generated by us. So it's bound to be as creative, exuberant, and unique as you are! Find some friends, and get glowing! 
Enjoy our content? Sign up for Destination Ann Arbor's monthly newsletter to have it delivered straight to your inbox!