Entertainment & Activities
See you next year. Join us on July 20-22, 2023
In addition to all of high-quality artists, you can experience a variety of free entertainment during your visit ranging from live music to family-friendly activities and performance artists. Three live entertainment stages will add to the artsy atmosphere of Ann Arbor during the fair to fill the streets with the sounds of local musical talent.
Stage on Main: Summer Sounds
https://www.theguild.org/fair/ann-arbor-art-fair/art-fair-stage/
Presented by DTE, the Stage on Main will feature musical artists in partnership with The Ark, a nonprofit organization with a live music venue in downtown Ann Arbor. The Stage on Main, located at the corner of Main and William Streets, will bring a sampling of what The Ark does year-round to the Ann Arbor Art Fair. New performers are being added to the lineup each day.
Thursday, July 21
5 p.m. – Dani Darling
6:30 p.m. – The Quebe Sisters
8 p.m. – Kyshona
Friday, July 22
5:30 p.m. – Brooke Annibale
7:30 p.m. – John Reilly & The Community Gardeners
Saturday, July 23
3 p.m. – Out Loud Chorus
5 p.m. – The Whiskey Charmers
6:30 p.m. – Jared Deck
The Fountain Stage
http://artfair.org/page/fountain-stage
Features primarily acoustic, classical and jazz performances on Ingalls Mall, between E. Washington and N. University streets and highlights many student and community groups.
Thursday, July 21
11 a.m. – Alison Albrecht
12 p.m. – Delta 88
1 p.m. – Kathy Wieland
2 p.m. – Brian Lillie and Merrill Hodenfield
3 p.m. – Timothy Monger
4 p.m. – Indie Rock Royalty
5 p.m. – Detroit Opera: Summer Serenade
6 p.m. – Eric Kelly
Friday, July 22
11 a.m. – Karl Sikkenga of Archipelago
12 p.m. – Joanna Sterling
1 p.m. – John D. Lamb
2 p.m. – Lily MacPhee
3 p.m. – Adam Labeaux
4 p.m. – Shannon Lee & The Silver Linings
5 p.m. – Lvrboy.
6 p.m. – Rochelle Clark
7 p.m. – Kiyoshi Shelton
Saturday, July 23
11 a.m. – TBA
12 p.m. – Kaj Althaus
1 p.m. – Warehouse Cloggers
2 p.m. – Annie & Rod Capps
3 p.m. – Laura Russeau & The Bootstrap Paradox
4 p.m. – Michelle Held
5 p.m. – Ceolsige
6 p.m. – Billy King
Ann Arbor Civic Theatre Stage
https://statestreetdistrict.org/entertainment
Civic Theatre's kick-off for their 93rd season of continuous operations in downtown Ann Arbor. The stage is located at the intersection of Maynard and William Streets. This stage will feature local professional and amateur musicians, including, but not limited to:
The Bob Skon Trio
Victoria Reackhof
School of Rock bands
Ann Arbor Mayor Christopher Taylor
Art Activities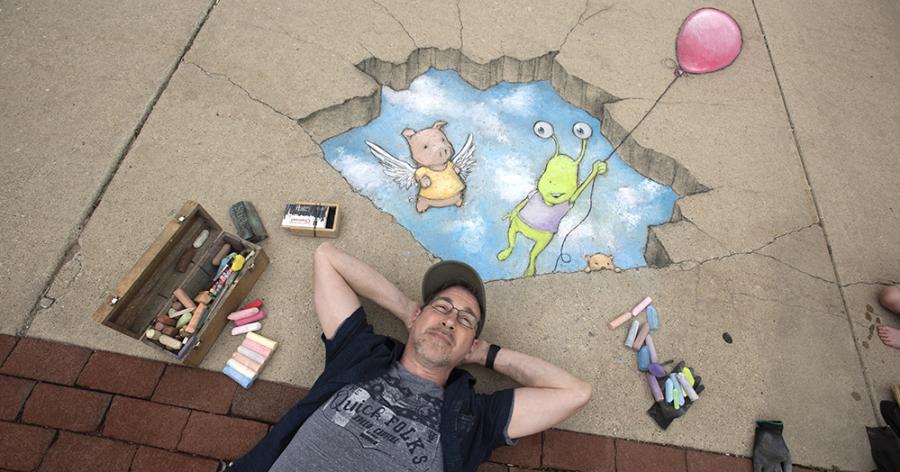 CHALK THE WALK with DAVID ZINN
Chalk the Walk is presented by Lake Michigan Credit Union, featuring Ann Arbor's own world-renown Artist David Zinn. Recognized globally for his clever and improvised chalk street art, Zinn will be creating his original temporary chalk work live during the Ann Arbor Summer Art Fair event.
Sidewalk chalk will be available so that fairgoers can join in on the creativity and add their own mark on this year's Ann Arbor Art Fair.
ZINN HOURS: Thurday & Saturday 1-3PM (Friday if rains on Thursday/Saturday)
LOCATION: Near the corner of Liberty and Fifth Ave. in front of the Post office.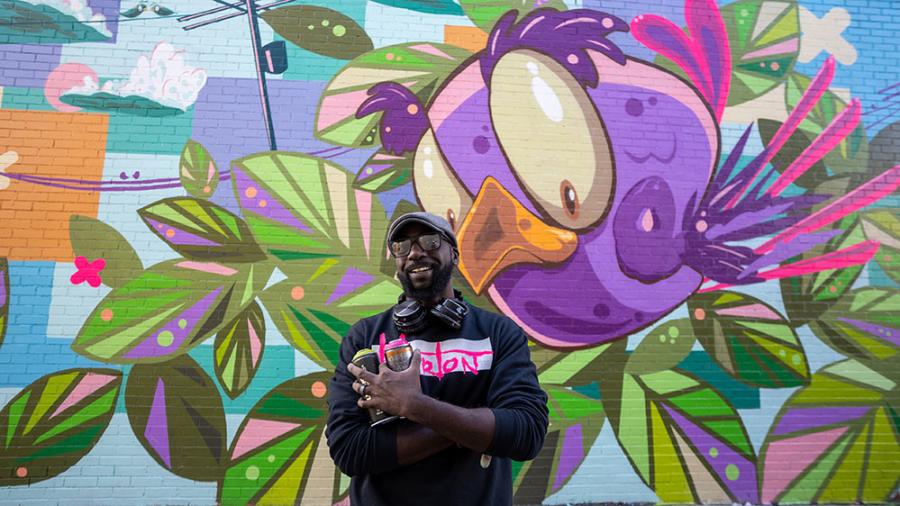 LIVE PAINTING with GARY HORTON
Watch local artist Gary Horton transform a storage container, presented by ModuGo, into a work of art as he paints a mural live during this year's Ann Arbor Summer Art Fair!
Gary Horton is an artist and designer from Ann Arbor, Michigan. He studied Fine Art and Design at the Art Institute of Pittsburgh. While being classically trained in oil panting, Gary would spend late nights in train yards and rooftops learning the forbidden art of graffiti. His murals and oversized paintings can be viewed all over Michigan and beyond. He specializes in bright, colorful, and imaginative designs that help bring joy and wonder to an area that may otherwise be seen as ordinary.
HORTON HOURS: Thursday - Saturday 10AM - 5PM (weather permitting)
LOCATION: On Liberty near Main between Main and Ashley (outside of Pretzel Bell).