This blog is from 2017, but still has great information about currently-available venues throughout the Ann Arbor area! For recently-written blogs, click HERE. 
If you ask Ann Arbor locals about their favorite time of year in Tree Town, odds are that they'll say autumn. Indeed, fall brings crisp air, blue skies, and of course, fall colors. Fall also brings several special events to our area, including a little something called Michigan football. But there's a lot more than big ballgames and epic tailgates — apple picking and cider mill hopping are just a couple of the quintessential fall activities that people of all ages look forward to each year.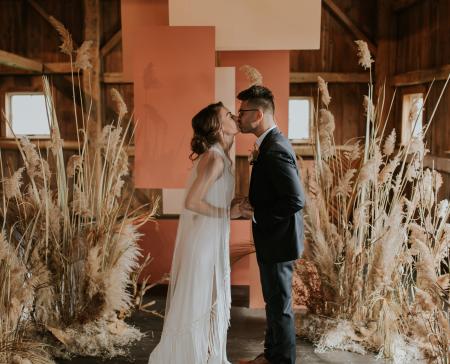 All of the above make fall the perfect time to host a wedding in the Ann Arbor area. Brides and grooms appreciate the temperate weather and colorful backdrops, while guests enjoy both convenience (Ann Arbor is just 30 minutes from Detroit Metro Airport) and fun. As indicated here, there's no shortage of things to do during downtime!
Though there are several venues in the area ranging from traditional banquet halls to hotels, many choose nontraditional venues such as farms. Farm weddings have become increasingly popular, and for good reason! They provide perfectly pastoral settings that need little adornment. Washtenaw County is home to several farms, including Cobblestone Farm and Misty Farms / The Valley, both in Ann Arbor, and Zingerman's Cornman Farms in Dexter. All three have rustic barns, idyllic fields, and tent options in case of unexpected weather.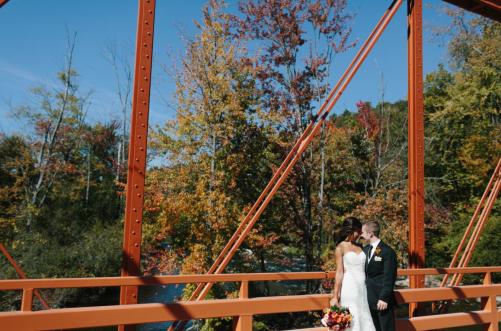 Photo by Mae Stier. 
For those who'd prefer a more urban setting, historic buildings offer character and charm. On the picturesque University of Michigan campus, icons like the Michigan League and the Michigan Union are popular choices. Other gems include the Gandy Dancer, a former rail depot, and the Michigan Theater, a 1920s movie house.
Beyond venue walls, the Ann Arbor area has loads of unique photo opportunities. University of Michigan alums love posing in front of landmarks like the Big House and the Law Quad. Nature lovers head to the Huron River and its surrounding parks for gorgeous fall colors. Art buffs adore Graffiti Alley as well as the numerous murals and sculptures scattered about downtown Ann Arbor.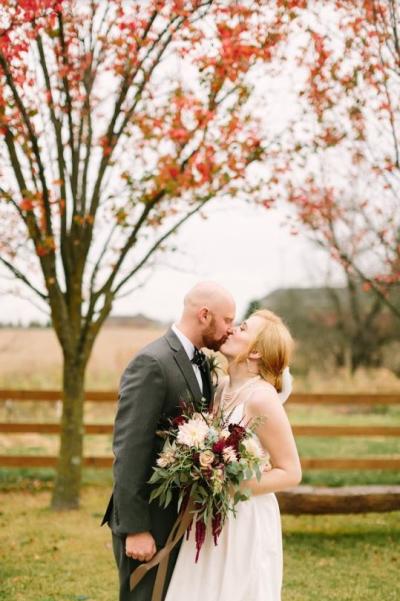 Ready to take the plunge? Hundreds of vendors including caterers, florists, photographers, and transportation companies, are ready and waiting to help you plan the day of your dreams. The Ann Arbor Area Convention & Visitors Bureau can also make life easier for hosts and guests alike. The team is happy to assist with identifying vendors, securing hotel blocks, and more. Take a look at their full list of services here — all of which are completely free.
Photos courtesy of Chelsea Brown Photography and Nicole Haley Photography.