The Ann Arbor area has much to be grateful for — thriving businesses, beautiful landscapes and a booming cultural scene. So, it's only right that we give back to the community. As you look around our neighborhoods, you'll see an undaunted commitment to sharing all that we have.
In Ann Arbor, the flourishing community often joins together for the common good. In downtown, many of the businesses make contributions to strengthening the community. Zingerman's Deli is well-known for its epic sandwiches, but it was also the birthplace of Food Gatherers, when Deli staff recognized how much food waste is created by restaurants and other food-related businesses. Food Gatherers is a nonprofit that collects food from grocery stores and restaurants and distributes it to those in need in Washtenaw County.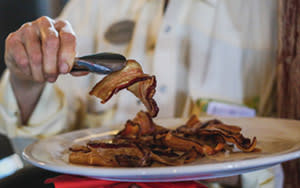 However, Zingerman's doesn't always take a conventional path to giving. In the summer, the Zingerman's Community of Businesses holds Camp Bacon, an adult camp for learning about, and of course eating, bacon. As if anyone needed an excuse to eat bacon all day, it's for a good cause — the proceeds from Camp Bacon go to the Southern Foodways Alliance.
For artists looking to engage with the community, look no further than the Ann Arbor Art Center. The Center is accessible to people of all ages, abilities and socioeconomic statuses. There are plenty of free opportunities to explore yourself through whatever medium suits your fancy.
Thanks to the University of Michigan, Ann Arbor is also home to a stunning culture of writing and reading. At 826michigan (and Liberty Street Robot Supply & Repair), that culture and the volunteers who contribute to it help inspire students to learn to write, read and embrace their creative imaginations. 826michigan often partners with local businesses like Literati Bookstore to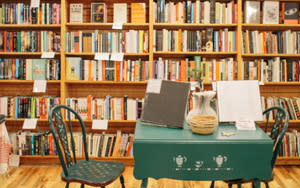 encourage students to catch the reading and writing bug!
The Ann Arbor community loves to gather outside to admire and protect our beautiful scenery. The city's Natural Area Preservation takes volunteers to plant new buds and increase the native habitats of the stunning parks. A full list of volunteer opportunities is available on City of Ann Arbor's website. And, Ann Arbor is not the only place to bring the community outside  — the Natural Area Preservation volunteers in Milan work to protect wetlands in their small community. Milan residents love gathering to protect their environment, and their parks are a great place for birding or to see the flowers of spring.
To ensure that all residents of Milan have the chance to get fresh produce in their hometown, the Original Gravity Brewing Company has opened a farmer's market. Partnering with Zilke Vegetable Farms, this restaurant is exceeding expectations and helping Milan stay as healthy as possible.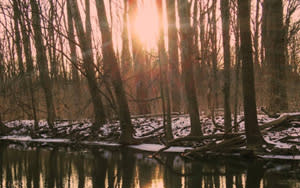 Just a few miles away from Milan is the environmentally friendly town of Saline! Saline exceeds our eco-expectations by bringing the community together for events like the E-Waste Recycle Day and City Clean Up Day. Saline's Environmental Commission works hard to regularly hold recycling events to benefit local organizations like the Fifth Corner Student Driven Youth Center.
And it's not just the adults in Saline looking to make moves to help out. Every year, Saline High School holds an astonishingly successful food drive. Students in the National Honor Society canvas the community and collect bags full of donated goods. Last year they collected 6,771 pounds of food — worth about $11,510.
If you're looking to venture in your search for a community-oriented art exhibition, don't forget about Dexter. Tap into your artistic side at the Dexter Art Gardens, an annual outdoor artwork exhibition sponsored by the City of Dexter! Join us as the town unites to celebrate the artistic talent of our neighbors and friends.
For those with smaller artists who are just learning about creating, head over to Dexter's Ruby's Makery — an arts and crafts studio for adults and kids of all ages. Kids can get together for an Arts Explorers Class or for a more specific workshop like the Pom Pom Wall Hanging workshops.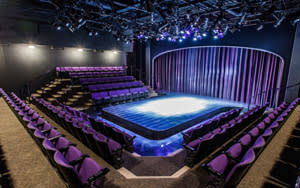 In Chelsea, education is coming from an unconventional place — The Purple Rose Theater Company, founded by actor and Chelsea native Jeff Daniels. As The Purple Rose grows, the organization is investing in the community through their educational programs. The Purple Rose partners with the Chelsea District Library to open up the magic of the theater to the entire community.
In Southeastern Michigan, there's no shortage of businesses you can support that are doing good. When you're in Ypsilanti, head over to Cultivate Coffee & Taphouse. This is NOT your average coffee shop! Cultivate partners with the community of Ypsilanti to find sustainable ways to end hunger through gardening and clean water programs. Let's chalk up the impressive strides in social justice Cultivate has made to a passion for doing what's right — not just the caffeine buzz!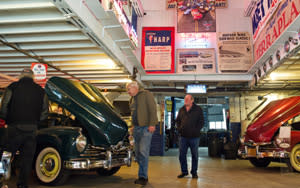 To benefit Ypsilanti Meals on Wheels and also get a feel (and taste!) for the town, get tickets for the Holiday Home Tour of Ypsilanti in December. The tour includes private homes, along with along with a tour of Back Office Studio. In previous years, tours included the Ypsilanti Automotive Heritage Museum and the memorable historic Queen's Residence. Getting acquainted with Ypsilanti, enjoying a delicious reception from local restaurants, and helping out a good cause during the holiday season? What could be better?
If you're in Manchester and looking to give your time to the community, make sure to stop by the Cultural Art Strings. During the summer, there's a Benefit House Concert Series that helps raise funds for this influential program! A part of the famed Riverfolk Music and Arts, CAS gives the young people of Manchester a chance to make their own music.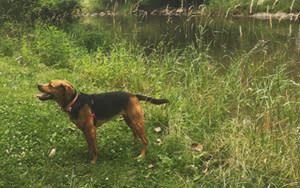 With such a close-knit community in Manchester, it's no wonder that the town's charitable acts extend past people to our furry friends. Manchester is home to both the Happy Hearts Feline Rescue and SASHA Farm Animal Sanctuary. SASHA Farm is the Midwest's largest farm animal sanctuary, giving over 200 animals safety, shelter and lots of love!
Here in Southeastern Michigan, we want more than our own personal success. We want to have a ripple effect — inspiring, teaching and helping those around us. Giving back makes us a happier, healthier community. We don't just live in a great place to work, learn and play. We live in the perfect place to come together, care and make a difference.
Enjoy our content? Sign up for Destination Ann Arbor's monthly newsletter to have it delivered straight to your inbox!