Getting To The Art Fair
JOIN US ON JULY 18-20, 2024
DOWNTOWN PARKING
Structures and Lot
Parking structures are a good bet for all-day parking. There are several to choose from that are a short walk away from Art Fair.
Parking fee: $18 per day; $9 after 5:00 PM
Find a map of the available structures here

Ashley + Main Structure
Ashley + Main Lot
Fourth Ave. + Washington Structure
William + Fourth Ave. Structure
Ashley + William Lot 
Library Lane Lot
Thompson Structure 
E. Washington Structure 
Forest Structure 
PARK & RIDE
Huron High School
2727 Fuller Rd.
Free Parking
Round trip $8.00
Kids 5 and under ride free
Shuttle stops: Fletcher and Washington streets; South University and Forest streets 
Briarwood Mall
100 Briarwood Circle (Behind Sears)
Free Parking
Round trip $8.00
Kids 5 and under ride free
Shuttle stops: Main Street at William Street; State Street near South University Street 
Buses return to both parking locations from either shuttle bus stops
Frequency and Service
SHUTTLES RUN EVERY 10—15 MINUTES
Thursday—Friday, 9:00 AM—10:00 PM
Saturday, 9:00 AM—8:00 PM
Pets are not allowed; service animals are welcomed
Buses and shuttles are wheelchair accessible and air-conditioned
See Map for Park & Ride shuttle locations at the fair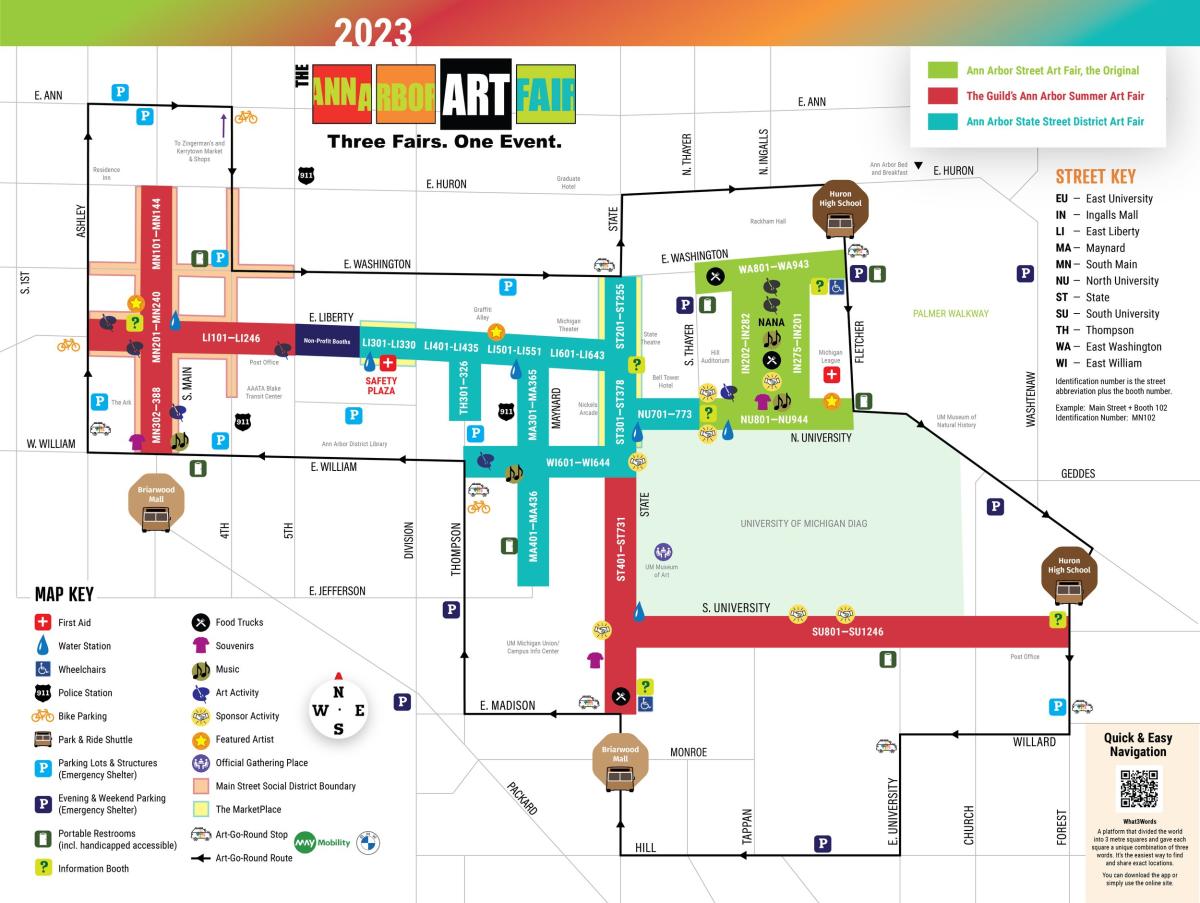 ART-GO-ROUND
POWERED BY MAY MOBILITY
The Art-Go-Round provides shuttle service around the perimeter of the Ann Arbor Art Fair, moving fairgoers from one end of the fair to the other and allowing folks to shop the breadth of the 30 city blocks without having to walk back to their starting point. Hop on a vehicle at any of the seven Art-Go-Round stops located around the exterior of the fair and identified below.
FREE May Mobility autonomous vehicles or BMW SAV shuttle service
Vehicles link all three fairs (see map below for stops)
The Art-Go-Round powered by MAY's A2GO service + Detroit Area BMW Centers brings multiple Autonomous Toyota Sienna's [including one wheelchair-accessible vehicle -WAMS] + BMW SAV's to the streets surrounding the Ann Arbor Art Fair.
The MAY vehicles operate using self-driving technology, but an Autonomous Vehicle Operator will always be in the driver's seat to monitor the vehicle's behavior and ensure safety for all on board.
BMW shuttle services will include access to the elegant X5, X7, and fully-electric iX's — alongside knowledgeable brand ambassadors as your chauffeurs
HOW TO USE:
Just line up at one of the seven stops and hop on the next May Mobility or BMW vehicle that arrives! Each will have an Art-Go-Round logo on them to identify them as part of the shuttle service.
HOURS OF OPERATION:
Thursday & Friday | 9:30AM – 9:30PM
Saturday | 9:30AM – 8:30PM
ART-GO-ROUND ROUTE/STOPS - See map below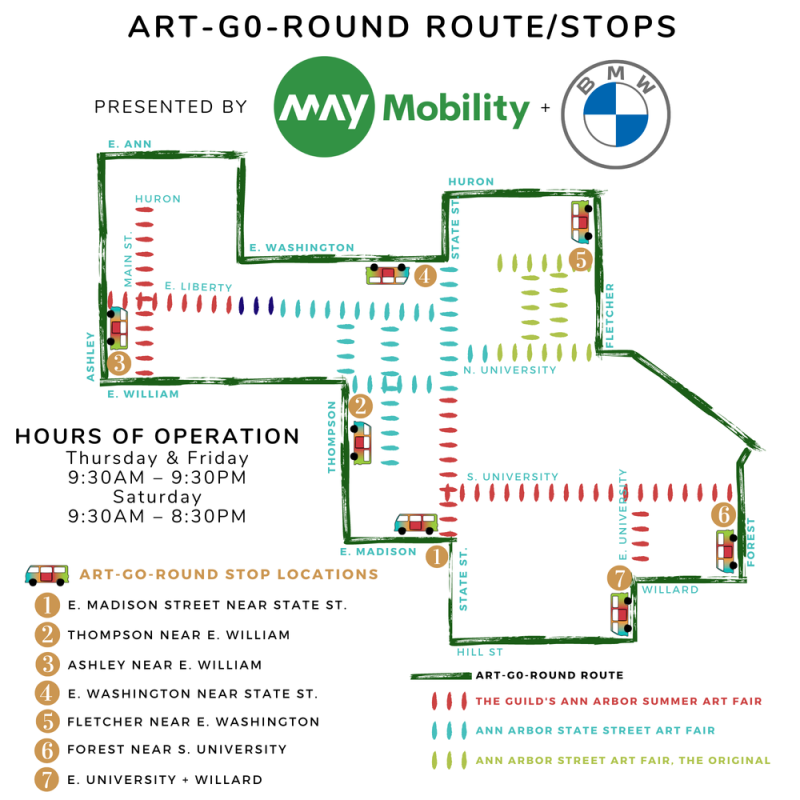 FREE WHEELCHAIR RENTAL
 Stop by two different wheelchair rental tents at this year's event in order to borrow a wheelchair to more easily navigate this 30 city block event! The free wheelchair rental program is Presented By Trinity Health with wheelchairs provided by Binson's.
Wheelchairs can be picked up and dropped off near Madison and State Street and Fletcher and E. Washington. A driver's license will be required at the time of rental.
CYCLE
Experienced cyclists can use Ann Arbor network on bike lanes to get downtown while avoiding the hassle (and expense) of parking a car. More than 1,000 bike parking spaces are scattered around including bike hoops, covered bike parking in parking structures or seasonal on-street racks. Additional bike parking is available on the University of Michigan campus. Learn more about cycling downtown here.