Prepare those luminaries, bring out the holiday lights, dress in creative costumes, and join in on FoolMoon, Ann Arbor's annual spring celebration of creativity and commUNITY! Celebrating its 11th year in 2021, FoolMoon will shine bright on the ground in downtown Ann Arbor, at home, and virtually with community artmaking activities planned in March and light-filled art installations coming to life for FoolMoon night on Friday, April 9. Though the FestiFools puppets will not be making a visit during this year's festivities, you can enjoy new experiences through socially distanced planning, online programming, and tons of fun for all ages and abilities!  (Header Photo above by Myra Klarman)
WonderFool Productions has commissioned local artists and lighting designers to activate iconic downtown spaces, places, and windows within the Kerrytown, Main Street, and State Street districts.  This year's theme, Shine Your Light A2, affirms that the Ann Arbor community shines brightest together, especially in challenging times. Help spread the light, hope, and sense of community that comes from creating and making memories together.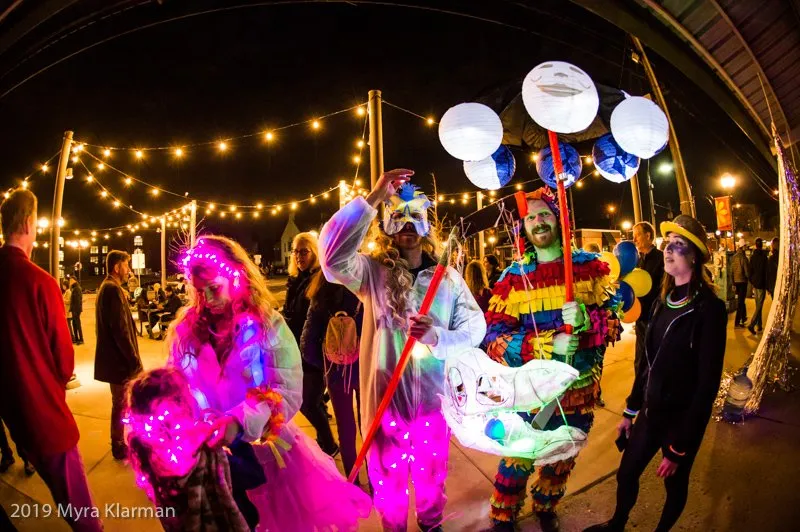 *Photo above by Myra Klarman-2019
Here are some of the ways you can participate and help spread the joy for this year's event: 
 
Make Art in March  
GlowMaking: Friends of all ages can make art this March with an array of online and at-home projects, workshops, camps, and how-to videos thanks to community partners including The Ann Arbor Art Center, the Ann Arbor District Library, TreeTown Murals and the Ann Arbor Public Schools, Community Action Network, Neutral Zone, SCRAP Creative Reuse, and many more. These are just a few of many opportunities to create art taking place this March. Check back regularly for the latest updates and event details!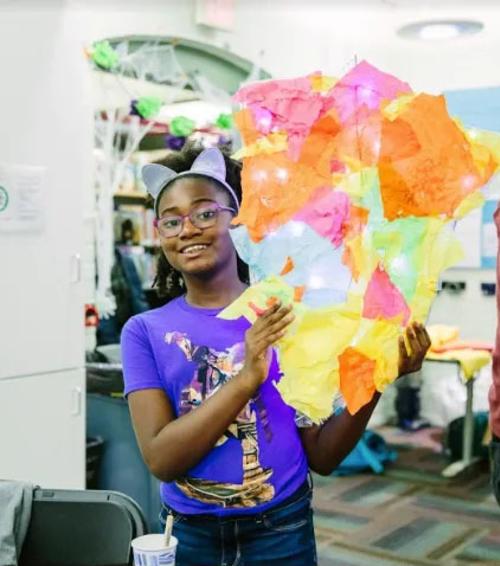 *Photo above by Misty Lynn Bergeron
Prefer to fly solo and make your own creations? Here are some of the ways you can get started now:  
Luminary Making 101: Check out these how-to videos and tutorials where viewers can follow along and create different types of luminaries using simple materials. Want to try a new challenge? Check out the Family Fort video and become inspired to create collaborative family art and make something spectacular for this year's FoolMoon together! 
Create Your Costume: Anything goes when putting together your costume for FoolMoon! Bust out those colorful accessories, bright colored clothing, hot glue, bedazzler, old Halloween costumes, or just about anything else to make you glow! Those celebrating both downtown and at home are encouraged to dress up and strut your new outfit. Click here for costume-creating suggestions to help get you started on your new look. 
Visit the website for the latest updates on workshops, activities, and at home projects.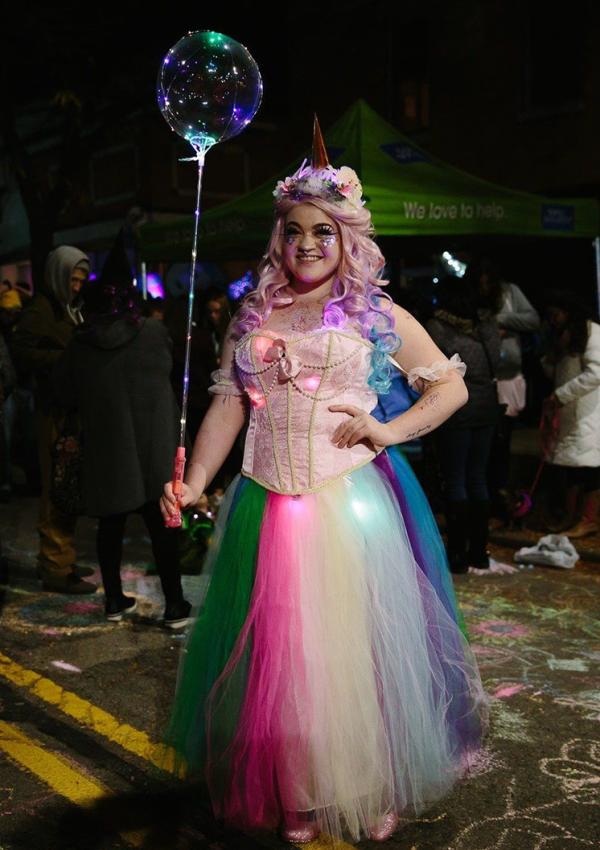 *Photo above by Misty Lynn Bergeron
Celebrate Safely Downtown Ann Arbor  
From April 1 up to FoolMoon night, shining brightest on April 9, you'll notice new art installations popping up around downtown Ann Arbor. Snap a selfie or capture the fun and share to the FoolMoon CommUNITY Facebook group! This year, local businesses are joining in the foolish fun with window paintings by local art groups or creating their own glowing storefront displays. All ages are encouraged to dress in those creative costumes, light up the luminaries, mask up, and safely social distance to experience FoolMoon in Ann Arbor by walking around, by bike, or car.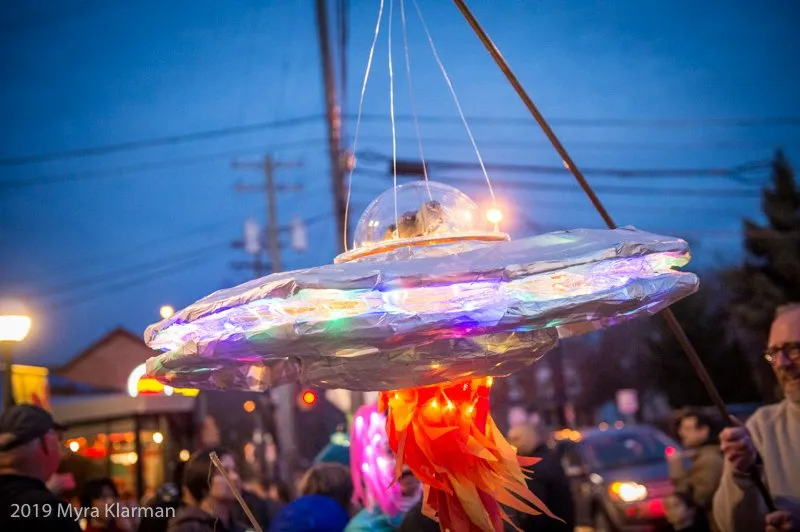 *Photo above by Myra Klarman-2019
New to this year's event is FoolMoon Stroll + Roll, showing support for the Show Your Love A2 campaign organized by the downtown districts. The Stroll + Roll is aimed to encourage community members and visitors to love local and support Ann Arbor businesses by grabbing a bite to eat or drink, visit a unique Ann Arbor shop and buy a treasure while enjoying the art installations all around downtown. 
When downtown, keep an eye out for inspiring artwork and installations created as a collaborative effort. In April, look for the large mandala mural- this project is inspired by Ann Arbor area students working with local artists at TreeTown Murals, bringing collaborative art to the heart of downtown.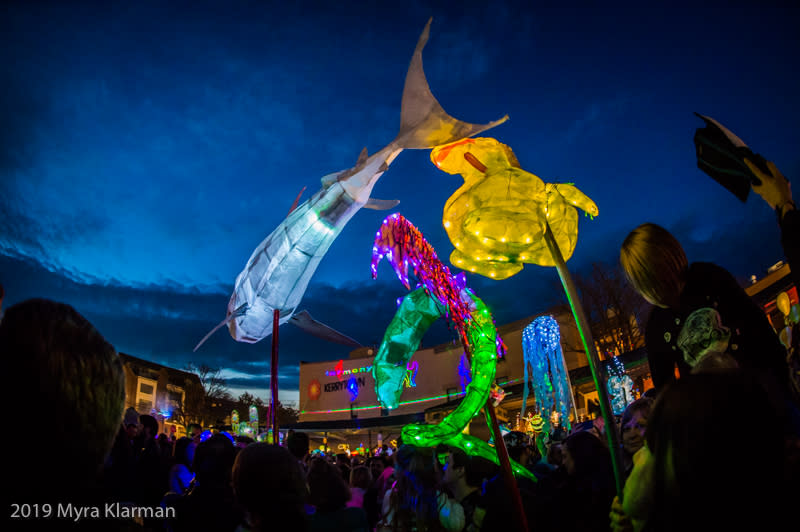 *Photo above by Myra Klarman-2019
Virtual Programming 
Want to participate in the fun from indoors? You certainly can in several ways! Tune in online at the FoolMoon CommUNITY Facebook group for a virtual programming lineup featuring online creative content organized by Neutral Zone teens, local artists, and other area groups. The programming will be broadcasted through Facebook and available for streaming after the event date.  
Share your awesome photos of your costumes, creations, and luminaries with other community members on social media! Visit the commUNITY Facebook group and upload your photos or videos of your decked out gear and transformed living space.  Decorate your place with lights all over, have a dance party in your living room, and share some of your FoolMoon spirit! Visit the page in advance to see ideas from other commUNITY members and to view their creations on FoolMoon night! Want to share on other social platforms? Use hashtag #FoolMoon2021 when posting.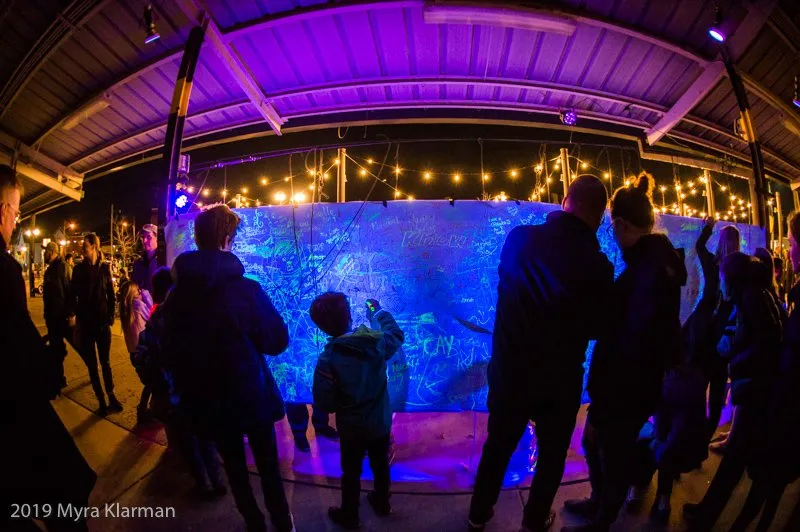 *Photo above by Myra Klarman-2019
Interested in more updates and information? Tune in with Under the Radar Michigan for FoolMoon Fridays throughout March, discussing weekly updates leading up to the event, with live on-the-hour coverage from the UTR team from Downtown Ann Arbor on April 9!  You can also catch Wonderfool Productions 8-minute radio interview with Travel Michigan here. Stay tuned for more updates!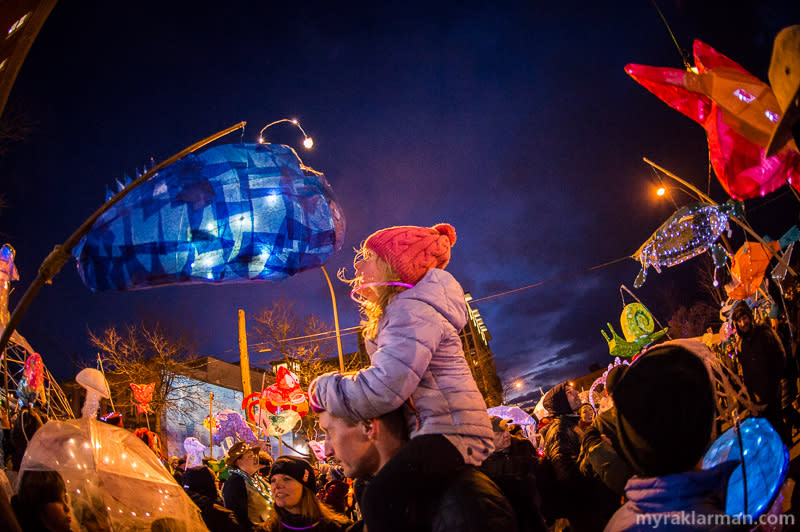 *Photo above by Myra Klarman-2018
A Look Back  
In previous years, the WonderFool Productions team has taken pride in working with dozens of community partners, local artists, and thousands of participants of all ages and abilities. In 2020, FoolMoon and FestiFools went virtual, and ypsiGLOW featured experiences in town, at home, and online, shifting the way these beloved community events were celebrated. Through last year's FoolMoon Reimagined, hundreds participated in a night of virtual festivities, an impromptu light-up car parade, and lots of magical fun!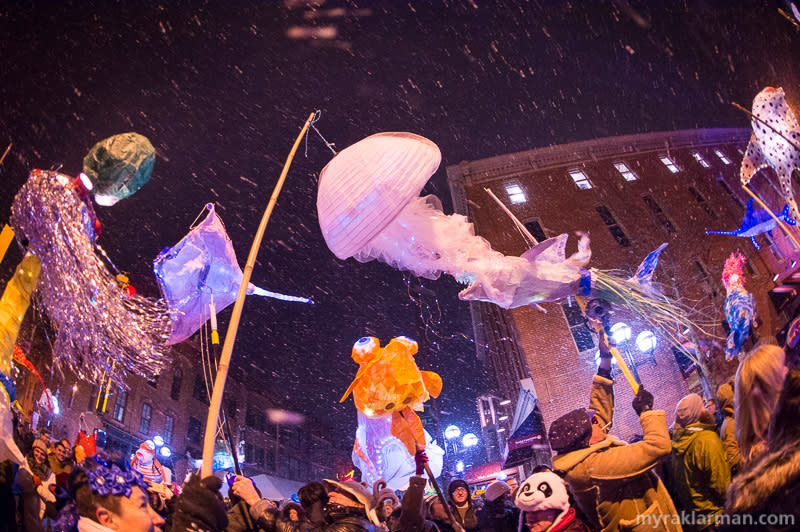 *Photo above by Myra Klarman-2018
No matter how you choose to celebrate FoolMoon this year, there are plenty of ways to join in on the festivities. Whether you plan to mask up and head downtown to explore the art and lights while safely shopping downtown and supporting local business, or if you will stream your videos and share your creative spirit from home, you can join in and be part of the FoolMoon CommUNITY. Now through April 9!
How will you be participating in this year's FoolMoon event? Share your ideas with us in the comments below!
Photos above by Myra Klarman. For more information, visit myraklarman.com.
Like our Content?
Get all of the latest Ann Arbor happenings delivered to your inbox. Subscribe to our monthly newsletter.
Follow Destination Ann Arbor, @AnnArbor on social media. Instagram, Facebook, Twitter