When thinking of ways to stay active while connected to our community during this time, consider taking a short break from your day and head to a nearby trail to enjoy the fresh air and practice self-care.
While out, it is vital to remember and follow the CDC guidelines regarding social gathering sizes and distancing, as well as practicing personal hygiene before/during park and trail use.  Before heading to any park or trail, it is a great idea to check the park/trail website for additional restrictions.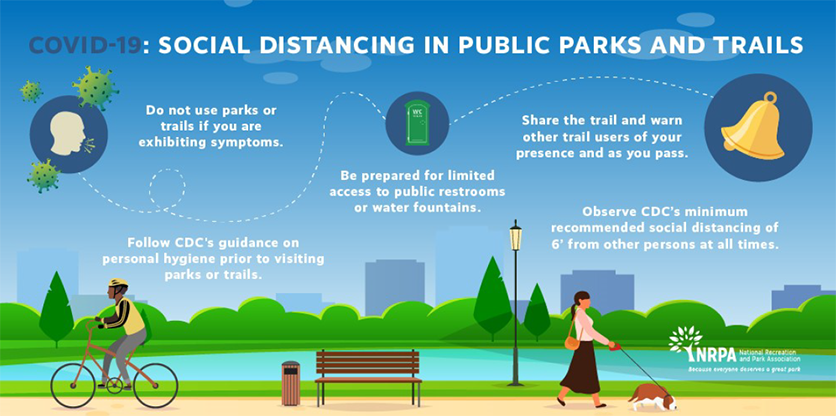 This non-motorized pathway connects cities, parks, and destinations throughout Washtenaw County currently has 40 miles of paved and unpaved trails existing today, with 70 miles planned. B2B also connects to the State of Michigan's Iron Belle Trail, a network of trails over 2,000 miles long. B2B has trail end points at Hudson Mills Metropark, Barton Nature Area, North Hydro Park, and more.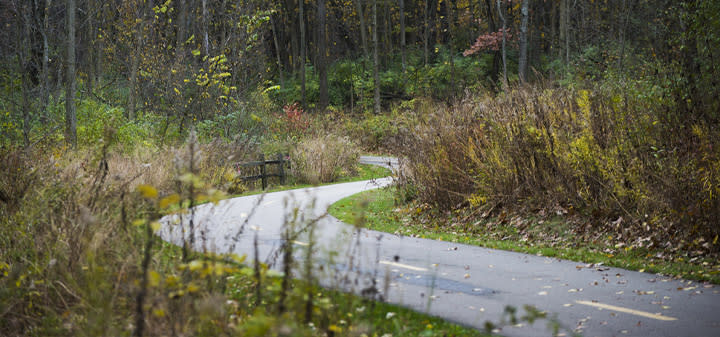 Waterloo Recreation Area Trails
The Waterloo Recreation area is the largest park in the Lower Peninsula at over 20,000 acres and is home to 47 miles of hiking trails varying in size from 0.5 miles to 33 miles.  Mountain bikers love the DTE Energy Foundation Trail, and joggers enjoy the Bog Trail, 1.5 mile trail through a wooded area. Whatever your interest or skill level may be, these trails might be just what you're looking for.
Update: The two primary parking lots for the DTE Energy Foundation Trail are currently closed. The trail is still open for those parking in dispersed and other parking spaces. No parking along M-52.
This 139-acre park in Ypsilanti sits on the West end of Ford Lake. The dirt trail and wooden board walk loop within Ford Lake makes for a peaceful and scenic trail experience.  Don't forget to look up and take in the view! It's likely you'll see waterfowl and other wildlife when you're out there.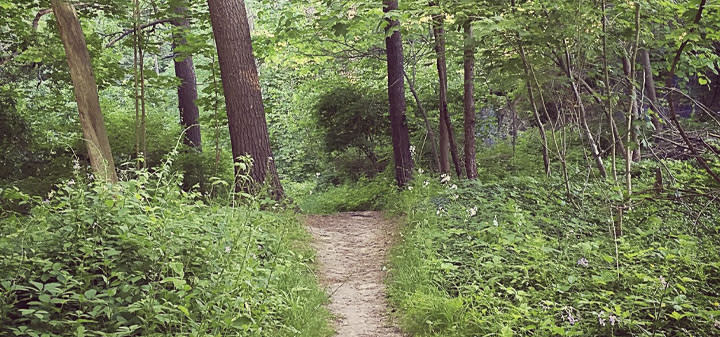 Explore the trails at "the Arb" and walk along the Huron River. Enjoy spotting familiar sites off the trail like the Alex Dow Field and the main valley. The Arb provides 3.5 miles of walking and hiking trails (sorry, no bikes) and offers three entrances for easy access. While hiking in the Arb, keep an eye out for flowers beginning to bloom this spring!
At 161 acres, Bird Hills is the largest city park in Ann Arbor, ideal for hikers who enjoy hilly, woodsy trails with five trailheads providing easy access to the main wooded path.  Some spring foliage and flowers have already begun to blossom! This is a great place to surround yourself in nature. Sorry, no bikes are allowed on this trail.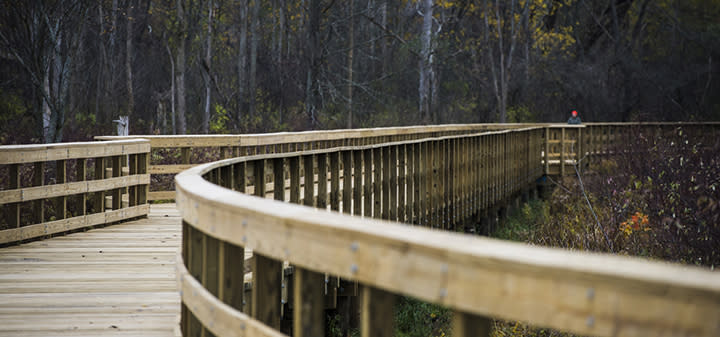 Bring your bike and circle the 3-mile loop paved trail through Hudson Mills. Also connected is a 5-mile West River Trail that will lead you to downtown Dexter. This wooded area with water views fills with flowering dogwood trees in the springtime, a popular photo op among trail-walkers.   
Additional Resources & Information: 
Washtenaw County Outdoor Guidlines
City of Ann Arbor Park Restrictions
City of Ypsilanti Park Restrictions
Like our content? For the most up-to-date area information, subscribe to our monthly newsletter.